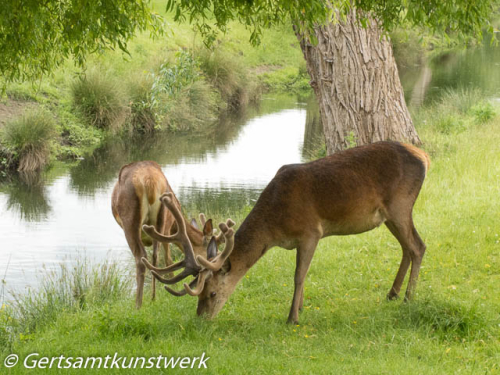 I started composing this a few days ago, since when a by-election has been declared in the Richmond Park constituency, so that's confusing my Googling and makes this blogpost seem either very well-timed or some weird irrelevance at the fringe of a byelection
Richmond Park is possibly one of the great wonders of the Modern World, the Jewel in the Crown of South London, of all London. When North Londoners attempt to assert their perceived superiority, they tend to say "Hampstead Heath". So those of us in South West London mutter "Richmond Park...Wimbledon Common...Wandsworth Common...Tooting Common...Clapham Common...Streatham Common...Battersea Park...Brockwell Park". South East London have their own contributions. Let's be honest, south London is one almost unbroken Green Space. The Capital Ring and London Loop take you on tour through this greenery, but between you and me they're a bit rubbish. By this I mean, they focus on going through parks and getting to the next one, when, frankly, you can spend a whole day in Richmond Park and not get bored.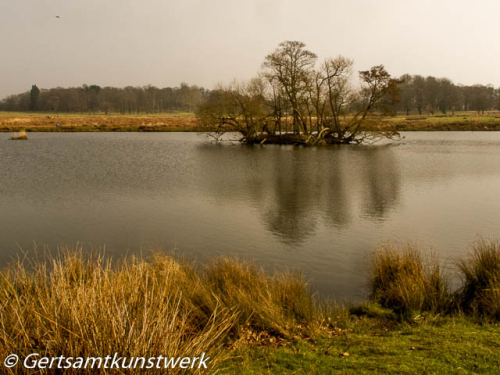 I went to Richmond Park once as a child, and it rained. Jimmy and I went about four or five years ago, when I wasn't feeling too well, but needed to get out, and did some small strolls and longer drives.
But in the past year and a half we have been three times. Once in summer for what turned out to be a 7 mile walk circling the park, four miles in Spring, and a gentle stroll just after the autumnal equinox.
There are several vehicular entrances to Richmond Park, various car parks, and at least three cafés, and a bus goes into the Park on Wednesdays. It is possible to drive all round the park, or between entrances, and indeed many people use it for their commute or other local journeys (which is a slight pain when you're walking). It's very popular with cyclists - it was on the London2012 road race - and Paralympic Great wheelchair athlete David Weir trains there.But it's not difficult to get away from traffic.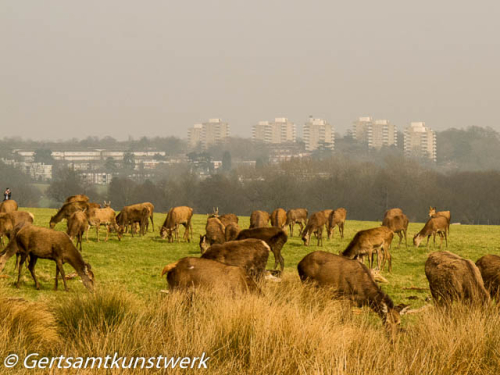 On a glorious Spring Saturday it seemed busy in places - parents and small kids, dog walkers, hordes of students from (presumably) nearby Roehampton and Kingston Universities and assorted others. Yet even then, when we left the main drag, we could find isolation, and on a summer weekday we went for several consecutive minutes without any sign of human activity!
I want to show you lots of photos and not be distracted into telling you a story. If you hover over most of the photos the 'hypertext' will tell you which month (or season) it was taken in. At the bottom is a map of most of the 7 mile walk we did in June 2015. I had to change my phone battery just before we finished but you can pretty much guess what happened next.
Walking from Pembroke Lodge to the Ham Gate felt very much like walking in the wild. There was no audible traffic and we met very few people indeed. I developed an instant and passing fascinating with the sculpture of tree trunks
Off the beaten track led onto what seemed like a country lane passing through fields. This was more popular with walkers and cyclists but far from oppressive.


We passed a thicket where the rhododendrons were nearing the end of the season, and after a precarious crossing of the Beverley Brook by plank, we reached the Pen Ponds.
The Pen Ponds are popular with park visitors. Perhaps, if your visit to Richmond Park is only short, this might be the best place to head for. Perhaps it's heaving on a hot summer Sunday but it didn't feel oppressive on any of our visits. On our Autumn visit we parked near here and walked down to the ponds; on each occasion we used the café. It's only a café with outdoor seating but the coffee's good and it sells other light refreshments. some park cafés can be disappointing, complacent about their captive audience, but this is reasonably priced and of a good standard. 
When we visited in September we saw swans flocking, which I don't think I've seen often: ducks and geese yes, but rarely swans. They don't make for great photos but I also liked the contrast with the aeroplane. That is a definite downside of Richmond Park - the proximity of aircraft approaching or leaving Heathrow, and, I suppose, the reason for the Richmond Park byelection.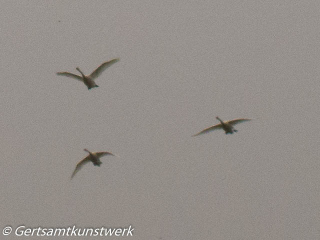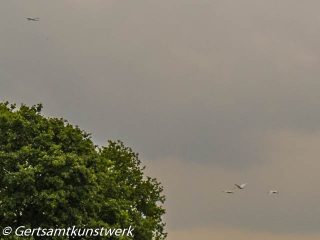 We also saw a skylark. We guessed what it was a by its strange behaviour of hovering ten feet or so above the gorse. On our march visit we had seen signs warning us to stay away from skylark nesting grounds. And this time we saw an interpretation board explaining 'skylarks'. Again, not a great picture, but worth it to say I saw it. In March we also saw another supposedly rare bird, the parakeet, but they are commonplace across South West London nowadays. Story is they were released after the filming of the African Queen at Isleworth, but Wikipedia notes this claim to be 'dubious'. Some people still don't know about the parakeets - I didn't until my Aunt's funeral less than years ago, when the wife of my father's old schoolfriend told me there were plenty on Tooting Common (several flew over my Aunt's burial).
On our March visit we walked up the hill to White Lodge and back down again to the Roehampton Gate car park. At first it seemed quite busy, but the other people just seemed to disappear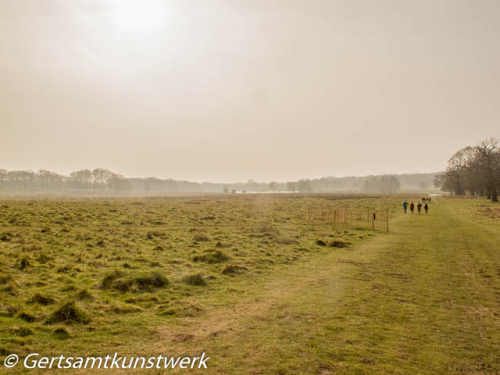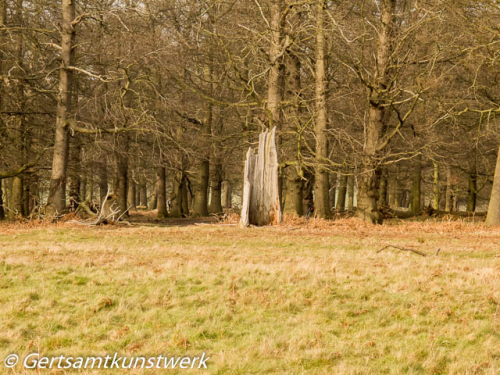 It was quite strange. Knowing that we weren't far from a densely populated area, also knowing that the park was fairly busy, and yet feeling isolated and remote. On the one hand there was a helicopter circling for the build up to a Six Nations match at Twickenham, and toy cars and tiny bikes travelled along distant Sawyers Hill. but on the other hand, we were alone, and couldn't see a human soul as we trudged through the woods and down the hill to Priory Lane.
In June, it was only after this point, as we walked downhill towards Robin Hood Gate that we began to see deer. Richmond Park is famous for its deer, red and fallow. It's rather nice. They are wild animals - frequent signs remind one of this, and warn us not to touch them or approach them especially in breeding season, and, of course, to keep dogs under control. However, you can get fairly close without breaching these rules, and they seem unperturbed by sensible humans. Here's a selection of photos from all three visits.
At Robin Hood gate is a stable. This leads to there being a Pegasus Crossing across the A3 at this point, to enable horses and riders to cross safely into Wimbledon Common, which lies just across the main London-Portsmouth road. Some riders also ride in Richmond Park.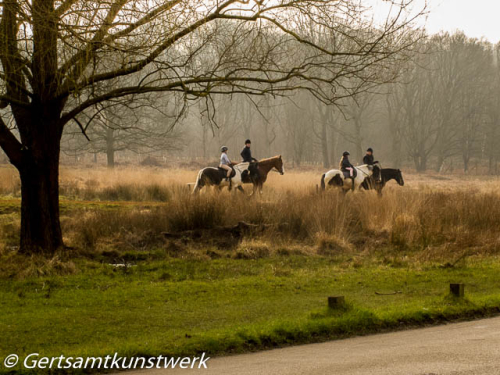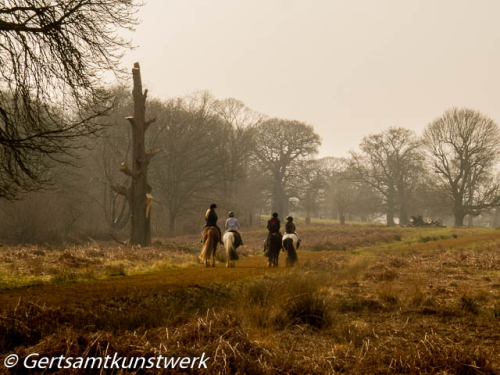 When you walk from Robin Hood Gate to Roehampton Gate eventually you get to cross Beverley Brook. there's a walk, 6.5 miles, that takes you from New Malden to the Thames at Putney. Maybe I'll do it sometime soon!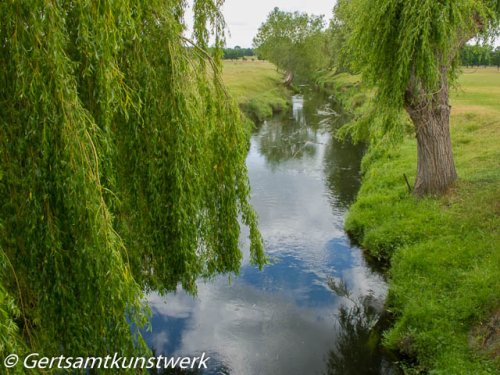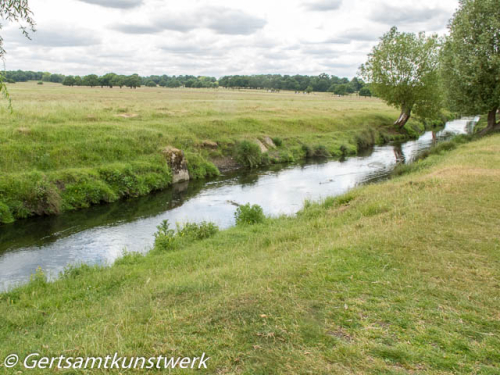 The Roehampton Gate café is also worth a stop. It's the biggest car park (or perhaps Pembroke Lodge is), the café is very good, with lots of seating inside and out. It's also the place to hire bikes if you fancy a ride round the park, but not to it, and there are loos there, too. (Also some at Pembroke Lodge).
 From there we climbed up Sawyers Hill. To be honest, it wasn't my favourite part of the walk. In some ways, too desolate, but also a main road through the park. Sometimes you got views, sometimes you didn't. It's quite a strange place for views, in general. In some places, you feel you can see for miles. sometimes the views are very rural, and sometimes you're reminded that, basically, you're practically in Inner london. I took to a dislike to the blocks of flat despoiling the horizon. However, I later read a blogpost pointing out that these flats were council housing that gave relatively poor people an unrivalled view of Richmond Park. So I feel guilty for disliking them!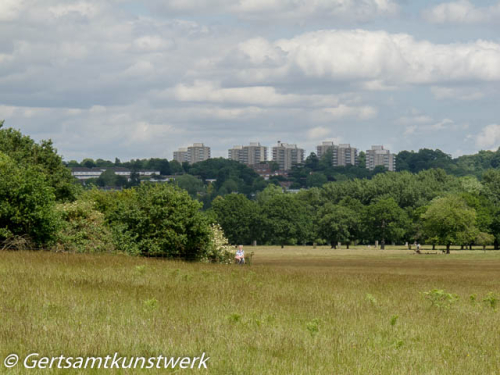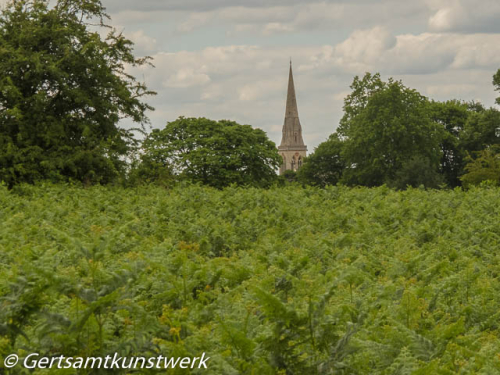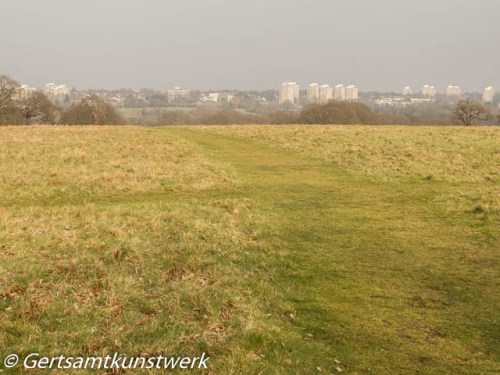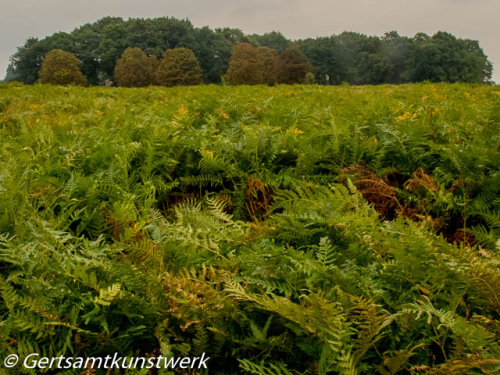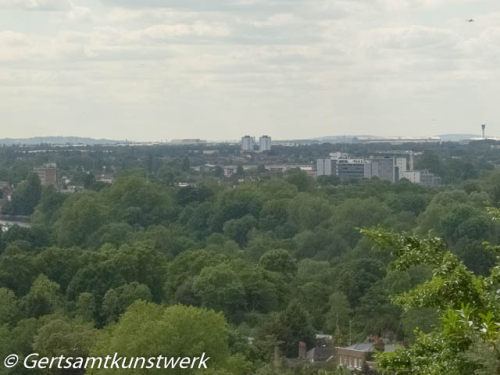 The final stretch of our long walk was to King Henry's Mound and the gardens around Pembroke Lodge. I admit to being hugely disappointing. There's supposed to be a great view from there, but as far as I could tell it's mainly of West London, Slough possibly, and planes taking off and landing at Heathrow.
The gardens are hugely disappointing, unkempt and neglected. This is supposedly maintained by the Royal Parks, and, frankly, they didn't seem to be doing it very well. I took the picture of Runnymede because the day we visited Richmond Park was the day that Royals and other VVIPs were in Runnymede to commemorate the Magna Carta being signed 800 years previously. In fact, it had been on my shortlist of destinations that day until I realised that it was a bad idea!