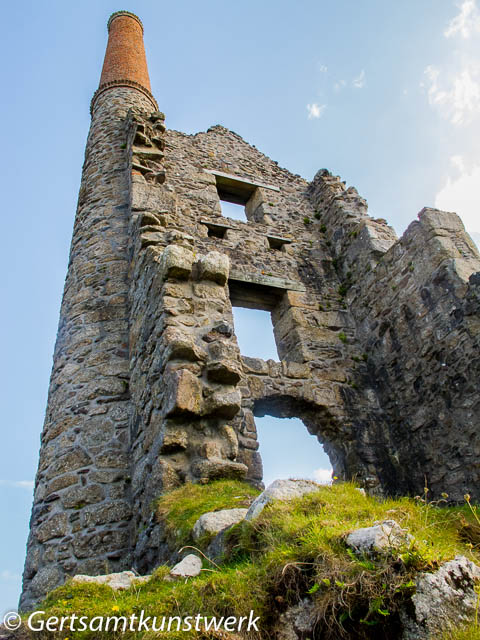 After leaving the Tourist Trap that is Land's End, our main priority was refreshment. I knew better than to even try the ghastly First & Last Inn, and decided instead to try Sennen Cove. Turn left off the road from Land's End. There's a quite well-known restaurant there (later featured on Tom Kerridge's TV show), but it was not the time for 'well-known restaurant' when we wanted coffee and a snack. Instead, we accidentally fell upon Little Bo café. A little gem!
It was pretty busy when we arrived and didn't get any quieter. I thought the staff did a sterling job, warning people how long they would have to wait, and scurrying around in surprising heat to fulfill orders inside the café and across the road on the Prom.
Inside the café were various groups of weirdos. Entirely inoffensive but as an exercise in people-watching it was hugely enjoyable. There were two 'normals' sat behind me, but, on reflection, they were so quiet they could have been quite sinister. The staff were reassuringly down-to-earth and the menu was reassuringly modern-verging-on-boho. Entertainment was provided by the Battle of the Door. Staff wanted the door open, both for ventilation and to make it easier for them to serve customers on the seafront. An elderly couple insisted on closing it every time it was left open. It was warm inside with the door closed. We desperately wanted it open. But I was too intimidated to argue with this determined couple.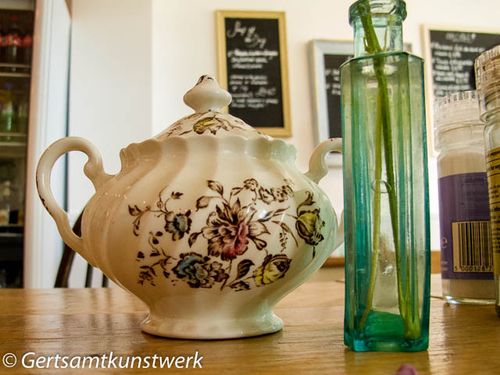 I had a decent cup of coffee, once again stupidly eschewing the offer of a decent cup of tea well presented. We did have to wait a bit for our lunch/snack but no longer than we had been warned. It was worth waiting for.
It was listed as goat's cheese, walnut and apple salad, but as you can see, the addition of ripe juicy luscious figs turned this into a special salad, a salad that makes you despair at the nonsense that passes for salad in too many other places. It was the second time in a month and in my life I had had figs teamed with goat's cheese. As a taste combination, it's a 'keeper'!
We walked around Sennen Cove in glorious late summer sunshine and regretted not having our swimming costumes handy. Mind you, although there were plenty of people in the sea they all seemed to be body-boarders and were wearing wetsuits.
It's a decent small seaside town.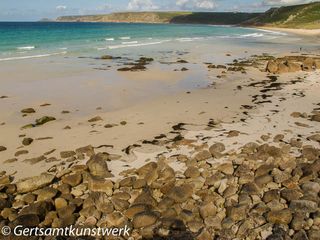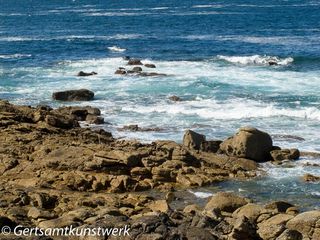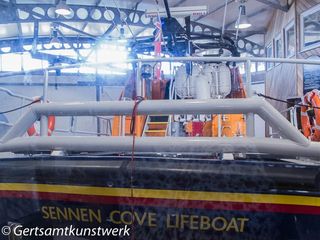 We had a look inside the lifeboat station and bought some fundraising souvenirs, so that was good but there wasn't much else to detain us, and we moved on.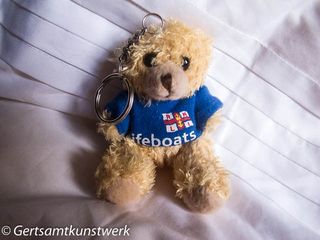 Bad planning on our part as we had reserved a table for 6.30 that evening. If we had known the weather would be so fine, we would surely have booked later, or taken our chances on being a walk-up. I lost track of time as I suggested we call in at Zennor. "Picturesque village" it said on our Ordnance Survey tourist map. A regret was that we bypassed St Just, and, more importantly, the Levant Mine and Beam Engine, which would surely have appealed to my dormant Industrial Archaeology Geek.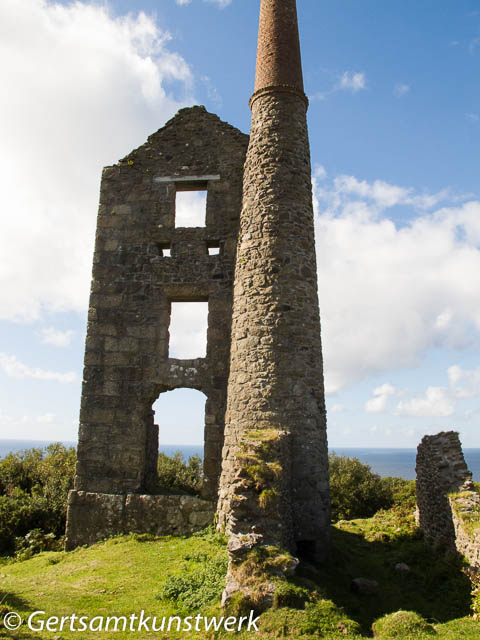 We did stop at these abandoned mine workings. I have looked, and failed, to locate them on a map, and have concluded that such sites are so common in Cornwall they're not sufficiently noteworthy.
I fell into conversation with an earnest and eager young man who told of how the mine workings reached out two miles under the sea. He talked of how the Cornish mining industry was pivotal in Britain's Industrial Revolution. I vaguely recalled an engineer with a Cornish name - Richard Trevithick, he prompted me - who had more or less invented steam locomotion, and is less well known than George and Robert Stephenson.
Onwards to Zennor which hosts a curious 'Wayside Museum'. I browsed the bookshop whilst Jimmy bought an ice cream. The bookshop stocked an excellent range of Cornwall-related fiction and non-fiction, and eschewed gimmicky tat. The CD playing and available for sale was of George Lloyd's music. I had not heard of George Lloyd until this summer, the centenary of his birth; a work of his featured in the Last Night of the Proms the week before. His Iernin was performed by Surrey Opera in Croydon and Penzance this autumn. He had lived in the house which is now the Wayside Museum. We didn't visit the historic and well-reviewed Tinners Arms, nor did we visit the church with the picture of a mermaid on the bench end. 
We tried to walk to the sea but the path was long and going nowhere. My watch was wrong, which meant we missed tea at the Backpacker's hostel and tea-rooms. It also meant that we had to dash back to Marazion to park the car, change, and catch the bus into Penzance for dinner.
 Little Bo Café and The Beach, Sennen, West Penwith, Cornwall from Toast Tiffin and Tea
The Best Walks With Food – West Cornwall 2. Little Bo Cafe from The Cornish Way blog
Sennen cafe goes from strength to strength with plans for 2014 - Press Release published by This is Cornwall