An Easter visit up north for daughterly duties. For various reasons, complicated and trivial, it was wise to stay at the Premier Inn rather than Chez the Mother. Not least because it gave us the freedom to wander down to Ashton Village, one of the more interesting parts of Sale.
I don't have many nice things to say about Sale, so perhaps I should say them now. It is well situated in the Mersey Valley, perfect for cycling the TransPennine Trail - just a few yards from the Premier Inn. It's pretty much without hills, but there are views of the Peak District if you know where to look. It's handy for the motorway network, which takes you quickly to the airport, and handy for the tram into Manchester. Also, it's not as smug as Altrincham. Partly because, alongside the sleek over-priced villas and the complacent semis are council estates and other vaguely affordable housing. 
The Local Government Act of 1929 merged Sale and Ashton upon Mersey. Historically, Ashton was the more important place, but the canal and then the railway were built further East, diminishing Ashton's importance. And yet, Ashton Village still has the feel of a village, and we experienced genuine warmth in the pubs and the Co-Op. Both village pubs are worth a visit, with CAMRA Hulme and Trafford splitting their April meeting between the Plough and the Buck.Even pre-recession, the village was reported to be blighted by the arrival of the ubiquitous and destructive Tesco Express
 Unfortunately, it rained a lot when we visited, and in between relatives, we didn't have much time to get out-and-about, making the best of it while we can.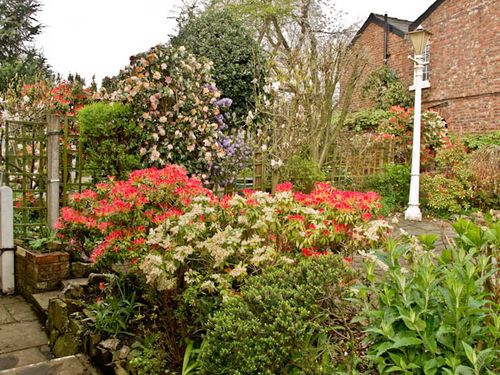 Buck Lane used to be cobbled when I was small, but it isn't now. Some attractive cottages, this one in particular displaying a well-loved garden.
We were heading beyond the village, to the village church, which unusually, lies a considerable distance from the village. Comfortable walking distance, though! I'm no expert but I can't think of anywhere else I've visited where the ancient Anglican church doesn't form the epicentre of the village.
A stroll down Church Lane, which coincided with work by British Gas contractors!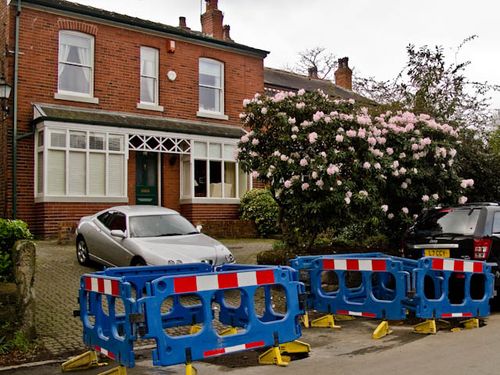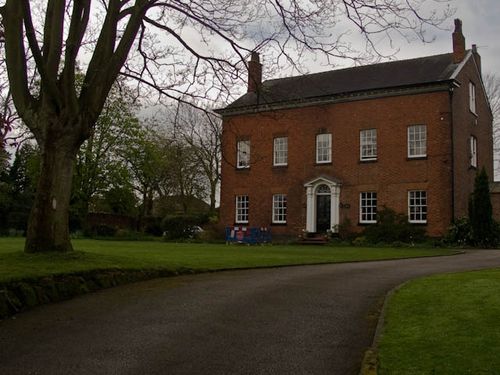 As I took this photo, I realised that someone was banging on the window of the extension, not visible to the right. I wasn't intending to intrude, be it the private home of a reclusive celebrity, or an institutional home. My apologies for seeming to intrude, when all I wanted was a shot of notable local building.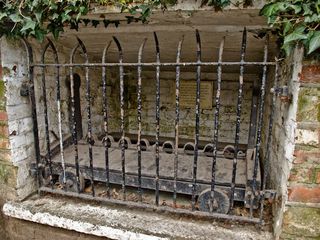 I was amused to see the village stocks. They date from 1836 but repairs and refurbishments sponsored by Sale Civic Society were unveiled by then Mayor Lydia Burton in 1992. And frankly, I couldn't think of a more fitting candidate to sit there and be pelted with rotten fruit. 
Oops, did I say that out loud!
Wandering along the lane was like being in the country, hardly surprising as we were right on the edge. If we'd walked further along, it would have been just fields (and Ashton on Mersey golf club). And, in the distance, there was snow on the hills, probably somewhere like Glossop.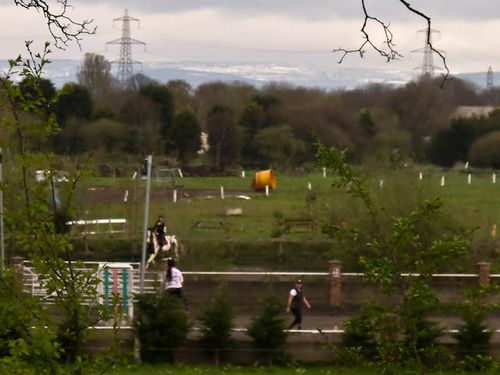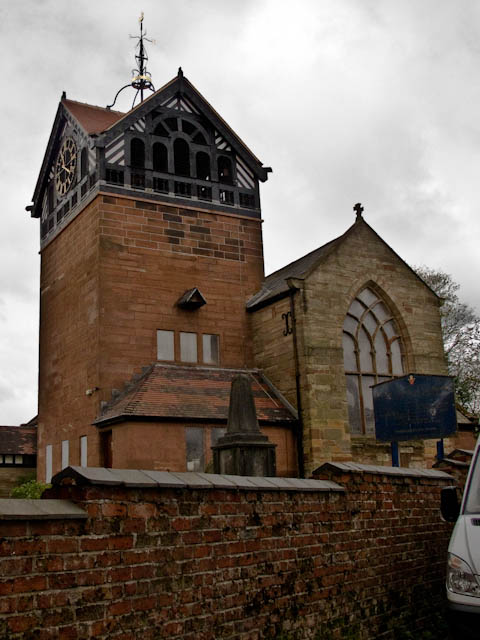 And so, to St Martin's. Locals believe that there was a church here back in the 9th century. This sort of sounds impressive until you consider it was two centuries after Bede and the Synod of Whitby.  And Ashton is not actually mentioned in the Doomsday Book. Wikipedia says the first church was built in 1304 on the site of an old Saxon burial place. But this was destroyed in the Great Storm of 1703, which forms the basis of some fascinating reading. The most severe storm or natural disaster ever recorded in the southern part of Great Britain. Some extended reading December 1703 windstorm - 300 year retrospective (pdf).
The ancient edifice had not many claims to architectural features, and was exceedingly plain in its proportions. The interior, owing to the arrangement of the pews, was very inconvenient and uncomfortable, and in the aisles at one time was placed a continuous bench for the Sunday Scholars, which had to be stepped over by each worshipper who entered the pews.

Altrincham & Bowdon : with historical reminiscences of Ashton-on-Mersey, Sale, and surrounding townships
A new church was built ten years later, perhaps reflecting its relative unimportance in comparison to other post-storm re-building. Some of the beams from the current church are thought to have been in the original church. Unsurprising, considering that it was a storm, not a fire, and new materials would have been at a premium. The tower and the lychgate were added in 1887, at about the same time that Sale was embracing Methodism. The church is Grade II* listed, the lychgate Grade II.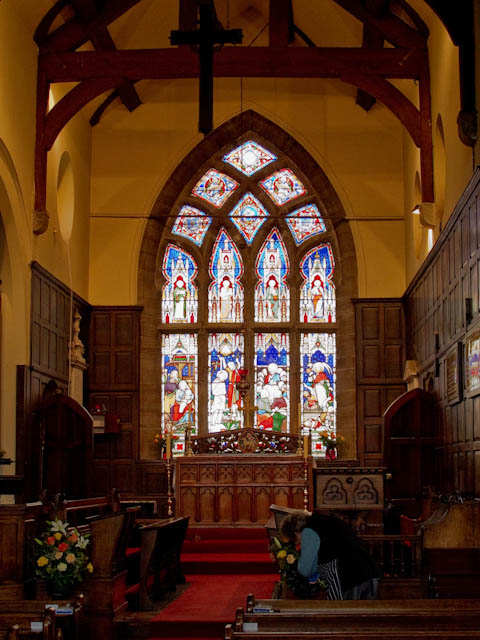 It's a nice little church and I think the stained glass window is very pretty. We were kindly met at the door by one of the ladies of the parish, who helpfully explained some of the history. They had received a grant from English Heritage to repair the tower, so are obliged to open the church to the public for a set number of hours per week. It seems from their website that the works were more or less completed by Christmas.
As I say, it's a lovely little church, but despite their best efforts it's pretty much moribund. They are without an incumbent vicar, and their dated-looking website has received less than 900 hits. There was a Parish magazine on sale, but no evidence of this being available online. I can see the attraction for people to hold their wedding there, but a church wedding is a once-in-a-lifetime event. There is no school associated with the church, so I can't really see any reason for young people to attend. St Mary Magdalene's is just a short drive away and seems a lot livelier and has an associated school.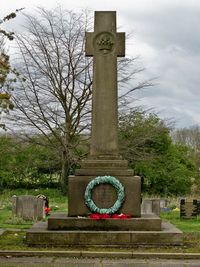 We wandered round the graveyard, which contains an impressive War Memorial, which I previously didn't even know existed. That having been said, War memorials are all over the place. I don't know if there's an actual distinction between 'official' - where civic dignitaries lay wreaths on Remembrance Sunday  - and 'unofficial' ones, which serve their local community - or if it matters.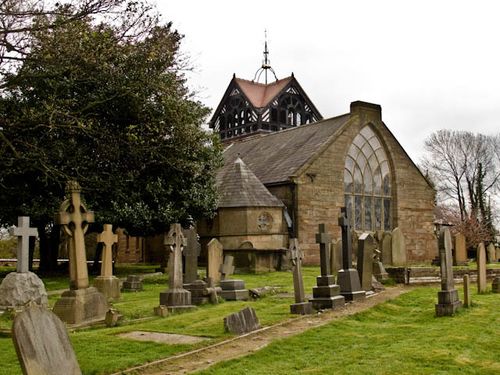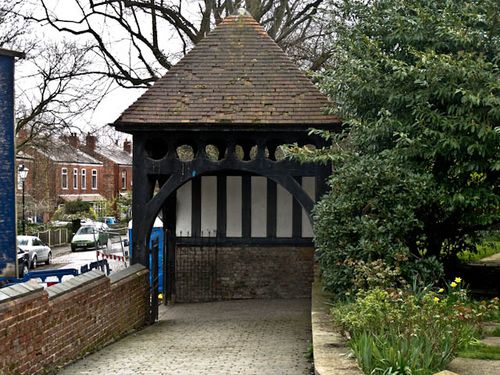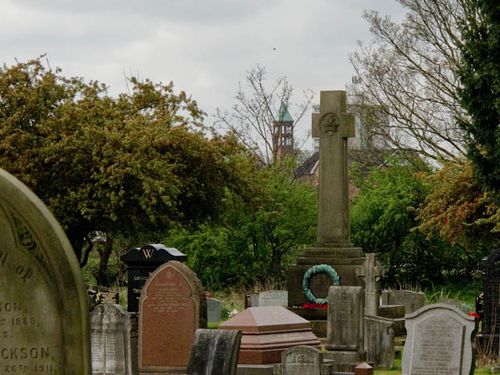 In the distance, you can see the spire of All Saints RC Church (1959). Their car park was packed for Good Friday service*. All Saints' Primary School is rated 'Outstanding' by Ofsted. Pity so many of them can't walk.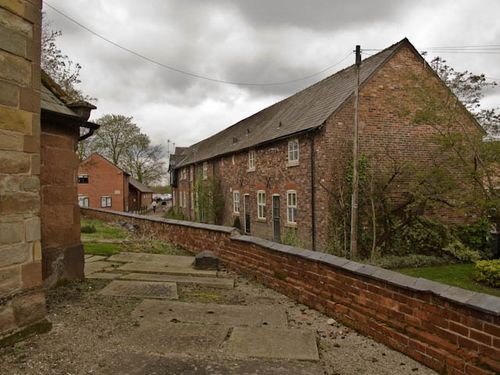 I'm not sure what this building is, but it looks as if it was once agricultural buildings, now converted to desirable suburban residences, literally a stone's throw from the golf club and riding school.
We walked back to the village. Jimmy popped into the betting shop, while I photographed the Old School House. It was the school attached to St Martin's church, but never in my memory. And if I recall, the Church Lady, who was probably fifteen years older than me, said she had been to Wellfield Primary School. It is currently used as office premises. Pity they can't be bothered fixing the clocks. It was quite amusing that as I walked round snapping shots, several people paused. I wasn't sure whether they were wondering if I was maybe from some property developers, or whether they decided just to take a longer look at something they drive past every day without noticing!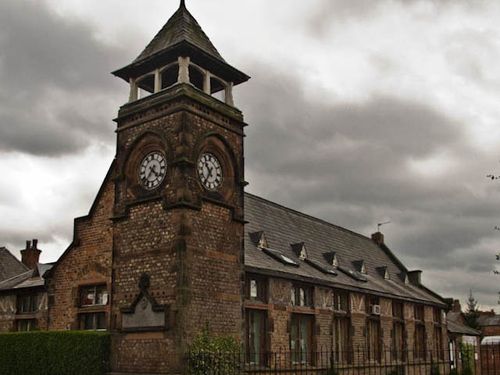 I also decided to take a photo of the side wall of what is now a beauty parlour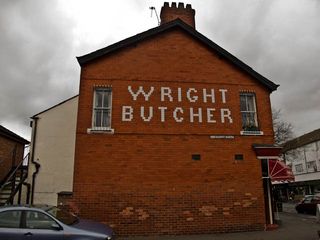 and on the way back to the hotel I couldn't resist this picture of this fairly expensive house, with a view of Sale's only tower block of flats!

We got back to the hotel just before it started raining. That, for April, is what we regard as a victory! 
* not Mass.