One mild if cloudy Autumn day we decided to take a walk across Brockwell Park.
I sometimes describe Brockwell Park as my local park, but it really isn't. Both Tooting Common and Agnes Riley Gardens are nearer, as is Rush Common, which I have to cross to get to Brockwell Park. Streatham Common and Clapham Common can be reached directly by bus. Brockwell Park requires two buses, or, of course, can be reached on foot via some rather boring and steeply undulating residential roads. So, over the years I've tended to ignore its existence too much.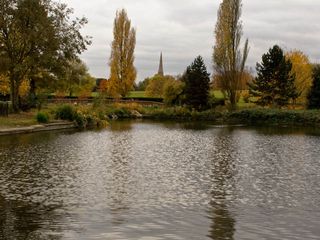 Considering it is a formally laid out and maintained park, Brockwell is full of surprises. Wide open spaces, some of the best views in London. Managed wilderness and areas devoted to specific activities. 
It is currently undergoing a programme of refurbishment, a process that is bitter-sweet to watch, knowing that the money being spent is probably among the last vestiges of the previous Labour government. I wonder how long it will take for our public parks to regress to the derelict, threatening no-go danger areas I remember from my teens and young adulthood.
The ponds are being dredged, re-lined and re-planted. I believe work is being done on drainage. A refurbished adventure playground is due to open in Spring 2012. And, over winter, the secret walled garden has been closed. The model railway isn't running, certainly not on weekdays. The tennis courts are empty, the BMX track barely used. Presumably there is relatively little to do in the Community Greenhouses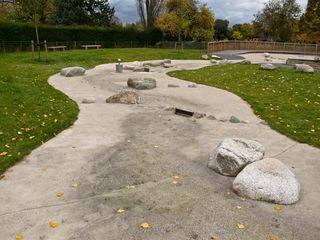 A new play area, using water and sand, has been developed, although the water is off during the winter months. We realised after we had walked round that, strictly speaking, as adults unaccompanied by children, we shouldn't have even been in there. Hopefully, as there was only one mother and child there, and we kept our distance, our mistake can be overlooked.
Each time we visit Brockwell Park, we try to take a different route. I often lose my bearings, never quite grasping its vastness and the different communities that abut it. And being high up, and vast, one can see for miles.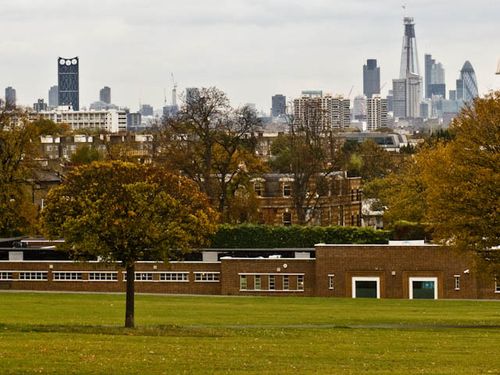 Previously, we always used to go into the café in Brockwell Hall, but were becoming increasingly dissatisfied. Basically, we found their coffee undrinkable, which makes one reluctant to try anything else.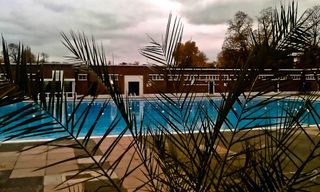 It was purely by chance we heard about the Lido Café. We had both been to previous incarnations, but once you absorb the message that it's closed, you just forget it ever existed. But we decided to try it. "I'll have a coffee and some carrot cake," I decided, looking at the tempting display of cakes on the counter. One of the staff suggested we sit down, she'd bring us our coffee, and why don't we look at the menu. One French onion soup later, I was able to exclaim 'No wonder people rate this place so highly!'. I didn't take my proper camera out of my bag but was very pleased at how this phone picture turned out
Fast forward to February. Jimmy was due to have a minor hospital procedure on a Monday, and I decided to take the Tuesday off work just in case he needed looking after. It turned out he didn't even have a general anaesthetic, so he was more or less fine the next day. The next day was Valentine's Day, and neither of us wanted to go out for a Valentine's dinner. Nothing says 'Unromantic' quite like being spontaneous to order from the multinational conglomerates, or even spending an evening among the slight desperation of couples who think a Valentine's Special dinner is the only way to show they care. Yes, I know most decent restaurants do a Valentine's special, unfortunate for the numerous friends and acquaintances who celebrate a birthday that day or work away from home. It's business...
So, instead we booked ourselves a lunch at the Lido Café. We chose to walk there, along the uninteresting and hilly residential streets,
We took a different route around the park, and saw different sights.
The upper most duck pond being refurbished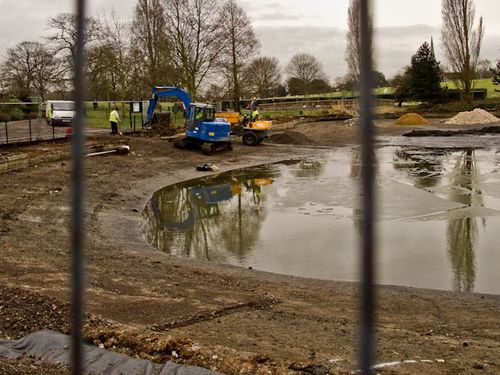 Pond still frozen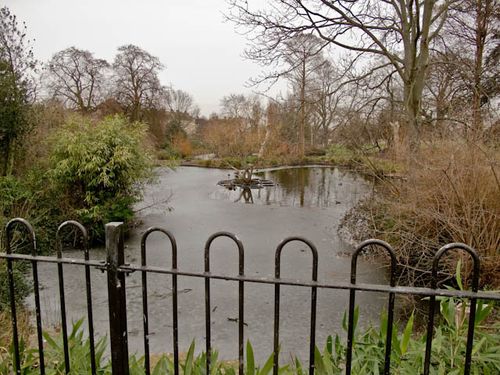 The remnants of the previous week's snowmen: although it wasn't warm on our walk, the snow and the bitter cold of early February seemed distant memories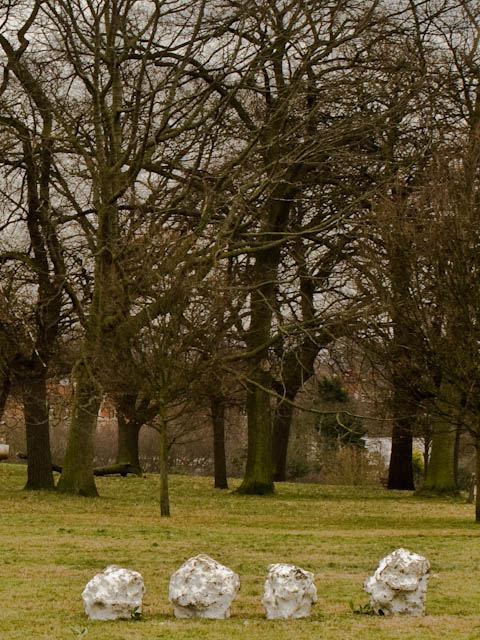 A random snapshot of the trees on the pathway next to Brockwell Park Gardens (a residential road)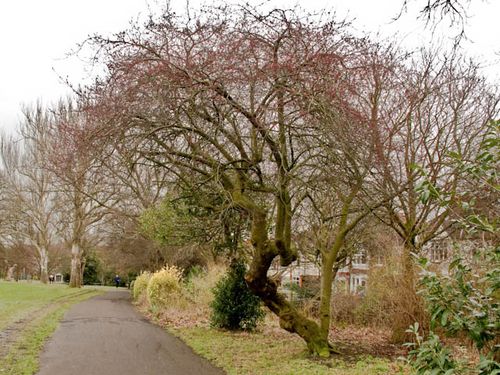 Odd traffic signals at Norwood Road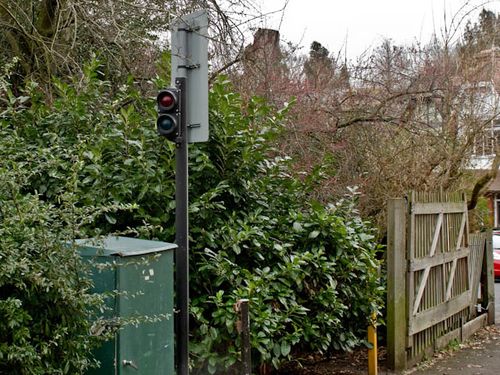 Mocking the stone-cladding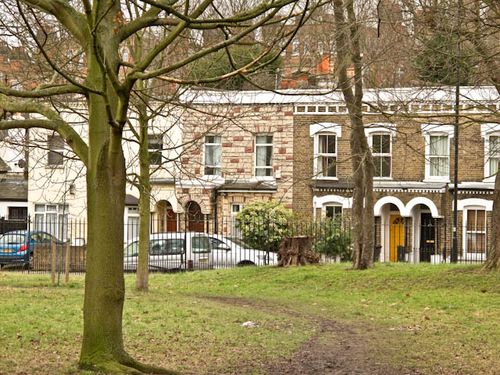 I like this view but was too impatient to wait until a train passed. Stupid of me, because the grace and elegance of a train skimming across the sklyline is a sight to behold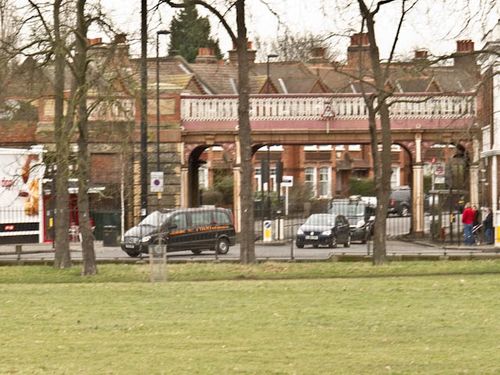 And finally into the Lido Café to fulfill our lunchtime reservation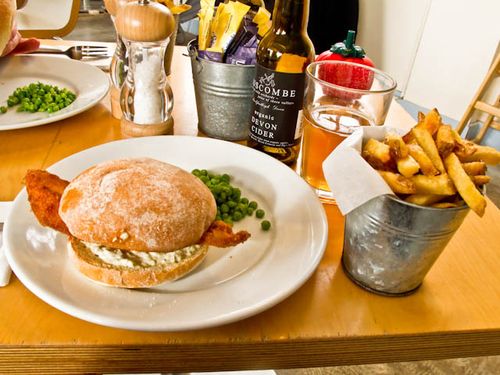 Mackerel bap with tartare sauce, crushed peas, and triple cooked chips; & Luscombe organic (medium dry) Devon cider. A simple cheerful meal, tasty and cooked to perfection, with some nice little presentational tricks. Incidentally, the novelty tomato, so often a disguise for cheap and nasty ketchup thankfully contained good quality stuff, Heinz or equivalent.
 And pudding was ginger chocolate pot with orange sorbet. Again, a simple dish most of us could probably make at home, if we could bothered, and presented in an attractive way that complements the tastes.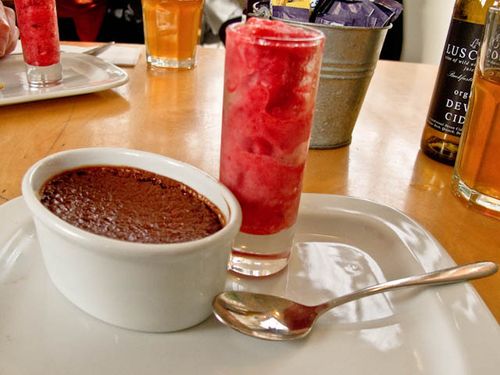 Arguably, it's a misnomer to describe the Lido as a café. It's in a different league, and a different priceband, than the other café in Brockwell Park, and in some other neighbouring parks. But you can go for a coffee or soft drink, as well as a three course meal with choice wines and beers. I've never been when the pool's been open, and I've not been in the evening to this incarnation. I guess I'll just have to go back (and have been since I started writing this blogpost!)
These and other photos are in my Brockwell Park album