It's an absolute must if you are staying anywhere near Windermere. Boat trips. We went for a short cruise on the Sunday after we arrived, because, well, you just have to. Of course, I took a huge number of photos of Lake Windermere. Like when I was in Marazion and snapped snapped snapped at St Michael's Mount. And with Northumberland and Bamburgh Castle. Later, you look at them and think - most of these aren't very good, and, this sight has been photographed ad nauseam since photography was invented. Ooh, let's take a picture of that boat in the distance. Oh look, a house on the shores of the lake. I'd better snap that picture of that distant mountain with clouds above it.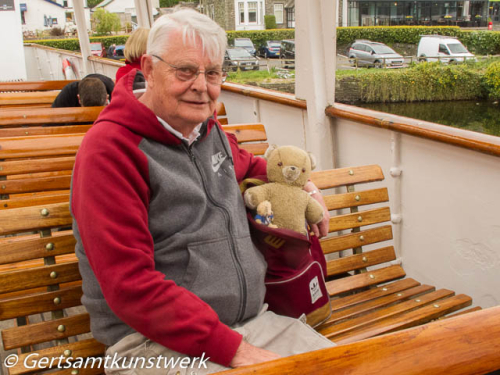 A couple of days later we had a full-blown excursion. Boat from Waterhead at the north end of the lake to Bowness to Lakeside at the southern end, and by steam train to Haverthwaite (the steam rail will form another blogpost). My diary contains pen portraits and vignettes of some of our fellow passengers, and I suppose if I blogged them it might make fascinating reading, but long, and tangential. A thirty-something woman I guessed to be at least a size 26 kitted out in full walking gear, who moved lithely, elegantly and with fitness. Her partner was chubby, too, and I imagined a back story where they had realised a year or so back that they needed to do something for their health, started walking, found they loved walking, and are on a metaphorical journey that will make them happy and healthier than any soon-abandoned crash diet or joyless gym regime.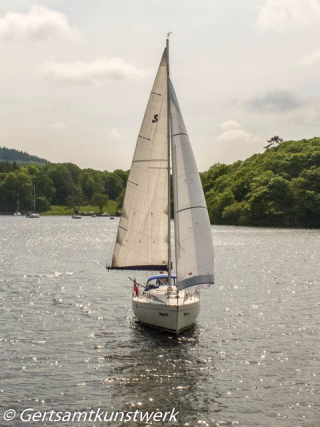 Large parties of tourists from India and China, pensioners from Wigan and schoolchildren from Northern Ireland. I am always slightly alarmed by 'groups' irrespective of the background or age but they were all just fine.
I was amused by the overseas tourists who spent much of the cruise taking selfies, posed artificially with false smiles, and slowly began to notice their environment. The Year 5s did similar, but were quicker on the uptake, and it was very pleasing to see how, unprompted by their teachers, they began to comment on things they had observed, from boats to swans. It struck me as the perfect outing for children of that age, and they were splendidly well behaved - the teachers had set a rule they weren't to go further forward on the boat than an imaginary line because that was where we and several other couples were sat.
And the children all waited at Bowness for the adults to get off first. I made sure to say thank you at intervals down their line and to their teachers. One of the girls had an old fashioned camera, with film, which needed winding on. I wondered whether her parents were incurable retro hippies or strict Protestants who abhorred digital cameras, mobile phones, computers and the internet!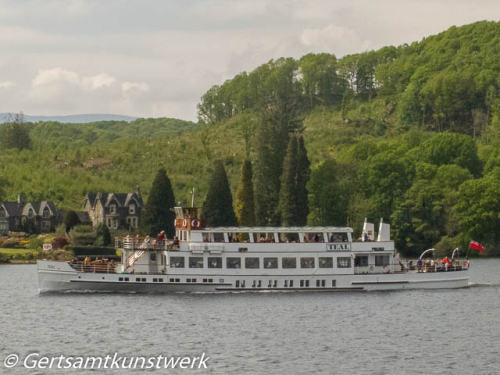 For part of the cruise we had two couples in their 40s or 50s sat behind us. They were entirely inoffensive but I couldn't help overhearing their conversation, just because we were sat so near. It was banal and irrelevant. I have noticed this before and since, that people pay a non-trivial amount of money in order to hold a conversation they could have anywhere. Now, I'm sure that their surroundings seep into their subconscious somehow, but with the current fashion for 'mindfulness' it makes me sad that people can't be 'in the moment' with a simple pleasure they have actively chosen to pursue. Surely they can't just be doing it for Fear of Missing Out? Or to boast to friends on their return?
The east shore of Windermere is well built up, lined with large houses, now mainly luxury hotels, originally built by the rich industrialists of Lancashire. It gets less dense as you progress south. The west shore is largely unspoilt, due in no small way to Beatrix Potter, who bought several hill farms to preserve them, and eventually bequeathed them to the National Trust. I learned a lot about Beatrix Potter on this holiday, which happened to be the 150th anniversary of her birth. A remarkable woman, who did far more than 'just' write and illustrate twee enduring story books for small children.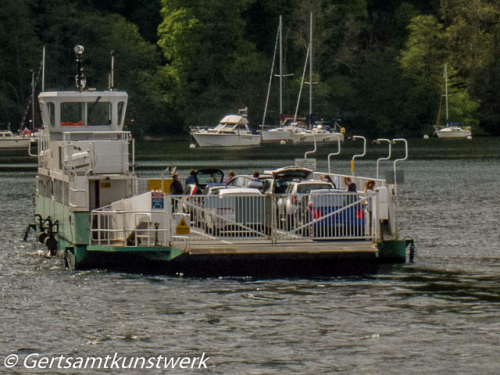 A fair few more photos in my Lake District photo album.