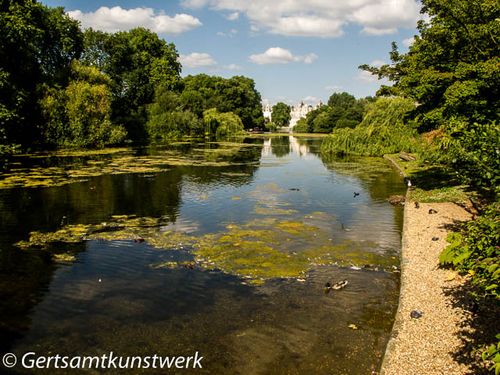 After our little visit to Stockwell Bus Garage we headed for Trafalgar Square for the tail end of West End Live. West End Live is where various theatres put on excerpts from their shows for the free entertainment of an audience gathered in Trafalgar Square. 
There was some problem with traffic - a mixture of roadworks and an incident of some sort. Our bus was diverted just by my old workplace and it joined a long queue of stationary gridlocked traffic. We politely asked the driver to let us off, and we went into a pub I knew fairly well. From there we walked to Trafalgar Square via another pub and, most importantly, St James's Park.
It was an almost perfect summer's day, warm but not belting hot, and sunny with a few light fluffy clouds. As we came out of the park we were stopped by a Canadian family asking for directions. They had arrived just that morning and hadn't realised that London was so green and picturesque.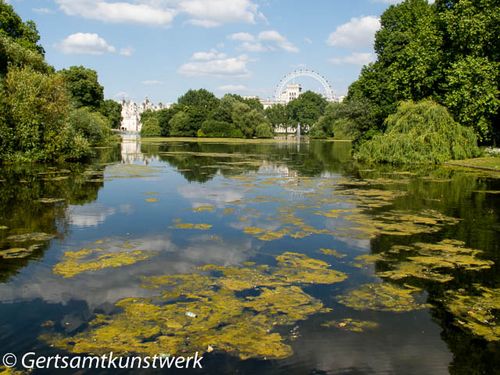 When we arrived in Trafalgar Square, Stomp was just beginning. That was tremendous fun and energetic.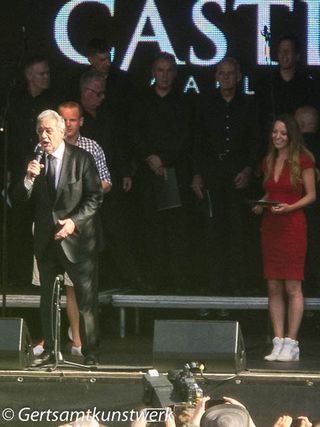 Soon after was the Act I was waiting for. Plácido Domingo conducting the chorus of the Royal Opera House. Of course, I am a fan of Plácido for his singing; the conducting is incidental. I'm sure some silly person would sneer at me for travelling into London especially to see him conduct. But Trafalgar Square is a little over 4 miles from home, and my excursion was part of a day that consisted of "Go to Stockwell bus garage and then go into town."
He spoke briefly, commiserating England on being in the same position as Spain - knocked out of the FIFA World Cup. Laughter all round. He also said he would invite people to come to that evening's Tosca, but it was sold out.
And then he conducted the ROH chorus. One of the pieces was Va pensiero, The Chorus of Hebrew Slaves, from Verdi's Nabucco. 
I think West End Live is a splendid idea. Of course it acts as advertising for the various theatres and shows, and for the idea of theatre, especially musical theatre. I think there was a considerable proportion of the crowd who had been there all day, and many more who stopped for a while as they passed by. A good mixture of age ranges and visible cultural differences. And a lovely day for basking in Trafalgar Square (ie, it wasn't raining).