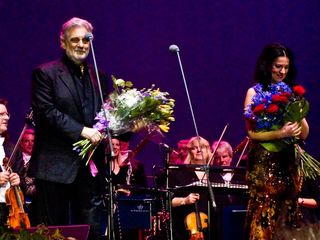 It was a privilege and a pleasure to be at this concert last night. A privilege I paid quite a lot of money for, well twice quite a lot because I also got a ticket for Jimmy. Thankfully he really enjoyed it!
I approached the concert with high expectations. I am a great fan of Plácido Domingo, as I think you know. I knew instinctively that performing with Angela Gheorghiu was much more significant than him performing with one of the many talented protégées he normally has accompany him. With the greatest respect to someone like Virginia Tola, for example, I don't think there would have been many people there for her. Angela is different. I had quite forgotten quite how much I like her. I didn't manage to get tickets for her recent Tosca; she cancelled Adriana Lecouvreur the night I attended; I cancelled her Traviata after my encounter with the 'Sir John Tomlinson pothole' on Floral St. So it's actually two years since I have heard her, in Tosca.
I have tweeted quite a bit about the concert, which has (some) spontaneity, but makes it more difficult to write a narrative post. I don't, however, feel any attraction to tweeting while the concert is actually happening. Sorry, can't touch type on a touchscreen.
It was a bit of a surprise to realise that the concert had exceeded my expectations - considering how high they were.
I had guessed possibly 2/3 of the programme beforehand but that did not diminish my pleasure. I was anxious about the venue and anxious about my own high expectations - 'audience fright' I call it.
The opening number was Berlioz's Hungarian March, a pleasant enough piece, but serving no artistic purpose in this concert. I don't think I've ever been to a 'numbers' concert that hasn't started with some orchestral piece, to settle the audience, before the headline act.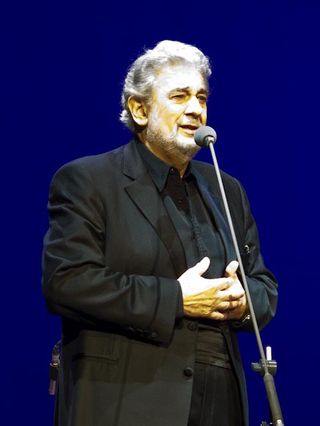 Plácido walked onto stage without the slightest ostentation or attention seeking - then the audience noticed and greeted him rapturously. His first piece was O Souverain by Massenet. At the time I thought it beautiful, but in light of the rest of the evening it was not Plácido at his vocal best...warming up, relatively speaking! I was distracted by some interference or feedback of a whistling nature and hoped fervently that this wouldn't mar the whole evening. I didn't notice it again so it must have been snagged.
The format followed the familiar course he has used in numerous concerts with various female attendants - although I place Angela above being a 'female attendant'! She was on next to sing Song to the Moon by Dvorak, which was utterly delightful. I remembered why I like her voice so much: it sounds no natural and unforced. She claims that her voice was perfectly formed by the time she went to Conservatoire at 18. It still combines a youthful purity with a mature steeliness. I know the aria passably well - I'm not score-perfect nor had a score in front of me - and I found her rendition to be beautiful. I was gritting my teeth waiting for a typical soprano squawk or screech, but it didn't come, and I remembered that Angela doesn't. And didn't, all night.
I have proceeded through this blogpost writing a paragraph on every number that was performed, but I have deleted most of what was written. I was torn between 'I thoroughly enjoyed this/it has a nice tune' - which conveys nothing, and nit-picking at details in the margin, which is a sure way to destroy the magic of a thoroughly enjoyable evening, and entirely misses the point.
This wasn't an intimate recital at Wigmore Hall or even part of the Barbican's Great Performers' series. It was showbiz for the sake of entertainment, and a large audience left very happy, buzzing, using words like 'amazing' at the end of a wonderful evening. Sure, some subtleties may have been lost; sure, that performance of that particular aria may not stand comparison with another arbitrarily chosen performance, but so what? Two superbly good performers at the top of their profession, in fine form reaching out to the audience, singing gloriously, taking adrenaline from the audience and making people happy.
When Plácido sang Wintersturme I was transported to another world. Gia nella notte densa was moving, and it was good to hear Plácido sing it with someone who is as good as the various Desdemonas I have on CD and DVD. It surprised me that there was a relative absence of stage chemistry between them, which was also apparent after the interval when they sang Favella il doge...Figlia, a tal nome. This was musically the highlight for me, making me wonder what it would be like to see them together in these roles on stage. This was when it was most apparent he was holding back so as not to drown her out - she has a beautiful and often penetrating voice, but she isn't loud. (I prefer beautiful to loud). I was also struck at how much he acts with his face, or even just his eyes. And it is a duet I have come to love dearly.I asked the people sitting either side of me whether we could rewind and play it again.
The penultimate piece before the interval was the overture to  Don Pasquale. A lovely piece but an odd choice. I'm not sure anyone would know it if they hadn't seen the opera. I've seen it several times, and can't say I know the overture, though it pre-empts Com'è gentil, possibly my favourite tenor-aria-that-Plácido-hasn't-recorded, and lots of grand, lush orchestration which makes me love Donizetti.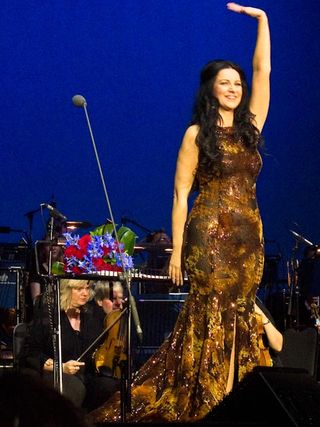 After the Simon Boccanegra, we moved onto Musical Theatre. Angela sang I Could Have Danced All Night. A brave choice, in London. Musically and vocally she was stupendous, but her pronunciation was...well, my friend invoked Prof. Higgins and his pronunciation lessons. Plácido sang The Impossible Dream from Man of La Mancha, one of the few numbers I didn't predict might be on the programme. That was an unexpected and delightful bonus!
The orchestra played the overture from Candide, which has featured previously at a Plácido concert, and also a similar style Bryn Terfel concert I went to a few years back. It's a pleasant enough piece but I don't feel I ever need to hear it again.
I was so pleased they sung Tonight from West Side Story, a big favourite of mine; when Plácido sung Sleep well and when you dream Dream of me Tonight I took that as an order!
Angela sung La Seceris by Tiberiu Brediceanu, a singularly forgettable tune that was never really going anywhere. But she sang it with such drama and passion I could forgive her for inflicting this on us, and making me remember how uncomfortable my seat was.
The inevitable zarzuela included  Plácido singing Sorozabal's Amor, vida di mi vida, and then the orchestra played the Intermedio from La boda de Luis Alonso, which we didn't know, but really liked. The concert 'proper' as advertised in the programme, finished with Me llamabas, Rafaeliyo from Penella's El gato Montés, which is actually opera, which I always forget, thinking it's zarzuela. Plácido played the role of a torero with a flourish and panache.
Sustained applause marked the end of the pieces that were listed in the concert programme (£10, it cost). I do hope nobody was daft enough to leave at that point, because the concert was only 2/3 over. I read there were 7 encores, but I can only remember Plácido singing No puede ser, Besame mucho and Granada; Angela singing O mio babbino caro and another Romanian song, The Tree, which she dedicated to her husband Roberto Alagna, who was highly visible in the audience - he stood next to Jimmy twice, for quite a long time. They finished with Lippen Schweigen - Plácido told us to sing, because they were going home. He strolled off the stage with one of the cellists (who was obliged to abandon her cello) - she looked terrified! My friend reported she saw Marta scurrying to the door that led backstage. Angela grabbed the leader of the orchestra and escorted him off, then several more of the orchestra decided to waltz off arm in arm!
Update: The 7th, forgotten, encore piece was Angela singing Lacuona's Siboney. Enjoyable musically, but the boogying with her back to the audience doesn't need repeating
Plácido's 3 encore pieces were the icing on the cake for me. I love him singing the heavy, dramatic emotional opera roles, but I also loves it when he relaxes and sing the more popular stuff (I know No puede ser is from zarzuela but he treats it as a party piece). I don't even know why I like Besame mucho, because, listen to the orchestra, it's a cheesy disco song played by a symphony orchestra. But I love the way he sings it, alternatively purring and belting.
I shouldn't be surprised by how much I enjoy a performance by Plácido and yet every time he manages both to surprise and amaze me. I always the frisson of gazing on him and thinking - here is someone I hero worship  and there he is, just a few feet from me; this man is such a legend and yet, here I am, listening to and watching him perform.
Earlier in the week I had watched two interviews - online with ITV London Tonight and on TV with BBC Breakfast. Even though I last saw him only a month ago I was actually quite shocked by how old he looked. And yet, on stage, it didn't even cross my mind, until well into the second half when I remembered that he is 70, but that seemed immaterial, just a number, considering how lithe and energetic he was on stage. Yes, dark shadows around the eyes, and crumpled looking, but yes, I have seen myself in the mirror, so I should say no more! He seems to have a lost a bit of weight, so while he is still cuddly looking, he looks a lot leaner and trimmer. (Although I am comparing with when he was wearing the most unflattering suit in Il Postino)
I shouldn't even remark on the fact that his voice sounds so amazing for his age, because it does, but that is beside the point. I didn't hear him live when he was, say, in his forties, but if he had given a performance like that at 40, I am sure people would have been raving at what a wonderful singer he is with that rich caressing voice.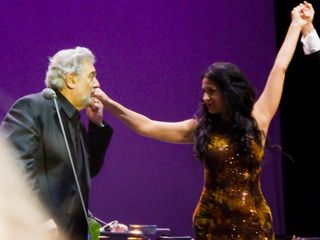 I can't capture the magic of the evening in words, and already the detailed memories are fading away. I wish it had been filmed (other than just for projecting on the arena screens).
More photos in my Performance album, which loads in reverse order
Besame mucho (includes audience sing along...) At 1:07 is the point where Plácido gazed directly into my eyes!
Granada
O mio babbino caro