I have been feeling slightly disenchanted with opera. Or, perhaps, I have been struggling with nights out. Precisely, I have found that a night out may have the ability to lift my spirits and re-energise me, but I have seen too many operas recently that have served only to tire me, leave me aching from sitting too long, and deprive me of rest.

I booked Le Nozze di Figaro because I have not seen it for quite a while. I returned my ticket in 2010 because it clashed with taking a holiday, which was necessary to fit in before the several Simon Boccanegra performances at the Royal Opera House. Overall, the cast did not massively attract, except for Simon Keenlyside. When he withdrew, I intended to return my ticket, but never actually got round to doing so, so I went sort of by accident, with very low expectations, not least of myself.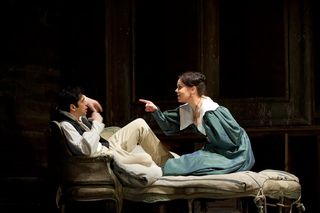 So it was a sheer delight to sit in an amazing seat and bask in what was a gorgeous performance. The production is the same as I originally saw six years ago and is available on DVD. In short, I still vastly enjoy the production. I could make criticisms about some details, as I could then, and I know there was an argument that it made no sense setting it what appeared to be the early 19th century, but despite this, or irrespective, it's definitely my favourite production I have seen.
My seat was amazing because it was fairly cheap but afforded a great view of most of the stage, up close. Certainly no need for binoculars, as I was sitting in line with and to the side of the orchestra pit in the stalls circle. So when the singers stood at the front of the stage, on my side, it sounded, looked and felt very intimate. During the interval, I tweeted that I had three different shows going on: the singing and acting on stage, the sublime orchestral concert at my feet, and the interesting show given by Tony Pappano on the podium. I was tempted even to write that Such-a-Role was sung by Jo Bloggs and Tony Pappano.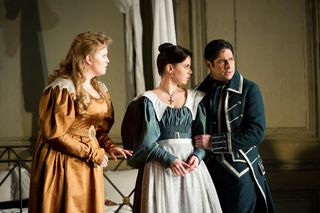 The highlight was the orchestra playing. I am as familiar with the sound of this work as I am with any opera, although I don't actually study scores, pretty much like I don't require a recipe when I dine out.
I guess some people would argue that dynamic contrasts, and, to some extent, those of tempi, were brash. I couldn't persuade otherwise but am convinced that the brashness was deliberate. In any case, the lyrical passages were extraordinarily plangent, and I never got a feeling of disembodied numbers being played.
I just loved the sound the orchestra makes. It surprises me that Tony Pappano is so talented at Mozart and yet so clearly detests Baroque and especially Handel.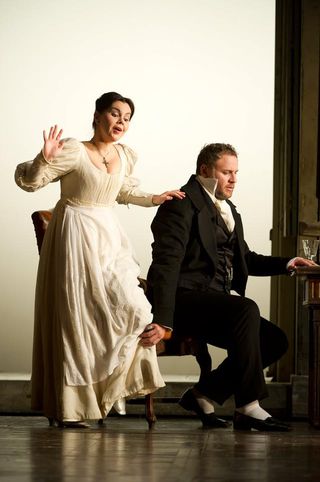 The cast was on average better than good. I was particularly taken with Lucas Meachem as Il Conte, more than just a replacement for Keenlyside. Not a beautiful voice, but robust and effortless. A convincing stage presence if not necessarily oozing with charisma. Physically attractive if not a conventional barihunk. I also really liked Aleksandra Kurzak as Susanna. I'd previously heard her as Norina, and enjoyed her with reservations. Those reservations were gone this evening, a delightful voice, and a lively stage performance.

I want to like Ildebrando Arcangelo more than I do. I've seen him good and I've seen him not so. I concluded that being close to him was a definite advantage. He demonstrated he is capable of singing loud, but when he's not singing loud, he can be hard to hear from far away over a big orchestra; certainly loses the vocal nuances.
I also found him a delight to watch at close quarters. Again, a nuanced and intelligent performance. Perhaps overall he is perfect for a small house or on DVD, not so from up high in a larger house.
Anna Bonatatibus was fine as Cherubino, a role that must be a dream for any mezzo to play. The supporting cast all played their supporting roles wonderfully; it was particularly nice to see Ann Murray as Marcellina and remember Philip Langridge, her late husband, as Don Basilio.
I really didn't take to Rachel Willis-Sørensen one bit as the Contessa. It's difficult, because the cheers at the end made it clear that most of the audience loved her, and I am very aware that my 'I don't like' is purely subjective and is not an objective assessment of her ability. I thought her loud and squawky; I would only like to see her in those loud squawky Verdi soprano roles in preference to Sondra Radvanovsky, whom she vocally resembles.
I thought she moved as if she had conscientiously and ably learned complex stage directions, and got no sense of her being a natural actor, almost as if she was constantly fighting the urge to park-and-bark. But maybe I am unnecessarily harsh on account of my my vocal dislike of her.
What was nice was that the performance brought back memories of the exceptional cast from 2006; it confirmed my belief that cast was exceptional. And yet, I enjoyed this cast, not despite the previous cast, but regardless. I know that it's possible to treasure memories of highlight performances without them ruining future enjoyment.
And I'm seriously convinced again that Figaro might just be my favourite opera, even thought tenors are giving scandalously tiny roles.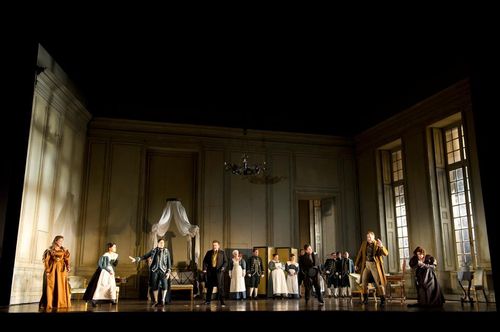 Photos from the Royal Opera House Facebook page
Continue reading "Le Nozze di Figaro at Royal Opera House" »