This is of course regularly voted one of the most popular opera by Classic FM listeners*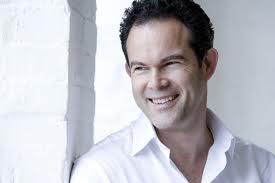 I booked this ages ago, largely because it had Gerald Finley in the cast. Gerald is my favourite not-tenor singer, and amongst my very favourite singers of all.
I book to see a staged production at ENO in the summer, but then we decided to go on holiday instead, so I returned my ticket - and still have the credit voucher, unspent.
I had never previously heard this in its entirety. In some ways that doesn't bother me. I know there are people who say you must study the score and listen to numerous recordings before you go, and others who disagree. I don't tend to read the script before going to a film and I don't insist on seeing a facsimilie before seeing a painting.
Not that I dismiss the benefits of study and familiarisation, and occasionally, I do think - maybe I'd have got more out of that if I had been more familiar beforehand. But it often takes a live performance to turn me onto a work, especially ones that aren't masterpieces.
I was chatting with a friend beforehand. She and her husband had been to the pre-performance talk. I confessed I didn't know the plot - she assured me there wasn't one - and that I only knew two tunes - she assured me there are only two tunes.
In the interval I tweeted that it had the lamest plot ever, and was going to continue with 'I love the music', when I was joined by another friend, so my 'Makes Pelleas look fast-paced and action-packed' hung in the air like an unresolved chord whilst most of my Tweetstream was focusing on the Shadow Cabinet Elections, anyway!
As the overture began I thought, 'Oh no, lots of 19th century over-egged strings, schmaltz alert....hold on, I like that percussion, sounds a bit like Carmen. Oh, yeah, it was written by Bizet!" I think I was knitting with only one needle anyway, because when the opening singers and the conductor walked onto the stage, I thought "Gosh, that conductor looks a lot like Tony Pappano". Funny that!
Maybe I was a bit disoriented by it being a concert performance. I think I have only been to one other concert performance at ROH - although numerous concert operas at other venues, notably Barbican, Festival Hall and Albert Hall.
So, all that is a prelude to me saying: everything I write should be caveated by my total lack of familiarity with the work and it being performed in concert, with no attempts made even half-heartedly to act.
Most of the action consists of people standing around talking about what happened in the past, which doesn't strike me as being very active. Ironic, because the book on which Carmen is based in written entirely in flashback, as is Wuthering Heights, and neither of them suffer as a result. I never started to care about any of the characters nor their reasons for renouncing each other, indeed I rapidly came to the conclusion that the greatest love affair is actually between the two men, as demonstrated in the famous duet Au font du temple saint.
I had read Rupert Christiansen's review beforehand
it was a particular delight to hear the great tenor-baritone duet "Au fond du temple saint" sung with musing intimacy and quiet dignity rather than the rugby-club virility made fashionable by the dear old Jussi Bjørling and Robert Merrill recording.
And I would agree.
I thought it was a special treat having the orchestra and choir on stage. Occasionally, they swamped solo singers, but there was a greater gain from the wall-of-sound especially evident in the storm scene (which doesn't begin the work, so disqualifying it from being a great opera - that and the incredibly lame plot).
I thoroughly enjoyed Gerald Finley's singing, although it served more to confirm that he is my second-favourite singer rather than to reveal any new insights into his vocal technique. His voice doesn't make me shake at the knees but nevertheless it has a virile beauty and a purity of tone that never fails to please me.
I thought John Osborn was pleasing overall, though he did seem patchy, and although the voice has beauty, ultimately it lacks dramatic characterisation, and he had very little stage charisma. Raymond Aceto was the fourth member of the ensemble and was fine in a fairly small part.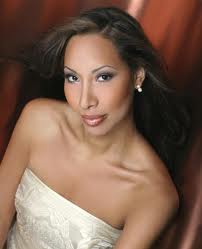 The revelation for me was Nicole Cabell (if she has a child one day, will it be a cabelletta?). I hadn't heard her live before. When she won Cardiff, and as Musetta in the Netrebko/Villazón Bohème, she hadn't impressed me. Which is not to say I had negative feelings, simply I was indifferent.
Despite it being a concert performance, I warmed to her sensuality. It wasn't overstated and she didn't resort to hammy vamping. I really did like her voice, a warm velvety feel without ever sounding inappropriately mezzo-ish.
Regular readers will know my distaste of sopranos who consider screeching an acceptable method of reaching the high notes. Nicole got perilously close on one occasion but absolutely did not cross the line, seeming to know just how far to strain to reach the devilish high note. Although the result was a less beautiful note than the rest of her output, that in itself won her over to me.
She's 33 next week, which suggests she is entering the peak of her career. On this showing I'd love to hear and see her in more interesting roles than have so far been offered to her locally - several decent ones already in her repertoire.
I enjoyed the evening as a performance of music but I'm afraid the opera left me unmoved. I have no great desire to see it staged, although if it was done again locally I would probably go unless I had good reason not to (such as being holiday, or it being cast with detestd voices).
It is supposedly set in Ceylon (now Sri Lanka) without any evidence of it being based upon accurate ethnographic research. I'm not one for banning such operas because they offend modern sensibilities: quite the opposite, I don't think we should forget the casual but persisten racism of our forebears.
But, ultimately, I thought it a weak uninteresting story. Slightly in jest, I tweeted
they all spend two acts standing around talking about it. Think what Pagliacco had done in that time!
and
Cavaradossi's harboured a refugee, shagged Tosca, & been tortured. Even Parsifal gets to kill a goose!
And unlike Canio, Cavaradossi, Tosca and Parsifal, I felt no sympathy with any of the characters. And that's before even mentioning Bizet's masterwork, Carmen - The Pearlfishers doesn't stand comparison against it.
* bullshit, of course, the voting is on the most favourite standalone number from any opera and extrapolated to imply a love of the entire work, although I feel sure that most of the electorate, like me until this week, have not heard the entire opera