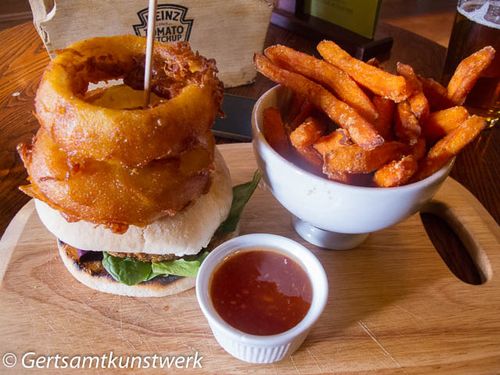 Lovely mini-break in Bournemouth. A wonderful escape from the stresses of work and the stress known as 'Other People'. On the Friday we walked along the seafront to Boscombe A sunny February walk in Bournemouth and on both evenings we ate in our hotel Blake's Restaurant Bournemouth. On both days we had a light lunch in the local pub - the Goat and Tricycle, reputedly the best real ale pub in Bournemouth. Jimmy had a chat with the manager, who said how many barrels they turned over each week - and how many at Christmas. I forget the numbers now but Jimmy was seriously impressed. A good selection of ales and 'proper' ciders and a wide selection of food, from bar snacks to main meals. A good turnover of customers, too, and a reasonable social mix: local workmen, dog-walkers, retired or mini-breaking couples. I felt entirely comfortable there on a Thursday afternoon.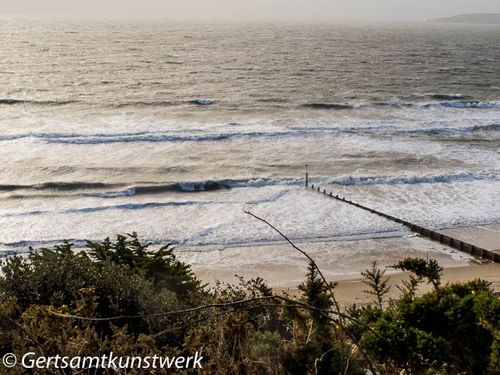 I had planned that we would spend all of Saturday in Bournemouth, perhaps even taking an early dinner before travelling back late, but the weather forecast was not good. Jimmy insisted we get away fairly early. I was disappointed, but I remembered how critical I am of people who travel unnecessarily, putting themselves and others at risk, in bad weather.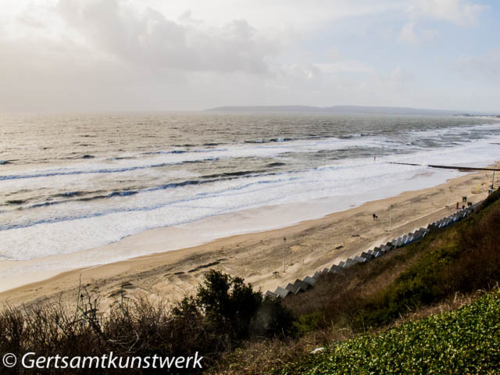 After breakfast on Saturday we walked to the clifftop, and down to the Undercliff Promenade to look at the brewing storm. It was lively out there, a contrast from the previous day's relative calm. and, yet, as pictures of the storm-battered winter of 2013/14 go, these are about the dullest you'll see! There was even someone on the beach with his small child, and they looked perfectly safe.
Nevertheless, there were signs of an impending storm and we decided to call it a day and head home. Ironically, our Railway Replacement bus service to Southampton Airport Parkway was a highlight - travelling through the New Forest in glorious sunshine. The train journey was uneventful. We changed at Woking and they were announcing (further) chaos on services to the West Country - this time, a landslip at Crewkerne. On Twitter I was reading various South Londoners caught in flash downpours. This was quite surreal, as we enjoyed surprisingly beautiful weather. Until we reached Streatham Hill, when the heavens opened, and we were soaked in the short walk - dash - from station to fishmongers.
In retrospect, we could have stayed all day in Bournemouth and still got home safely, but I think it was the right decision to make. There were still more storms to come - especially the Valentine's Day storm, which affected previous holiday destinations of Milford-on-Sea and West Bay, but I am rather relieved to have escaped this winter's exceptional storm without one dramatic photo to share with you.