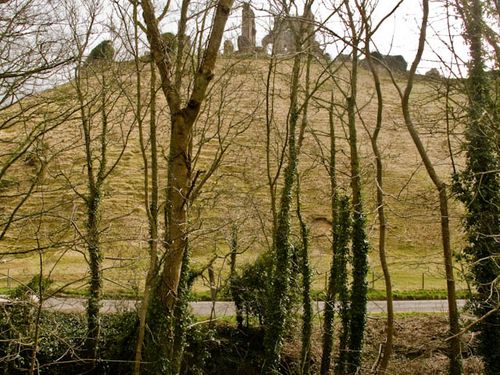 I have a little book called Short Walks in Dorset, and thought it would be a splendid idea to walk these modest strolls whilst in Dorset in March.
I selected the Corfe Castle walk, because we had seen Corfe Castle on our visit two years ago. I wanted to travel on the steam train, but, realistically that was not going to happen on a March Monday.
It's a bit of a drive from Bridport to Purbeck but not unpleasant when the roads are not too busy. We thought to stop for coffee en route, and I thought that Prince Charles's model village, Poundland, would be an excellent place. We drove around it but could not find anything that resembled a café, tea room or anywhere else for refreshment. Now, if I were designing a new village, I would make damn sure that I created a village centre with a decent café, village shop, Post Office and pub. Not just shops selling beads and artisan furniture. But it seems that Poundland is just another dormitory town designed for people to drive away from, and into historic Dorchester.
We didn't explore Dorchester to any great extent, so it would be unfair to comment in detail. It didn't seem that inspiring, but we did find somewhere open for morning coffees and preparing for lunch. Nappers Mite is a strange name and has a fairly interesting history. My coffee was perfectly satisfactory and I'm sure if we'd been hungry we could have found something to meet our needs.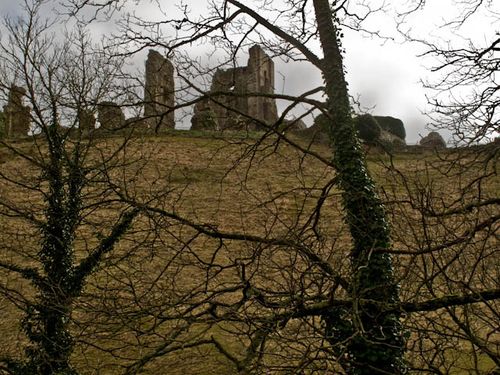 Onwards to Corfe Castle. The National Trust car park is some distance from the castle. The pay-and-display machine was broken, and the Visitors' Centre was uninviting, so we set off on our walk which originated across the road from the car park (take care crossing).
 The walk took us along the Corfe River. There were some helpful signs of what wildlife to look out for. Aimed primarily at children but interesting, too, for adults who lack any particular knowledge.
The path crosses the river and I made the mistake of following the signs to the castle and village rather than referring to the walk instructions. Having looked at the book again for the purpose of this blog post, I have just realised that as we didn't even park in the 'correct' car park, our chances of following the route were virtually zero. And reflects as much on the poor quality of the instructions as my incompetence in reading them. Hmm.
The path took us along the bottom of a cliff, with the ruined castle looming above us
A pleasant enough walk until some ghastly woman and her companion galumphed past, sneering loudly at people who stop to take photos of sheep. Very rude. I can only pity her if she must rush everywhere and miss seeing anything. But, mainly, rude.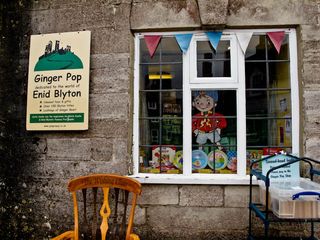 The village is twee and very consciously a tourist destination. A shop dedicated to Enid Blyton, who visited Purbeck and  - possibly - based Kirrin Castle on Corfe Castle. Quite interesting to look at; startling that someone can make a living from selling all sorts of Enid Blyton tat, including lots of golliwogs. 
There was a museum which held our attention for nearly five minutes, and a model village which didn't appeal (too many children, apart form anything else) and a selection of pubs.
We chose the Fox Inn, worth a visit to have a look in. There was a roaring fire, in what's claimed as a 14th century firepalce, and some people were eating what looked like well made meals. The beer wasn't great, clearly wasn't getting the turnover at that time of year. Reviews are mixed, to put it mildly.
We strolled up up to the castle entrance but were staggered at what they were charging just to walk round a few old ruins with no really significant history (despite what the marketing people claim). So, instead we walked round the village before heading off to Swanage.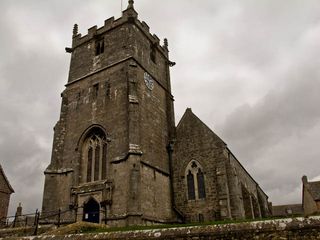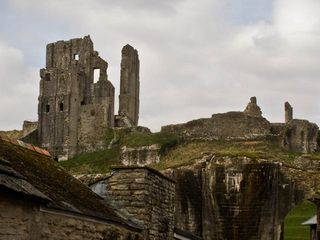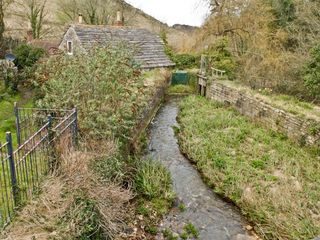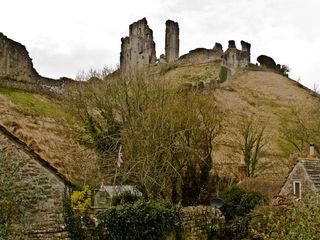 Swanage seemed pleasant enough as out-of-season holiday towns go. Nice walk along the beach and stroll around the shops. The highlight was a bowl of mussels. I forget the name of the restaurant, but it had a front room with a counter, and a back room for dining, with lots of teapots on display and jams and chutneys for sale in the connecting passage. The mussels were excellent. We also witnessed an incident which turned 'very annoying parent of toddler' into something quite amusing. The toddler was called Oscar.
The father of the child seemed desperate to show off to us and a couple of old ladies what a marvellous father he was. He spoke to Oscar in the way that one might speak to the child of an acquaintance - stiltedly, and bombarding them with questions and statements, rather than in that desultory way of half-finished sentences that people use when close.
Mother seemed uninterested, her body-language hostile and uninterested. She said nothing. Until, suddenly, loud show-off Dad announced "I'm Oscar's favourite Daddy". Hurriedly, Mum said "Oscar's only Daddy". Too hurriedly, too desperate to emphasise the point. I sniggered. He looked daggers at me. I'm so bored with these absentee fathers who spend so little time with their kids - often for good reason, sometimes for not - and then feel the need to show other people what good dads they are (they imagine) rather than actually be a good dad!
We had another annoying parent-of-toddler incident in the Red Lion at Wareham. We were the only people sitting in what is a large bar of a hotel, and this couple arrived with their toddler, and sat at the next table to us. The mother - who was about 6 or 7 months pregnant - demanded the man went to get her 'another' large glass of wine but he was too busy playing with the toddler's noisy toy. We decided it was time to go. Inconsiderate and anti-social. 
On the way home we saw what I assumed was an albino peacock, as did this photographer (a year earlier), but it seems from the internet that white peafowl are actually bred as such!