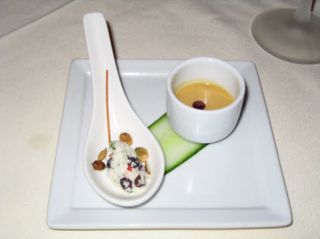 A supplement fell out of the Radio Times. It was a Jamie Oliver guide to Christmas food. I quickly flicked through it and my eye was caught by something he calls Party Forks, which seems to be a suggestion for amuse bouches. I mentioned it to Jimmy, and he immediately said - oh, you can put them in vol-au-vents.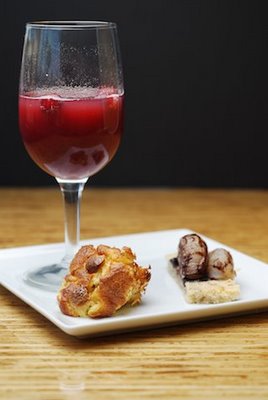 You cannot imagine how much that annoys me. Amuse bouches seem to be somewhat fashionable at the moment; vol-au-vents were fashionable sometime in the 70s. Okay, I know they pop up time and again on buffets, but I reckon that is so that a tiny quantity of ingredients can be disguised by a great big wodge of puff pastry.
I think there are some interesting ideas for presenting amuse bouches. Skewering them with forks looks fun - the picture that accompanies the article has a selection of non-matching foks with eye-catching handles. Other ways of serving that spring to mind include shot glasses, espresso cups and Chinese soup spoons. I suppose you can also use small saucers or ramekins as well as rather less exciting cocktail sticks and crostini.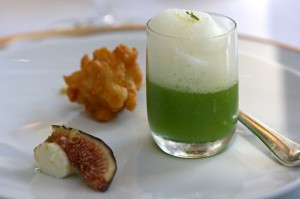 But at home, when you're already creating unnecessarily fussy work by creating the amuse bouches in the first place, it seems silly to create even more fuss by stuffing them into a vo-au-vent case, which, basically has nothing to attract the eye. And some of the ideas for mini-appetisers should either be served raw or as liquid!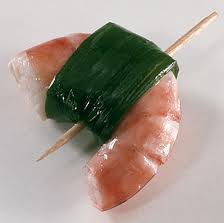 In so many ways that just sums Jimmy up. And it annoys me!
Pictures from the internet: if I have breached your copyright please let me know and I will remove the picture or give credit where it is due