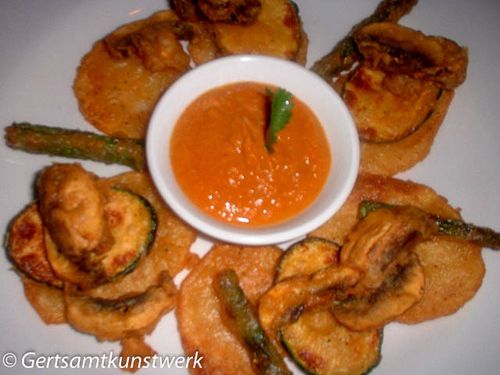 My earliest food photo is from November 2002. I am fairly sure this is Pakora, in a brilliant but short-lived Nepalese restaurant on a side street at the top of Brixton Hill. 
According to Wikipedia, Instagram was launched in October 2010. I am not a member of Instagram nor do  ever want to be. "No filter" scream people, even those who really ought to know better. Oh, wow! You took a photo without a filter. How innovative.
I didn't invent taking photos of food. I didn't even invent 'amateur blogger/photographer takes photo of food and publishes it online as part of an internet-based journal'. But nor did I copy anyone or jump on any bandwagon. Other photos at the time show that I was developing an interest in small objects. I think painters call it 'still life'. Again, not innovative.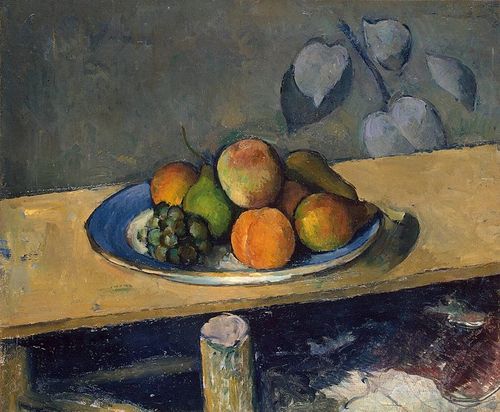 Google 'Still Life' and the first hit under Images is Apples, Peaches, Pears and Grapes. Paul Cezanne 1880.
The fruits and objects are readily identifiable, but they have no aroma, no sensual or tactile appeal ... They bear no relation to the colorful vegetables of Provence -- gorgeous red tomatoes, purple aubergines, and bright green courgettes. In his pursuit of the essence of art, Cézanne had to suppress earthly delights.
History of Art is not one of my strong points, but I can be fairly certain that Paul Cezanne was ridiculed for his still lifes of fruit.
I bought these mini pottery casserole dishes because they match my other Le Creuset kitchenware and because I get unnecessarily excited by scaled down objects. I made a lovely breakfast by soaking some smoked salmon in milk and chives, adding an egg, and baking. 
I watched the film Julie and Julia; it was entertaining and thought-provoking. A film about blogging. How tedious, how achingly zeitgeisty said some critics. Whatev. (A rare film that manages to feature a woman doing something other than angst over a man, whilst also acknowledging that women can actually combine 'thinking' and 'doing' with 'being in a relationship'. Heck, it was a film with the two main characters being women. That's noteworthy for Hollywood).
For a few moments I contemplated a similar exercise. Find a cook book and diligently work my way through, blogging each and every creation. I quickly rejected this. Some people may feel I'm a bit of an anorak but I'm not a completist. I don't need all records/books by any singer or author, and I don't feel compelled to walk/cycle the entirety of the South West Coast Path, the Capital Ring or the Wandle Trail. I'm quite poor at sticking at things. With leisure pursuits, what's the point of going on if it doesn't give you pleasure?
Last summer I discovered that goats cheese and figs are a blissful union. To be honest, it was only last summer I discovered figs - other than the dried sugared version that come in fig rolls. An oversight. Great recipe - hint, parboil the potatoes first! Photography wise, should I over-expose it or over-emphasise the yellows and beige? In any case, why make it look 3 dimensional when 2 dimensions are just fine! 
Photos 7048 and 7049. So mediocre I can't be bothered to give them meaningful titles.
On the other hand, this blog is supposed to be a snapshot of my life and snapshots from my life. I enjoy cooking, although I go through phases of not being bothered. Food can be so colourful but I don't think the world needs another set of recipes typed up by me, especially as I'm not a creative cook.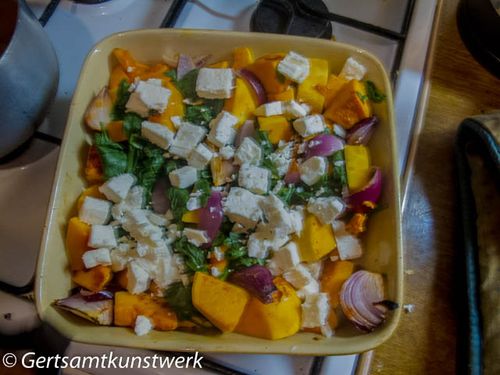 Beautiful colours but out of focus and blurry. Again, not getting the essential 3rd dimension!
I tend to stick to recipes, and even though I may substitute some ingredients, I don't go far off piste.  I mock recipe web sites where people leave comments such as 'This is a veggie recipe but we're not veggies so we took the veggies out and replaced them with meat" or "I added mushrooms sweetcorn and creme fraiche and left out the red wine aubergine and spices". On the other hand, I think it's fun to read other people's recipes and sometimes they inspire to cook a related dish from a different recipe.
There are some truly dreadful amateur food pictures on the internet. Most people cook food to eat it, and take a quick snapshot before it goes cold. Look at recipe books, magazine articles or websites for restaurants and you see something different. In most cases, the food was cooked specifically to be photographed.
There are tricks that some photographers use - coating food with inedible substances to make it shine, inserting wooden or plastic props to make it look three dimensional. Even those that don't use these tricks pick their lighting carefully. They rarely shoot in pokey home kitchens, and usually use professional photography lights and reflectors. Should amateurs use flash, or not? The results from professionals can be spectacular. From amateurs, less so!
Chocolate cake! Who can resist? Actually, this was so-so. I made the sponge chocolaty by adding cocoa, as I have been doing since childhood. But it didn't really taste of chocolate. Was the cocoa poor quality, or long past its best before date? Some recipes add melted chocolate, but most use cocoa. It was dispiriting. 
I did a few things right in these photos - capturing the three dimensions, and showing the inside, a casually carefully placed cake slice to imply action. But, again, the colours aren't right, the framing and placement isn't right, and I really should have made an effort to wipe the crumbs off the plate.
For my final dish I tried something different. Basically, putting together a dish from scratch. In my Uni hall of residence I loved chef's bulgar wheat and walnut chilli, and made it myself (from my head) occasionally over several ensuing years. I photographed several stages, with the intention of blogging "Hey, look, smug, my recipe, yeah, cool"
Can't really go wrong with the method.
Saute onions and garlic, add stock, carrots, peppers, chillis, and reduce it down.
Add kidney beans and walnuts. Add bulgar wheat and paprika.
Cook until it resembles an unappetising sludge, and add a tin of tomatoes to try and inject some colour.
I divided it into six portions to freeze individually. When I pour them out of the bag it looks disgusting. It has that slightly noxious odour characteristic of bulgar wheat and couscous. Heat it up, stir it around and you have the a comforting and filling meal, packed full of flavour, incredibly nutritious and just lovely. But photos cannot convey that hug-in-a-bowl sensation. I probably used too much bulgar wheat. As with couscous, I underestimate its potential to absorb liquid and swell up.
Perhaps the next time I photograph something I cook I shall pay better attention to lighting, placement/framing and generally how to 'style' a dish. But never to the detriment of eating it.