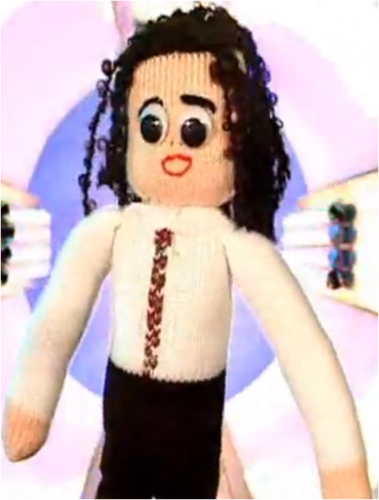 I've read a fair amount of criticism about Rolando Villazón taking part in Popstar to Operastar, and to that criticism I feel inclined to say. "Hey! Look! The sky hasn't fallen in... it's only a Game Show!"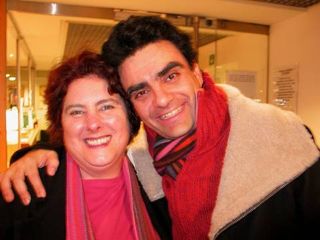 At this point I am going to say that I am a huge fan of Rolando, and have been for six years, since seeing him in Les Contes D'Hoffmann at The Royal Opera House. I have seen him live several times, have several of his CDs and DVDs, and I have met him a few times, always in a fan-star context, and I like him tremendously from what I know of him as a person, too.
The major criticism of him has been that by appearing on Popstar to Operastar, he has given it an artistic credibility it otherwise didn't deserve. And by supping with the devil he has de facto surrendered the right to be called a serious artist (okay, I paraphrase slightly but not much).
To which I reply - who in this life can afford to turn down work?
Or, rather, who, having been unable to work at their chosen profession for the best part of a year,  would be foolish enough to turn down a no doubt lucratively rewarded position. It seems  it required relatively little commitment - Katherine Jenkins tweeted that it was taking up two days a week for her - and she has all that extra commitment on slapping on all that emulsion paint and squeezing into those dresses.
Rolando isn't the first serious musician - and hopefully won't be the last - to have taken on an artistically dubious but short-term populist project.
 Straight actors do voice-overs for documentaries and adverts, and most top sports stars earn more from advertising than directly from their sports. With a few obvious exceptions,  it isn't often suggested that actors' or sportspeople's commercial activities interfere with their core business. And many people in the Arts have hobbies or personal commitments that are just as likely to distract them from work.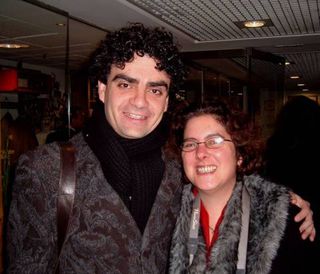 I would be annoyed if Rolando had cancelled performances specifically to do this, or if he was trying to fit it in during a run of performances, or skiving rehearsals to do it.
I would have been a bit concerned if he had done it straight after his operation last year, but he hasn't, and he's due back on stage in Vienna in March as Nemorino. That will be followed by a short tour of Handel, which I will be attending at the RFH.
There are people who have declared that Rolando's singing career is over. The dafter of those cite as evidence the fact that he has announced he has dropped roles such as Don Carlo and Don José from his repertoire.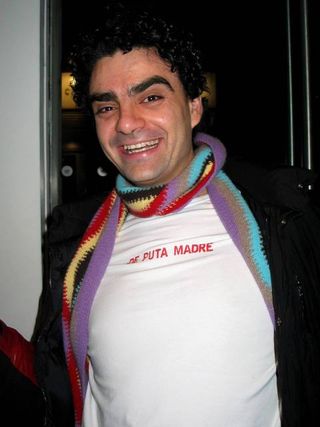 There were plenty enough people saying years ago that these are not suitable for his voice and he should give them up lest he goes the way of José Carreras - a minor tenor whose entire career was a failure (I jest, in case you fail to see that!). Giving them up has attracted criticism, but keeping them and adding roles such as Cavaradossi would also have attracted criticism.
I don't know enough about vocal cord cysts or indeed about vocal cords to be able to guess whether there is an inevitable trajectory towards doom. I simply don't know.
Natalie Dessay had nodules on her vocal cords and as far as I can see is maintaining a decent career, notwithstanding Thursday night*. I think people who are predicting Rolando's utter demise are rubbing their hands together in glee. They should have the manners and common decency to at least wait and see.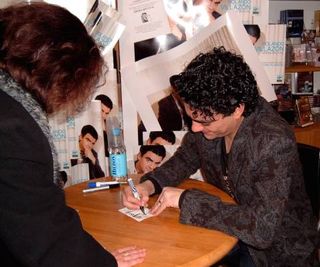 I haven't managed to catch Rolando on many of the chat-shows he has appeared on, because they have been on during the day, when I have been otherwise engaged. I have caught some on catch-up player and it doesn't surprise me how he comes across. One of my many criticisms of Katherine Jenkins is how she seems to fill the quota for 'classical musicians' on chat-shows, because she actually retains someone as a 'TV-placer' and has nothing better to do than endlessly promote her album and her tour. Yet she never actually discusses music, except to diss opera singers and distort opera as being expensive and so on.
Classical musicians are harder to pin down, because of the long hours spent rehearsing, because International Stars rarely spend more than a few short weeks in London, and because many of them are foreigners and thus assumed not to speak English fluently by the air-heads that book guests for these shows.
So having Rolando on chat shows such as Loose Women and other such programmes is a good thing. I dismiss people who claim that something is elitist and inaccessible even though it's occasionally on the TV, but I do accept that many people won't instinctively turn to watch a full televised opera. (Sky Arts aside, two of the last three operas shown on British TV  - Don Carlo and La Boheme - starred Rolando Villazón).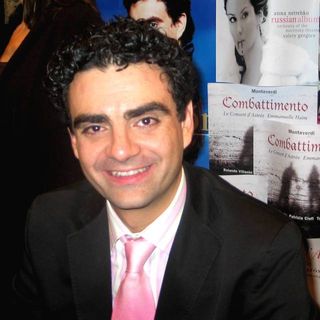 Rolando is an enthusiastic and engaging person who, above all, displays passion. Mainly for opera but for other subjects too, such as philosophy and literature. A really good example of how it is possible to be intelligent and thinking, and fun and funny and down-to-earth - really inspirational.
He can 'talk opera' as well as anybody, knowing and understanding the music and the traditions, how to act and create a character, and how to connect over the footlights with an audience. He seems genuinely down to earth and not up himself, which I think always conveys well on TV.
His recent album Tenor is currently at Number 18 in the general Album charts. I don't think it's his best album, although I enjoy it and have played it several times. None of his previous, arguably better, albums have reached such a high position in the charts, which shows that a little marketing goes a long way.
I often wonder why serious musicians don't market their CDs more widely. The simple answer is that they don't have the time. (See above about long hours for rehearsals).
Unlike most of the commercially manufactured crossover stars, their appeal is international, so even if they had the time to promote their CDs in one market such as the UK, they can't necessarily repeat for each of France, Germany, Italy, Japan, etc. And yes, the same would apply to International pop and rock stars. But their entire careers, too,  consist of recording and promoting CDs to promote the tours that promote the CDs. 
I will confess that I have slightly mixed feelings about Rolando's sudden fame. I am certain that I was the first UK blogger (and possibly worldwide) to declare myself a fan of his. And it was he who made me realise that opera singers are capable of vanity googling.
I like it that when we meet we hug. (Don't get me wrong, I'm not deluding myself that's anything more meaningful than a fan-singer thing). So a part of me begrudges sharing him too widely, even when a bigger part of me is delighted at the positive response from the general TV viewing audience - at least as I see it from the internet and the odd conversation at work.
* Natalie had pharyngitis and had to cancel after the First Act of La Somnambula at Paris Bastille. Unbelievably, there was no cover, so the rest of the performance had to be cancelled - no arrangements even for a scarcely adequate nobody to sing from the wings or pit, with music stand, while Natalie mimed.

The worst thing, reportedly, was that the cancellation announcement came after serving of champagne and canapés - and no refunds!
If that happened in London, there would be barely disguised tutting: in Paris I'm surprised they didn't call a General Strike and eat the elephant in the zoo.