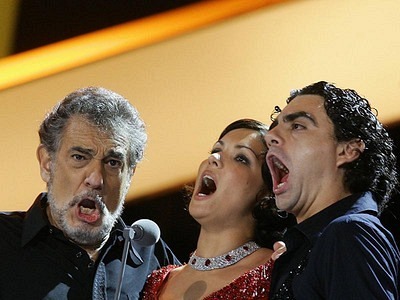 Domingo, Netrebko und Villazón stürmisch gefeiert
The Pearlfishers Duet (for tenor and baritone...) was sung. If anybody happens to have the werewithal, it would be wonderful to see this on YouTube...
Also: Luciano Pavarotti Honored by Fellow Tenor
Placido Domingo's eyes welled with tears as he sang before the World Cup soccer final in Berlin, remembering his Three Tenors colleague Luciano Pavarotti, who was recovering from surgery for pancreatic cancer at a New York hospital.

Friday marked the 16th anniversary of the first concert that Pavarotti, Domingo and Jose Carreras sang together _ before a World Cup final in Rome.
Update: A blog entry from someone in a civilised country... and lj'ed here