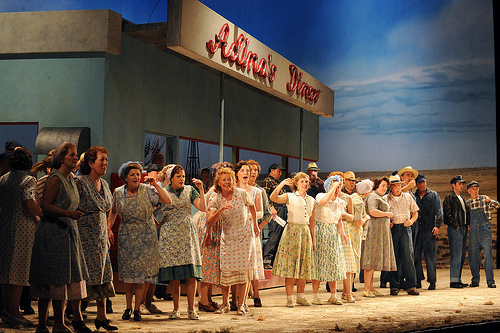 I don't normally agree with the Anglicisation of opera titles, but when they're sung in English, as at English National Opera, it makes perfect sense.
I went to see this production when it was originally performed and thought it delightful. This would have been February 2010 but stupidly I didn't blog it.
When I saw it was being revived I didn't put it on the list of 'must sees'. However, when Intermezzo advertised a cheap ticket offer from MoneySavingExpert, I realised it would be a nice afternoon out for Jimmy and me. I paid £20 each for our Dress Circle Tickets; I would normally have paid close to (if not more than) £40 for one uncomfortable Upper Circle seat, so feel that ENO haven't lost income from me. Especially not when we also bought coffee (better than Royal Opera House but still disappointing) and ice cream in the interval, whereas, normally, on my own, I wouldn't buy either.
But I am concerned about ENO's finances. They're obviously struggling to sell seats. If people trying to balance shrinking budgets are anything like me, £40 for an indifferent seat for a good but unstarry cast in a routine revival of a lovely but frequently performed opera is one of those things to be jettisoned.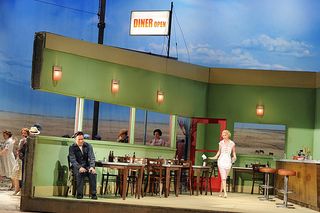 There is nothing not to like about L'Elisir d'amore. It's a lovely work, with some wonderful tunes, and rich orchestration. We were blessed with some wonderful fellow audience members. Sometimes with comedies, you find people guffawing in a very attention-seeking and boorish way, but the only laughter I heard was genuine. At one stage, one party had a collective fit of giggles. It seemed a bit strong for the light comedy, but perhaps they were a little sozzled, and, anyway, it was genuine and infectious. The chap in front kept kissing his girlfriend, but she eventually staged a tactical retreat. It wasn't snogging, more like him staking his territorial ownership and displaying some emotional insecurity and also a lack of understanding of the music and drama. But she staged a tactical retreat and, anyway, he was barely scraping a 0.5 on the 1-10 scale of annoying.
It is staged on the American Mid-West in the 1950s. I thought the colours were wonderfully reminiscent of the 50s, but Jimmy, who remembers the 50s, says they were later - but I wonder - fashion may dictate something to be the 50s, but that may not have hit poor areas of South London until the 60s. We agreed the lighting was exceptional.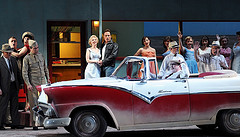 The set was a movable box, depicting Adina's Diner. For different scenes it alternated between right angles, sometimes showing the inside of the diner, sometimes the front view, with a rickety sofa in front, and a couple of petrol pumps, and a drive on part for a splendid 1950s YankTank of a car. 
The libretto was freely translated and there were some moments of genius, for example, the singing at Adina's pre-wedding party was in the style of Elvis, yet true to Donizetti's music and idiom. Dr Dulcamara had a fabulous patter-like song, freely translated, and when he listed the numerous ailments that the Elisir was supposed to cure, I recognised a good few, and am certain most other people did, too.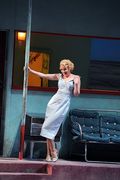 When I went to Il Trittico, I was irritated at how dated the works were. Yet Elixir, some 90 years older, seems timeless, and relevant today. 180 years later we are still too eager to believe the cure-all qualities of an untested potion, too easily duped by smarmy snake-oil salesmen, and perhaps, even more importantly, often don't know who we love until we're about to lose them.
Perhaps this prevents it being too fluffy a story, but in any case, a work with such great numbers deserves to be considered amongst the great operas.
I thought it was a good performance, because there were no flaws so huge as to mar it. I felt a little disappointed at the conducting - Rory MacDonald. At times it was too slow, which made the singers flatten their pitches slightly. More critically, there didn't seem to be any sense of the arc of the music, no getting beneath Donizetti's skin, no real grandeur (which can sound pompous if overdone) and no real lightness in the lyricism.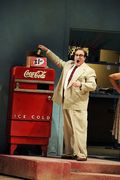 Dramatically, William Robert Allenby stole the show, in a part he inherited from Andrew Shore. As Adina, I thought Sarah Tynan, from Walthamstow, sounded lovely and moved well, but lacked star quality and I wonder where her career will go once she's no longer a lyric. I didn't find her coloratura sufficient for the various runs required. But she sounded lovely nevertheless. Benedict Nelson was interesting. I read that he is only 27 and is currently an ENO Young Artist. I thought he was technically excellent as Belcore and assumed him to be older and more experienced, so perhaps my misgivings are misplaced. In essence I found him dull but pretty and serviceable.
Ben Johnson is also an ENO Young Artist and is obviously an immense talent. I have previously heard him in small roles in Handel's Samson and Verdi's Otello (one half of the Ant & Dec of young English tenors). I hadn't been overly-impressed by those performances, but this was different. He was good, at times he was very good. At times he seemed underpowered against the orchestra, and his interpretation of Nemorino was fairly two-dimensional. But truly, it owuld be unfair to fault him. His Una furtiva lagrima was impressive, and I felt that the lacklustre 'Tralalala' Act 1 Finale was largely due to the slow pace set by the conductor.
Overall, I'm glad I went and I was very pleased that Jimmy had enjoyed it, but I suspect I would have enjoyed it less if I had paid more for indifferent seats higher up.
ENO has a Flickr set of photos from 2010 (different cast)