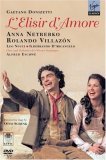 L'elisir d'amore is a gorgeous opera by Donizetti that I happen to have twice on DVD. The first version one of the early issues from the Del Prado 'A Season of Opera on DVD' that began nearly three years ago and continues relentlessly; the second I received down my chimney fallen off the back of a passing reindeer-hauled sleigh. For brevity, I shall refer to the Angela Gheorghiu-Roberto Alagna version as Lyons, and the Rolando Villazón-Anna Netrebko version as Vienna.
A comic opera, which doesn't mean you'll be rolling laughing in the aisles. A delightful tale of...well, not very much. Boy has crush on girl. Travelling salesman/conman comes to town and sells to boy aka Village Idiot an elixir which will cause women to fall in love with him.
Girl decides to marry visiting soldier to make peasant boy jealous. Boy signs up to army for more money to buy more of elixir. Boy inherits fortune from uncle - although he doesn't know it. All the girls want him; he thinks it's because of the Elixir. Finally, girl admits she's in love with him and it all ends happily ever after.
No great insight into the human condition and no great moral to the story. Other than the gullibility of people to magic solutions pedalled by spurious authority. It was obviously as common a problem in 1832 as it is in 2007.
What does characterise this is some wonderful numbers - arias, duets, ensemble pieces - interspersed with some gorgeous orchestra writing. Melody is at the forefront, but despite the apparent simplicity of the melodies, there is some complex and always pleasant, often delightful work in the orchestra. Partly the harmonies, but particularly the orchestration eg using the different tones and timbres of the instruments to create different parts of atmosphere. And most especially, the melodies that often compliment or contrast with the vocal line rather than merely accompany (or make the singing appear to be an optional extra). I want to describe it as very modern-sounding but am conscious that that might be entirely misconstrued to mean serial, atonal, discordant. It's not really comparable to musicals or film music because there is a welcome absence of schmaltzy strings signposting two-dimensional emotions. I suppose it has the brightness of a poppy pop song with added virtuoso singing and intricate orchestra passages. Perhaps I mean 'timeless', rather than 'modern'.
Both of these DVDs have considerable merit and I would be hard-pressed to say which is better. In the end it would boil down to personal taste.
Both productions seem pretty straightforward, telling the story in much the same way, although Vienna is set approximately in Donizetti's time and Lyons is set mid 20th century. This has no impact on the story but obviously does on the costumes and props.
I think Vienna is consistently better with sets, which are generally more evocative and realistic, and, especially, the lighting is beautiful. Very little to choose between blocking and ensemble assembling with each taking turns to be better than the other. The Vienna orchestra under Alfred Eshwé sounds amazing - bright and lively - although I have no specific complaints about the Lyons Band, under Eveline Pidó. And I prefer the tempi in Vienna, where it matters. The biggest flaw with Vienna is the relatively poor miking - or balance between singers and orchestra - which does mar an otherwise excellent product. Not so much as to be deal-breaker, but enough to be worth noting.
As I was watching I made various comments, and with the magic of word processing I have managed to interweave them...
Quanto è bella (Tenor aria) I don't especially like Roberto's voice. Metallic ring. Looks like he's trying too hard and is self-conscious. Angela looks gorgeous in riding gear. And sounds gorgeous, too. A very special voice. She hams it up splendidly - eg when he presents her with the dead rabbit.
Soldiers arrive, Belcaro's aria has gorgeous stuff going on in the orchestra. Don't care much for Roberto Scaltriti's voice. Roberto does 'miserable' well as this becomes a duet then a trio. I don't especially care for Leo Nucci as Belcaro in this, but to be honest, I am not a great Leo Nucci fan. He does adequately, and that's all right.
In the duet between Nemorino and Adina, Angela sounds great despite a tendency to sharp. Such a pure crystal clear sound. Perversely, Roberto sounds better at the lower end of the range. And his fervour for her is as convincing as her indifference is unconvincing. Then he falls to the ground head first from a running start. Excellent.
Dulcamara arrives in a car to the village square with cafe tables nicely laid out with red and white checked table-cloths. Suave. Simone Alaimo is not a striking voice, (Lyons) whereas Ildebrando D'Arcangelo (Vienna) almost steals the show with an excellent performance vocally and dramatically as Dulcamara. Being easy on the eyes is no great hindrance either...
Roberto re-appears. Why does he always sing with a bit of smirk. And his eyes give me the creeps. Unexpressive, often fixed, unusually unblinking. Perhaps because he's really focused on the conductor or prompter.
I totally adore Rolando in this and can't wait to see him live in it in September. It is worth getting for his dramatic portrayal alone: so convincing as the Village Idiot. He is especially Wonderful in the duet. Caro elisir! Sei mio! I love the way the duet starts almost in recitative, moving up a gear where he's mainly la-la-la. Tempo stopping and starting. Rolando juggling apples - to applause interrupting the show. He also dances round like a Village Idiot, indeed his portrayal is almost frighteningly realistic. Chords from the orchestra. Lyric singing from the tenor. Gorgeous tune. Anna sounds more gorgeous in this than she has thus far in the DVD. This has become one of my favourites duets in the whole of opera and one that really repays repeat listening. I especially the bits where the passage repeats or varies on
Esulti pur la barbara
per poco alle mie pene:
domani avranno termine,
domani mi amerà.
. Different tempi, different mood of orchestration, sometimes a capella, just plangent strings, or those wonderfully characteristic Donizetti phrases that create an impression of unstoppable momentum.
In Vienna, I love the details in the scenery;the landscaped garden, the flower pots on the steps to Adina's house.
In Lyons, Roberto sounds really quite baritonal; whereas Angela sounds so gorgeous she gives me a shooting sensation of pleasure in my stomach.
Act II
Quanto amore! Ed io spietata, the second half duet between Adina and Dulcamara is another good example of changing tempi, changing moods, an incessant sense of moving forward. In Lyons it is energetic, involved and committed; in Vienna, lighter and more flirty. Ildebrando's patter is better than Simone (who sings out of the side of his mouth and bears an unfortunate physical resemblance to a former associate of mine whom I regarded as an arrogant prat); Angela's coloratura is better than Anna's. The music is irresistible.
When Roberto emerges amidst the women quite drunk on the Elixir, he reveals a spattering of chest and navel hair but it does nothing for me. The women of the village run their hands through his chest wig and eventually strip his shirt off. Angela gets jealous - in line with the plot but I just find the spectacle a bit regrettable.
Una furtiva lagrima is one of the great tenor arias of the opera canon. Indeed, I have been delaying this post in order to carry out a compare-and-contrast exercise. But I have so many different versions, it would be worthy of a blogpost in itself, and requires not only time to listen, but time and energy to crawl around on various floors collecting the various version on divers media. So I shall revisit that on another occasion.
It is a beautiful tune, made all the more effective by the spare but distinctive accompaniment of harp, pizzicato strings and restrained woodwind. As it builds to its emotional peak the orchestra builds, to then leave an unaccompanied coloratura passage which resolves in a melancholy ending on wind. Only after the cadence has resolved must the audience applaud. Rolando sang this so plaintively and passionately that the raucous applause went on for 90 seconds. Trying to stay in character and simultaneously communicate with the conductor was interesting, and then a bis. Even better second time round...! What a gorgeous voice! What a perfect marriage of tenor voice and bassoon. Love it!
Roberto does not sound great, with a vibrato close to wobble. Embellishments and pitches that other people don't -although perfectly harmonic. Seems phoned in and at times strained. Absence of legato. Gets heaps of applause, foot stamping etc, so what do I know...shrug
I think overall, although Lyons is excellent, the Vienna shades it on almost all points. However, if you select DVDs for sopranos, or you're an Angela fan, you have to go for Lyons. Not that I'm denigrating Anna in Lyons, but her very good performance is surpassed by Angela's superb one. Rolando, Angela, Ildebrando - now, I would pay very serious money for that...!
I have a couple of versions of the wonderful duet taken from Gala Concerts, because it's such a wonderful show-piece.
The more recent one is Rolando & Angela at Faenol. They both sing gorgeously despite the orchestra being a bit lack-lustre and insipid. Might be because they're outside. Rolando sips from a can of lager, and juggles nectarines. She catches one of his nectarines. I wouldn't say tnere's a chemistry between them but their voices are remarkably well-suited and their interaction is fine.
But perhaps my favourite version of the duet is the one on the Gold and Silver Gala from Covent Garden, my gorgeous Plácido with Leontina Vaduva. It's not that great a setting, just a few feet of stage in which to play act, and, frankly, evening suit and evening gown are not the best attire for Nemorino and Adina. Still, there's play-acting enough as he surreptitiously retrieves a bottle of wine from a strategically placed trunk on stage and takes much pleasure in taking repeated sips of the Elixir. Donizetti of course has never been a major part of Plácido's career, and he has only ever sung this role complete in the studio. But they both sound so delightful and in accordance with the delightful music, I find him, and the duet, simply irresistable. Very seductive, perhaps even more so than another of the great duets, La ci darem le mano, which preceded this on the video.
A most delightful opera, and whilst it doesn't make my list of the greatest operas of all time it is definitely one I would recommend to a newcomer, either on DVD or else live. Some weeks ago, Barbara suggested a continuation of the ABCD of opera, and suggested this as the 'E'. It would be plain wrong to disagree. And the more I listen to it, and the more I adore certain arias and duets, the more I also realise that the very best bit of it is the wonderful orchestra writing, especially when played by such a good orchestra as the Vienna one.