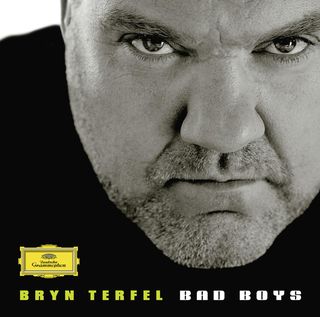 This happened on Wednesday night.
I went into the concert somewhat apprehensive.
This was part of a concert tour promoted by Raymond Gubbay, the master of dumbed-down cheesy Classic FM-lite pops concerts. My apprehension came in the light of reports of the appalling Renée Fleming concert at the same venue (approximately 20 minutes on stage) and of the Angela Gheorghiu concert, too, where most of her stage time was shared by a forgettable and not frightfully good tenor.
The tickets were priced far more highly than the usual price of tickets at the RFH (as had Fleming and Gheorghiu) and the running order was not available on the Southbank website.
In order to discover the running order, one had to buy a glossy programme for £5, which contained nothing of substance - even the running order was amended by insertion of a piece of paper straight off the office printer.
The notes on the songs were short and dumbed-down, and much of the £5 programme contained glossy adverts for further Raymond Gubbay events, no doubt which would also charge £5 for a programme full of glossy ads for...(you get my drift).
Fortunately, the printed/amended running order was substantial and I knew that if Bryn was on form, it would be a worthwhile evening.
My seat was not in a bad position although it was too far from the stage to be worth getting out my camera. I had some rather unfortunate neighbours, although to be honest, I have had worse.
Let's just say I was surrounded by crossover snobs: the sort that announce loudly - while the music's playing - that the Forza del destino overture is from the Stella Artois advert; the sort that make sure everyone knows that they're from Wales (like I care - London is a multicultural multi-ethnic city: I spotted people from Russia and the USA, and people I guessed whose ancestors had come to Britain from Africa via several centuries in the Caribbean). Oh, and next to me I had a Welsh Wagner-hater who hummed along to the crossover songs.
It was a shame that, at the prices charged, there could not have been a good orchestra/chorus/conductor to match the world class singer on the platform. Perhaps I am being harsh with the orchestra - they were made up of students and young professionals, and although one should expect high standards, I guess when they are left floundering by a piss-poor conductor, they have fewer reserves of experience to over-ride the inadequacies.
The orchestra displayed very little contrast in tone or dynamics. The worst part for me was during Iago's Credo from Otello. I have numerous different versions of Otello under several different conductors, and, although I don't tend to acquire them for the Iago, nevertheless, I find the Credo to be an example of Verdi's genius.
Dark, sinister, foreboding, ominous.
But not as played by Sinfonia Cymru under the wet lettuce baton of Gareth Jones. This was, perhaps for the first time ever (and let's hope for the last) Iago showing his cheerful fun side, a light tra-la-la full of promises of rose petals and fairy cakes.
Most of the other pieces were little better in respect of nuance and interpretation. A lack of continuity in the Donizettian runs  in the L'Elisir d'amore aria; and a lack of grandeur in the Der Freischütz.
They lacked depth, a result of the orchestra being pared down to minimal levels consistent with a period chamber ensemble (for mainly 19th early 20th century Romantic pieces!). I wouldn't have expected them to be so loud, so consistently loud, varying between mezzo-forte and forte, with the occasional venture into fortissimo for dramatic effect.
I thought it was maybe my ears, or some unfortunate acoustic effect of where I was sitting, because for quite substantial parts of the programme, Bryn's voice was drowned out. But when I could perfectly hear his perfectly placed unaccompanied pianissimi, I knew that the problem was the orchestra.
The London Welsh Chorale were similarly mediocre, to put it generously. Mainly, the sopranos screeched in their efforts to reach their (not very) high notes - I would dread to hear an Hallelujah chorus from them.
The male voices were more convincing, but consistently failed to close their consonants together, and other basic flaws which screamed 'amateur*' in large print. I may once have posed the rhetorical question - is it possible to listen to the Te Deum from Tosca without getting goose pimples? On Wednesday I found my answer to be a resounding 'yes'.
Their star turn was the Welsh Male Voice Choir version of Faust's Soldiers Chorus (which because of my liking for Welsh Male Voice Choirs, is more familiar to me than the French version), and really, they didn't do it, certainly not in comparison to the versions I have on CD.
So, what of the main man? He was excellent, there is no disputing that.  The tour is to promote his  Bad Boys
CD - a concept album of evil characters from opera and musical theatre. And, actually, I would say, a great concept, and a generally well-programmed evening.
He is a supremely talented man, a great voice, the ability to convey character through voice alone, an instinctive stage presence which makes him a great showman, a natural rapport with audience. He sings in tune (which is no mean achievement) and and his voice is well-supported with excellent breath control.
He brought each and every aria to life, and though he was obviously battling with the slopping timekeeping of his conductor (his choice, his problem...) he was just excellent.
He introduced each number with a little explanation or story, which I think tends to go down well with audiences in general. Unfortunately, for this audience member, it seemed just a bit too measured, too rehearsed, and I suppose that sums up my overall misgiving about the concert.
Despite all the justified praise I have heaped in the previous paragraph, he nevertheless left me with a feeling that it was all a bit over-rehearsed, measured, and, ultimately, slightly too mechanistic to convince me totally of the spontaneity and passion.
There wasn't a stand-out aria for me, which also is a bit worrying in retrospect. I was pleasantly surprised by his When the night wind howls from Ruddigore, until I remembered it is in fact my favourite G&S aria, indeed, the only aria I actually like, from the only G&S operetta I actually like. And I could have done without the encore from Les Mis, which managed in two or three short minutes to express every cliché in the schmaltzy Musical Theatre paint-by-numbers guide (and the crossover snob alongside me humming along on one note!)
So overall, an enjoyable night, but one that would count as good, perhaps verging on the very good, because of Bryn's talent and professionalism, but not one for the ages, as they say, and unlikely to feature as one of my highlights of 2009, or indeed the decade! I was grateful that Bryn delivered a full concert programme, and pleased that I had chosen to attend this, rather than the Fleming/Gheorghiu fiascos.
He did a signing session afterwards, and I was vaguely thinking of joining the tail-end of the queue, but preferred in the end to share a drink with a friend (recently returned from gallivanting to Berlin's Simon Boccanegra - who declared that Bryn is no longer her favourite baritone, and me, being the halfwit that I am, asked "Oh! Who is?"). There were not many of us left in the bar area when he walked through with his entourage, presumably heading for the backstage area, but we didn't rush him or throw ourselves at him or anything like that!
* I realise that almost all the choirs that appear on concert platforms are technically amateur, but they perform in a manner which appears, to me at least, to be professional