I wasn't really sure what to make of this when I booked it. I looked at the cast:
Debbie Voigt - although she features on what is probably my most favourite CD,Wagner: Love Duets I had read some fairly negative reports about her Tosca.
Marcello Giordani  - I've never heard him live but what I've heard broadcast has not impressed me;
Bryn Terfel - well, it would be just my luck for him to cancel, he has a bit of a reputation
Well, a couple of weeks back Debbie was announced as indisposed, to be replaced, for a couple of performances by Nelly Miricioiu and for most, including Tuesday's which I was due to attend, by Angela Gheorghiu (just to complicate matters, I'm writing this on Thursday night; Thursday's performance has Amanda Echalez).

On Monday we received an email informing us that Marcello Giordani was indisposed and was being replaced, confusingly, by Massimo Giordano.

So, Tosca! One of my favourite operas. In so many ways, the epitome of Grand Opera. I often think the music is exactly what you expect operatic music to be like if you don't know much about opera.

It's in three acts, and none of them is over long; the settings are such that it requires an interval between each of them . And yet it's less than three hours in total, including two half-hour intervals.
It has three singers of equal prominence - tenor, baritone, and soprano. There are several other comprimario roles which add colour, but it isn't one of those annoying works like Ballo, Cyrano or Fanciulla where there are lots of indistinguishable unimportant men hanging around.
All three principals die nasty deaths and it ain't actually over until the thin lady sings, then jumps off the battlements.

Last week I saw L'amour de loin and commented that it would benefit from tighter, maybe brutal editing. Tosca is just perfect, never any sense of any of the music being superfluous or inserted for its own sake. No unnecessary repetition, but appropriate use of quotation.

When I first saw this production three years ago, I felt disappointed that they had just replaced the famous old (1964) Zefferelli production with something equally traditional. But now I realise that it was a decision driven by the fact that the Zefferelli sets were falling apart, I feel more relaxed about it. I don't think it's a great production but it serves the work well, and with the right singing actors it can be very entertaining. I have now seen it five times and on each occasions I have had rather mediocre seats. Sigh.

So, how did the principals shape up?
Massimo Giordano entered and definitely looked the part. I actually had a slight double-take because he's a similar build and colouring to Jonas Kaufmann whom I had seen twice in this last year.

I remembered my golden rule about Mr Stand-In - he's going to take time to acclimatise to the house etc. I was not overly impressed by Recondita armonia. It was a bit dull and I detected a beat, a fast vibrato at the bottom of the range. But I decided that, in the circumstances, that he was good enough, I wasn't going to spend the evening wincing.
The next exciting bit was the arrival of Tosca "Mario Mario"; I was so thrilled to see Angela Gheorghiu, a very starry Ms Stand-In Woman, I almost applauded her entrance. LOL!
And then, suddenly, there was a moment in the duet between the two of them, when Massimo just let out Ah! m'avvinci nei tuoi lacci mia sirena and I thought, yeah, he's going to be fine! And from then on, I loved him.
He moved well round stage, seemed at ease in the (presumably unfamiliar) production, and had a pretty good chemistry with Angela. His Vittoria, Vittoria was of a high standard; just because it was not as show-stopping as Jonas's last year doesn't mean anything - we should never let the truly excellent be the enemy of the very good. And his E lucevan le stelle was a thing of beauty, a real sensitive heart-felt interpretation, good variety of dynamics, excellent breath control. All in all a very satisfactory performance, well worthy of the loud acclaim he received at the curtain call (he beat his hand against his heart to indicate he had been nervous!). I commented afterwards to friends that I would love to catch him in something more lyrical, or in that again in 3-5 years. Hopefully we will see more of him in the future at the Garden.I do so love the role of Cavaradossi, not just musically, but his character and his sexiness, so I am very hard to please in this role. But just because I have a clear idea of my ideal Cavaradossi doesn't stop me enjoying someone else who is capable of understanding, interpreting and projecting this lovely character.
It was wonderful to see Angela Gheorghiu. I think the role suits her down to the ground. I hadn't been entirely convinced three years ago, but I thought it was a beautiful, passionate and compelling portrayal. I have been known to nominate Vissi d'arte as a cut I'd like to see, but she was stunning, held my attention in the way it never has been before in that aria, which tends to hold the action up for me. One of those special moments that will stay with me.
And then there was Scarpia. Bryn Terfel. He was nasty. He dripped evil from every pore. Sometimes it was just the little details: descending the stairs in preparation for the Te Deum, he paused to look at a fading mural on the staircase, and ran his hand against the figure of a naked woman, right in her lady bits. Or when he sang La pvera mia cena fu interrotta after we had all seen the consequences of Cavaradossi's torture. Throughout, he was a dramatic tour de force, and vocally just as you expect Scarpia to be.
I can't really fault the orchestral playing. If I was less familiar with the work I would have been perfectly satisfied with the conducting of Jacques Lacombe; being so intimate with it, I found it to be a bit lacking in frisson at some crucial moments; especially in Act 1, when the soprano-tenor duet was not orgasmic, and the Te Deum, which I expect to swell in an outpouring that causes electricity (but I did get goose pimples). Nevertheless, overall, I did get a sense of intimacy and, at times, claustrophobia, which, I think, served the piece well.
Because of where I was sitting, I didn't do curtain call photos, but I did do afters: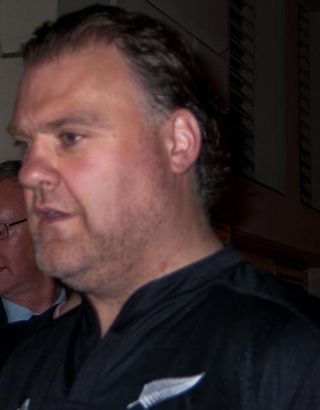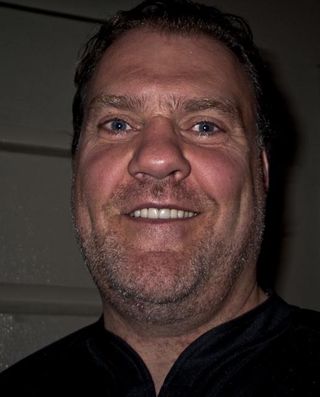 Bit of a strange angle, but he is like fourteen inches or something taller than me!
And I'd like to say hello to Anna from
L
odz, with whom I was chatting on the terrace (I hope I have spelt your name right!). Sadly, she is a Debbie Voigt fan, so was disppointed to miss Debbie. Also hello to Jane, Anna's London friend.
So, taken overall, a thoroughly enjoyable evening, starting with a pleasant dinner with friends, which had been preceded by chatting with more friends. A good atmosphere in the House, very little inappropriate clapping (in contrast, say, to last year, when ignorami had started clapping
Trionfal, di nova speme l'anima freme in celestial crescente ardor;) 
  or three years ago when Marcelo Alvarez's glorious
E lucevan
was prematurely interrupted by some dolt shouting 'Bravo'. There was premature clapping at the end of Act II so the final chord, which completes the cadence, was inaudible. It may not matter to some people, but for me, an unfinished cadence is as frustrating as a shag without a climax.
And we had great fun laughing at some fairly outrageous outfits. I won't mention specifics, because it would be just my luck to be slagging off the favourite frock of a regular lurking reader! All I can say is, just because it's fashionable, looked good on the hanger and cost a fortune, doesn't remove the necessity of looking critically in the mirror and asking a) is it really me and b) do I risk looking ridiculous.