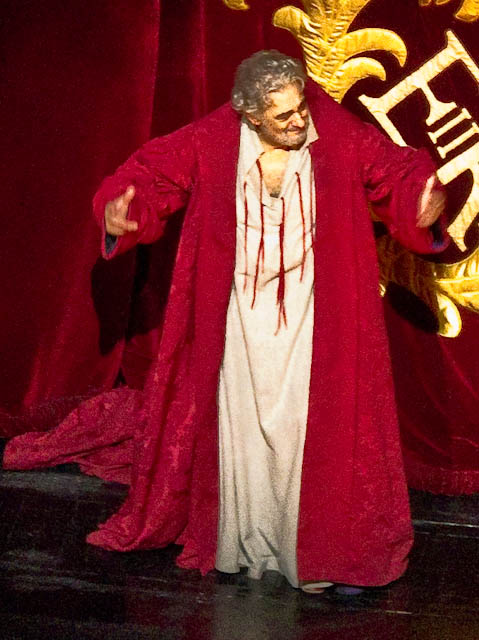 Just about forty years ago, Plácido Domingo made his debut at the Royal Opera House, and to mark the occasion, he was engaged to appear for two celebration concerts, featuring one act from each of three Verdi operas. I felt very fortunate to have secured tickets for both events, and although the seats were not where I would have chosen to sit if I had been able to pick my seat before anyone else, I just felt such immense gratitude to be there.
I initially approved of the choice of three entire acts, rather than, for example, a variety show of numbers by whichever guest artists happened to be available - enjoyable though such evenings can be. And then as the time grew near, I wondered, would it work, wouldn't it seem disjointed. Perhaps I was anxious what the 'free ticket' critics would write, twisting it and making it to be something it wasn't, or vice versa.
Everyone I spoke to before during and after, whether in person or via the internet said or implied they were there primarily for one reason - to enjoy an evening featuring Plácido Domingo. People who travel to all sorts of places to see him perform; someone whose first outing to ROH was coincidentally during the run of the Toscas that marked Plácido's house debut and sees Plácido as a thread that has run constantly through his opera-going life; people who would not consider him their favourite singer but respect the major contribution he has made to the world of opera throughout my lifetime; and opera lovers who could not resist a performance of three dramatic acts by Verdi.
The three Acts were the final, death, acts of Otello, Rigoletto and Simon Boccanegra, the title roles in each case being sung by Plácido. The first, a tenor role that was his signature role for over quarter of a century; the last two, baritone roles he has only recently taken on. 
On both occasions, the overall impression of each act was powerful dramatically and musically. I won't deny that there were flaws. Perhaps I imagined it, but the Otello seemed relatively under-rehearsed - this work hasn't been performed at Covent Garden since 2005, whereas Rigoletto crops up more or less every other season and I found the orchestra to be more at ease. The singing from the 'supporting cast' was not perfect: they're human beings and it was live. There were singers I may have preferred in some of the roles, even without straying into Fantasy Casting, but all of them were commendable.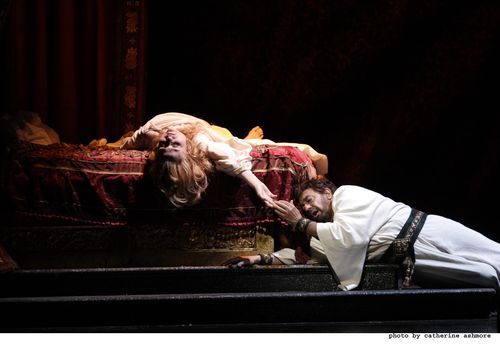 I never saw Plácido perform Otello although, of course, I have several versions on DVD and audio-only recordings, too. I imagine these are only poor substitutes for what he sounded like live in the house. I felt privileged to hear his Act 4, at least, and even more importantly to see, and feel, Otello's Death Scene.
Marina Poplavskaya was Desdemona and was neither the best nor worst I have heard. I know she tends to divide opinions; I like her voice very much, even when I hear approximations to pitch - the tone and colour delight me, and I welcome the absence of squawking/screeching. She is not the most convincing of stage actors, but comes across adequately well for an opera singer.
But I was waiting for that dramatic double-bass accompanied entrance by Otello, and I was not disappointed. (And no, I wasn't even tempted to 'tweet #wheresplacido He's here'. Oh no, not at all!).
To be honest, I was surprised to hear his voice sounding so tenorial, with a bright sound I almost didn't recognise. There would be no use pretending that the physical quality of the voice was in the same shape as it was at his peak, and, yet, that didn't matter to me. An utterly compelling performance of Otello in his last scene. Obviously he knows the production inside out (it is the same as captured on the 1992 DVD with Kiri Te Kanawa under Georg Solti) and his physical acting was convincing, terrifying and sad. I delighted in the final moments as he crawls towards Desdemona's bed, for 'ancora un baccio', but equally I delighted in the anguish and torment in his voice. I had thought it would be good to hear Domingo sing at least part of Otello simply for stamp-collecting-style bragging rights, but it was worthwhile because it moved me.
Next act was Rigoletto, using the long-running and current David McVicar production (available on DVD with Paolo Gavanelli, Marcelo Alvarez, Christine Schäfer under Edward Downes). I like the production overall, but did feel, from my seats several rows back in the central Amphitheatre that this act in particular is remarkably dark, making it difficult to see the principals from a distance.
The rest of the cast were of a reasonable standard. I especially liked Francesco Meli, a bright voiced youngish tenor playing the Duke, and was very impressed by Justina Gringyte as Maddalena. As for Plácido as Rigoletto? He was touching, and especially in the final scene, deeply moving. I'm not entirely convinced by Plácido in this role; at the same time, I have encountered a good few for whom the role sits more naturally in the voice but simply don't inhabit the character in the same way.
One of the most laughable comments I have ever seen written by those determined to denigrate Plácido is that he always plays the same character regardless of the role. Whilst I will acknowledge that, like most actors, he will draw on the same techniques and emotions to portray similar characters in similar circumstances, there was nothing about this Rigoletto that resembled Otello, other than grief at the death of a loved wife/daughter he murdered/inadvertently caused to be murdered.
His pathos in the final scene could not be described as mellifluous but it was beautiful and penetrating; projecting despair and regret. His voice was robust and unshaking whilst conveying emotional vulnerability. This is not a singer who needs to retire just yet.
My only hesitation is that Rigoletto as an opera has a habit of reducing me to tears, and this didn't happen. Not through any shortcoming in what was offered but because I had not experienced the emotional 'journey' of the preceding acts. But that was what was offered, and what I accepted, so not really a quibble, merely an observation.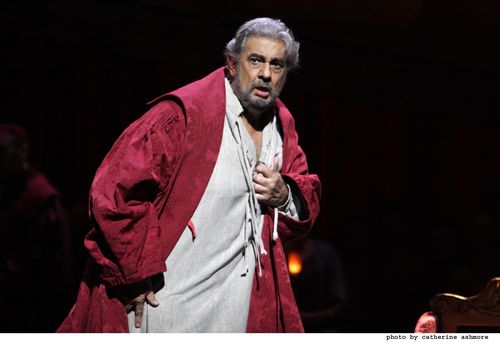 The final act of the trilogy of Final Acts was Simon Boccanegra. I was privileged enough to see all performances - bar the Open Rehearsal - last summer and two further performances live from New York and Milan in the cinema. I was surprised that the production was different from last year. Better costumes; I needed to be reminded by others that it was the 'other' ROH Simon Boccangera production, that I had seen the previous year (but preferred to forget for various reasons). However, there was very little scenery, and almost no personenregie, so, in some ways a concert performance would have sufficed. There were several supporting members of cast - Poplavskaya and Meli as Amelia and Gabriel - but, Simon Boccanegra aside, the main supporting role was Paata Burchuladze (previously Lodovico and Sparafucile). He sounded better on Thursday than Sunday, and in truth, was adequate, but was the only role that left me actively wishing for a specific alternative singer.
But the star was, of course, Simon Boccanegra, and that was the highlight of my entire evening, from the faltering limping entry of a dying man to the final spectacular and lithe characteristic crashing to the ground in the final throes of death (how does he do it?). A strong physical interpretation of a pirate-turned Doge humble in death. More even than the physical performance was the vocal performance. I accept that although my seats were indifferent in terms of view they were in a good place acoustically, but, nevertheless I had to pinch myself to remember that this was live un-amplified singing with a fairly large orchestra into a sizable house. A firm secure warm voice, full of colour. Across the three acts I heard the chocolate and treacle tones, and maybe some Marmite too.
A fabulous and memorable performance of exactly what was billed - three single acts from three Verdi operas. So much more enjoyable than Puccini's Il Trittico I had witnessed last month. No doubt partly because I admire Plácido so very much, but also because Verdi's music conveys profoundly and sensitively human emotions that, irrespective of the time they were set (several centuries ago) are real and raw, surely, to anyone who has loved and has reason to regret. 
On both nights the applause at the final curtain call was enthusiastic, even boisterous, and, by normal ROH standards long (though very short compared to applause I have witnessed in Barcelona and Paris). there was stamping of feet, repeated calls for Plácido to return, and most startling was the visual cacophony of camera flashes bouncing round the auditorium.
Because of where I was sitting, my photos of the curtain calls were not great by any stretch of the imagination. Far better to direct you to lots of official photos on ROH's   Flickr page! 
PS I needed no prompting from others to find irritating the seemingly incessant coughing from various people all around the auditorium. I felt that at least some of it was psychological, seeming to crescendo just before important bits, such as just before Otello's entrance. And especially in the quiet orchestral bits, following the old adage - there can't be anything important going on because the orchestra playing quietly AND NO ONE'S SINGING. However, I also felt that otherwise I was surrounded on both nights by considerate people who knew how to behave. No talking, no messing with phones, no leaning forward to obstruct others' views. Even the unfortunate man behind me on Thursday night who dropped his walking sticks with a clatter did so before the music began, and the couple from the row in front who accidentally took mine and my neighbour's seat at the end of the second interval relinquished them with apologies. Most noticeable of all was that not one person 'bravoed' or applauded prematurely before the music ended, despite the falling of the curtain.
PPS After Sunday's performance I joined several dozen other people in narrow dark Floral Street to wait in hope of a fleeting encounter with Plácido. My feet were aching, standing there until about an hour and a half after leaving the auditorium. But the wait was worthwhile because, like many others, I got the chance to thank him for a wonderful performance and to have him sign a photo for my friend (I don't collect autographs). He thanked me! (What a sweetie!). I am profoundly grateful to Plácido for being so generous with his time after a long performance in which he spent a fair amount of time on the stage. To meet him, however fleetingly, is the icing on the cake and I never take for granted that he is patient beyond all reasonable expectations.