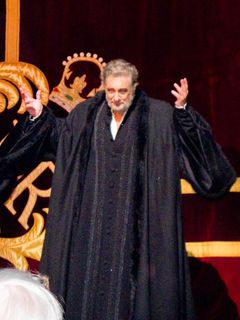 It is so very difficult to write a personal review of a performance when you have read so many reviews by others, and participated in so many conversations.
On Friday I decided that I would write a personal appreciation of the performance by Plácido Domingo as Simon Boccanegra. That's also pretty difficult to do because I still haven't managed entirely to assimilate all the details of the plot of the opera!
I am actually quite surprised at how people are describing this as a once-in-a-lifetime opportunity to experience something historic. Quite contrary to my judgement that this would be wonderful to see, but significantly less meaningful than, say, Plácido Domingo as Otello, Plácido Domingo as Siegmund, Plácido Domingo as  Cavaradossi.
At the moment, these may well be his final singing performances at the Royal Opera House, and the Prom his final in London, because there is nothing else publicly announced - although Jim Naughtie has dropped a heavy hint of something big planned for his 40th anniversary in late 2011. So that's important, too.
If I have to single out one aspect of his entire performance, I must point to the closing moments, when he flings himself to the floor, dying of poison. I know I joke about him rolling on the floor and indeed, I did ask him whether he enjoys rolling around on the floor off-stage, which he mischievously deliberately misinterpreted!  But he has no need to. There are other ways to portray the death. If he just slumped in a chair, no-one would complain, nor indeed if he spent the entire opera rooted to a spot merely singing. It's something he clearly enjoys doing - because he can - but it also symbolises his total approach to the role.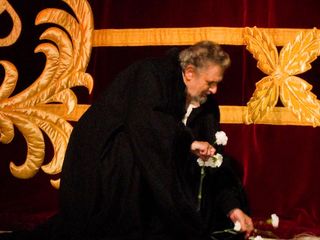 In the prologue, which happens 25 years before the main action, he wears a wig and has his beard dyed. It's not that great a look, to be honest; he looks so much better when he's back to his natural grey look. But I do notice that he seems physically different - much more agile and lithe. In Acts 1 and 2 he is sparer in his movements, having assumed the dignitas of office as the Doge; in Act 3 he is splendidly infirm, stooped and lame, supported by two sticks, and visibly failing.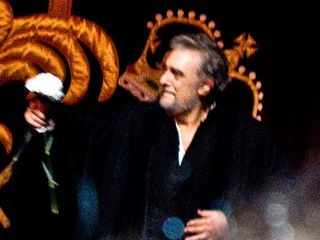 Vocally, I am yet to be convinced. I am perfectly satisfied at the appropriateness of a tenor singing the role. No, it doesn't mean it should *always* be sung by a tenor, but all roles are open to interpretation; this is a valid interpretation, and one assumes that in future the role will generally be sung by a baritone.
I think it's worth noting that he is vocally secure throughout. It's too easy to take that for granted. I admire and like the colouring and other dramatic use of the voice to portray the character and tell the tale, and I appreciate the absence of showboating and histrionic circus-tricks, which may be the sine qua non for some so-called opera fans, but are often the desperate signs of a mediocre talent.
But I miss the characteristic Domingo sound, perhaps even more because once it really shone. I love it when he pus his head back, totally relaxes and this gorgeous velvety almost purring sound comes out. If I recall correctly, this was in the Council chamber scene, but there is so much to take in and so much to remember I may well be wrong. Part of me thinks I should be taking notes as I go along, perhaps I will when it is televised!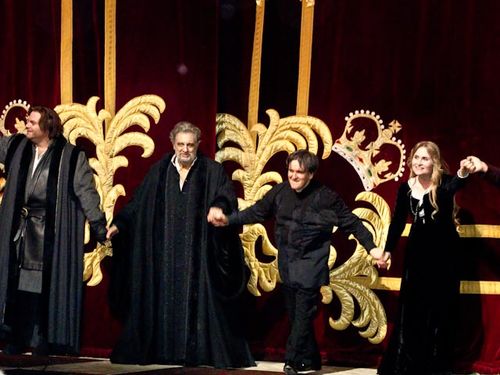 Talking of televising, Friday's performance was filmed for TV, as will be tonight's (Monday). This will be shown on BBC2 on Saturday and later made available on DVD. At the end, during the curtain call, I stood up, largely to take photos, and only subsequently realised that a TV camera was focused entirely on me. I assume they were filming several audience shots and will maybe cut in or two fleeting moments, but if they keep that shot, I will be pretty conspicuous! Eventually nearly everyone was on their feet.