I went along this evening to the Linbury Theatre in the Royal Opera House to get educated about Verdi's Don Carlo...well, that's my story and I'm sticking to it, because, as it happens, I did get educated.
The first hour was a lecture, followed by questions and answers, by Professor Roger Parker from Kings College, London. It was a serious lecture, talking briefly about the background to the opera, then tackling each Act in turn, before briefly describing each of the main characters and outlining their musical highlights.
I won't try even to summarise what he said. However, although I am going to the Friends' rehearsal on Saturday, I shan't be going to an actual performance until I return from holiday. I shall re-read my notes beforehand, sensibly with a recording playing, and hopefully that will influence my viewing/listening experience, and thus, inevitably, my report.
He mentioned that Verdi referred to it as an opera of ideas, liking the contrast of the spectacle of the big historic scenes and the fraught personal problems and the ensuing confrontations between people. He did also mention several times that it is very very long and complicated, and particularly singled out Act II as being especially long and complicated.
It's important to reflect on that idea of the personal conflicts played out against the big scenes, because they provide the inspiration and motivation for the music. Compared with  Traviata, Rigoletto and Trovatore , there is less use of arias and much more reliance on duets and ensemble pieces. It is particularly important that Verdi himself called it an opera of ideas - as Paul Wynne Griffiths later remarked, it is a bridge between bel canto and verismo; the characters sing what they feel but not for so long as to interrupt the arch of the piece.
Prof Parker played an excerpt from a 1948 recording, in German, which, he commented, really highlighted how much Verdi was a Wagnerist at that stage, using the orchestra to tell the story. Indeed, later on Jonas Kaufmann commented that it has beautiful music, quite different from the oomtata that is typical of Verdi.
The second half of the evening was mainly a panel discussion. Ferruccio Furlanetto (Philip II), Jonas Kaufmann (Don Carlos) and Marianne Cornetti, who is already a replacement Eboli for the pregnant Sonia Ganassi, and this evening was replacement for the indisposed Marina Poplavskaya, (Elizabeth of Valois). The panel was rounded off by Paul Wynne Griffiths, cover conductor.
That was an interesting session, with each of them being asked why they like the opera. Ferruccio says his role  is 50% voice and 50% acting; Philip was the most powerful man on earth at the time but yet under the power of the church - one of the most incredible roles. Marianne said that Eboli is one of the greatest mezzo soprano roles, but also one of the most difficult. Her veil aria must be lyric, and in the garden scene she must be more dramatic, but not go too heavy in order to allow for contrast with O don fatale, which is much heavier.
Jonas picked up the point Prof had made about the absence of big arias for the tenor, but says he loves it very much, and seemed enthusiastic about Schiller's very interesting drama (on which it is based. It's a very demanding role. He said that it has both soft intimate light singing and heldish heavy, depending on the mood and situation;  this is is typical of French operas of that period.
They talked at some length about Semyon Bychkov, who is conducting. They were discussing how he uses a metronome in rehearsal, which was quite a shock - Marianne claimed to still be in shock. Ferruccio said he had worked previously with Bychkov and his metronome and although it was very difficult at first it actually made it easier after the first few days. And they were at pains to emphasise that while he is keen to reflect Verdi's metronomic markings, he also adopts a pragmatic approach when it's not working for the singers. Paul mentioned that Semyon has been working a lot on orchestral colour and balance, remarking that Ferruccio is a thunderbolt (he and John Tomlinson were rehearsing their duet at 10.30 this morning!) whereas Jonas has the quietest yet penetrating mezza voce. Marianne told an amusing anecdote about having rehearsed Ulrica in Ballo with an unnamed conductor who used the metronome. Of course, Ulrica appears only in one scene; when she had finished on opening night, the conductor remarked that she had been a little behind the beat, she said she felt she wasn't, and nameless conductor said she was, he knew, because he had the metronome in the pit. Laughter all round.
They were asked whether they prefer it in French or Italian. Ferruccio was adamant about Italian, because it is a more beautiful language; that the nasal quality of French affect the sound and is uncomfortable. There was a certain amount of laughter, because he would prefer Italian, wouldn't he,  so he said that his favourite role of all is Massenet's Don Quichotte, and that must be in French - all the problems that exist with Don Carlos simply disappear.
The evening finished with Paul Wynne Griffiths giving a short presentation on the importance of semitones in this work, and Jette Parker Young Artist Changan Lim sang Posa's death aria.
The rules of events such as Insight evenings are strictly no photography or recording; they state that to do so may jeopardize future events, so I took no photographs. But for those that need to know, Jonas was dressed in a light brown leather jacket and an off-white polo shirt.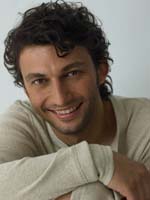 My friend Simon interviewed Jonas. I was glad to see he used a couple of questions I suggested to him - although I am certain he would have thought them for up himself without prompting (future roles, such as Otello and Tristan, and crossover, or the lack of!).
NB I purchased the ticket to this event myself; it was not provided free by the Royal Opera House or any organisation or individual associated with it
this or a similar footnote will appear regularly on reports from performances