A bit late, yeah, well!
The only directly relevant tweet I produced was
At Salome curtain I had perfect tweet using 'grotesque', 'extreme frottage' 'psychologically/' 'fucked-up', 'bloody' & 'ace'. Gone now
Although before curtain up I had been a bit surprised to see a Primary School-aged child on the terrace. I'm as liberal as the next person, and think, for child is able to sit still that long, an outing to Carmen or Eugene Onegin is excellent.
But I doubt the judgement of the parent who takes their child to Salome. Even while I make allowances for an exceptional child, for one with an unusual love of Strauss dating from days in the pram, I still find it disturbing. It crosses my mind that maybe that the whole point of the drama has gone completely over the parents' head.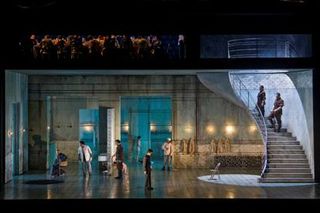 That wouldn't surprise me, it depresses me that there are people who consider opera to be exclusively about pretty - relaxing - tunes in pretty dresses. Or maybe they thought that it would be full of Viennese Waltzes in the style of Johann, Joseph etc Strauss. But there is no excuse for not doing at least some research when taking a small child into a fundamentally adult space. I do note that last time I saw it I commended it as an excellent first opera for teens. Teens very different from barely-out-of-Infant-school.
I feel that no 8 year old child needs to be confronted with the darkness of this story; conversely, I do not wish to live in a word where everything is wiped clean to 'protect the children'. I'm an adult, and I want to see disturbing and unsettling operas (and plays and Fine Art). I need to see art that challenges my complacency and settled view about the world and our interactions within it. By making me feel uncomfortable throughout, it holds my attention absolutely.
It's a taut work, about 100 minutes, through composed without an interval. It's also noticeable that there is - not to mince words - a better class of audience member, everyone seemingly absorbed, not there on a 'Romantic date' or behaving like a coach-party-member-at-Oliver, or there to preen and be seen. I imagine there were coughs, knocked over water bottles and rattles of sweet papers, but if so, they were not intrusive.
I described the set in some detail previously, and also to some extent the production. What really stayed me was an excruciating feeling of inappropriateness, claustrophobia, of silences pregnant with unspoken knowledge of dreadful deeds.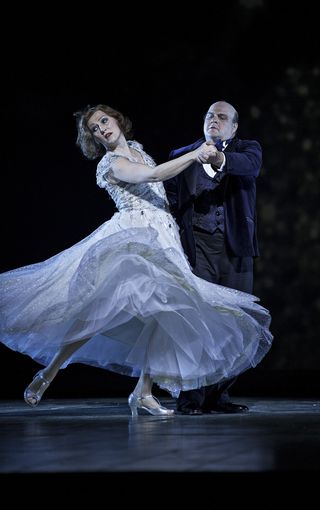 The relationship between Salome and Herod chilled me to the marrow. Never directly alluded to, but the dynamics and chemistry were all wrong. This culminated in his insistence that she danced for him, not taking no as an answer, not accepting a pretty little number she'd practiced in her ballet class. She had to dance the Dance of the Seven Veils, or, as realised here, the Seven Rooms. Each room depicted a stage in her development, from infanthood to where she was now, a too-knowing psychologically damaged young woman. Never directly said, but the implications were frightening.
And in return, she demanded the head of John the Baptist. Herod was powerless to refuse. Why? What hold did she have over him that made him, so seemingly powerful, unable to refuse this grotesque demand?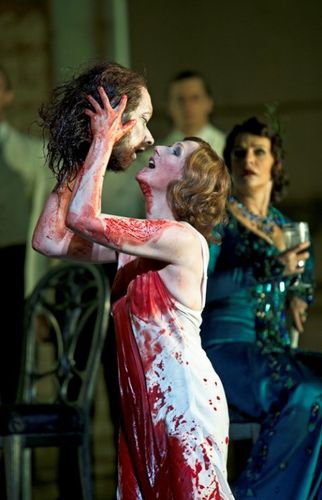 I recall studying the Bible Story at Primary School. Violent death in stories was commonplace, and, barely a decade after the Abolition of Capital Punishment perhaps not so shocking. But the death of a living breathing actual person who had appeared on the stage, preaching and singing, someone she knew, that was too much. I had imagined she saw his head on the plate and went 'Yeah, well, sorted' and went back to playing with her toys.
The culmination of the shock was the grotesque display of out-of-control public sexuality. One can debate for ever society's perceptions of public displays of autonomous female sexuality. I just think that using a freshly severed head as a masturbatory aid breaks every taboo and every commonly held standard of acceptable behaviour. And in front of one's parents, too.
It is difficult to imagine a more shocking display of depravity, especially when it was clear that she was not doing it for show, but as a physical and psychological necessity, an elusive search for expiation. As the final note sounded, the audience was silent with palpable shock.
I barely spared a thought to marking the singers nor attempting objective comment upon the orchestra playing: it was a superb example of Gesamtkuntswerk.
I suppose the most obvious comparison must be made between Angela Denoke who sang Salome this time, and Nadja Michael who sang the role when this production premièred in 2008. I like Nadja's voice a lot, for many of the reasons that other people don't, but nevertheless it was clear to me that Angela's vocal performance was significantly better.
However, I found her physical performance somewhat lacking. I am surprised to read she is nearly fifty, for she played Salome as a fully mature but young woman, whereas I think the role demands an absolutely perverted mirror of youthful innocence. Her sexual exhibitionism was more the experienced seductress and less than the anguished abused damaged child.
The rest of the cast was magnificent in aggregation, Gerhard Siegel particularly memorable as Herod. And I do recall thinking the orchestra, under Hartmut Haenchen, was splendid. Though I do not consider myself a Straussian, I could go back to this opera again and again.
But like Rupert, I was a bit disappointed that, given the executioner was absolutely naked, we didn't see anything of his 'dangly bits'. This isn't some pathetic frustrated desire for clandestine sightings of cock (I speak for myself, not necessarily for Rupert), but more a puzzlement at why the coyness, given the context - the discrete cover-up reeks of suburban propriety and jars with the setting. Perhaps there was an artistic dilemma - should the executioner be aroused by the act, but what angle of dangle would be acceptable to the obscenity police? Would a resting member be equally jarring and out-of-place?
The original run of the production is available on DVD