A story of bad timing, missed opportunities and time-wasted!
I called the Albert Hall to find out what time the Red Carpet was happening and was told - 6pm, although it was well under way by 5.45.  In actual fact, I had made sure I got there a bit before that. I suppose if I was determined, I would have got there early afternoon with my sarnies and thermos and just hung around watching. But even though I wasn't working, Jimmy was. We met up and went for dinner at Carluccio's. Carluccio's is a wonderful inexpensive restaurant that serves fresh food - although they are clever at persuading you into side dishes where the price starts to add up. Unfortunately, despite it being delicious, I couldn't enjoy it, because of a ludicrous irrational and sustained anxiety attack. About what? Ultimately that my hopes would not be realised.
Well, my hopes were not realised, and my dreams most certainly weren't. But you know, that's life, I lived, it didn't mar my enjoyment of the evening as a whole. For a while I hung around outside the Stage Door. Aled Jones was around; Mylene Klass was flitting around with her curlers in. She seemed open and friendly but asked not to have her photo taken until her hair was done; fair enough!
I took two photos of the loveliest person there (Jimmy), just to test the camera settings, but other than that, I just took one at the Stage Door.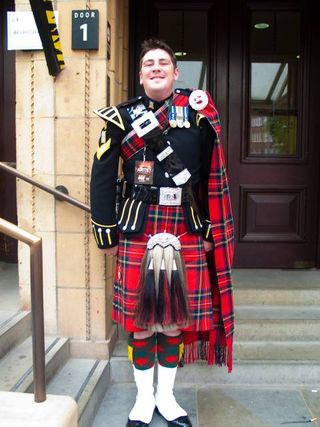 This is a Royal Scots Dragoon Guard. I assumed there would be loads of them, he was the solitary one taking a fag break. He turned out later to be the lone piper playing Amazing Grace. (I only like bagpipes either in the Albert Hall or playing Amazing Grace, so this was, obviously, a Bagpipe Win)!
Jimmy went to return some tickets to the Box Office and I asked someone hanging around whether anyone interesting had been seen. I was told that Plácido Domingo and José Carreras had already emerged from the Stage Door, and that people were waiting for Katherine Jenkins.
So I walked round to the front and positioned myself in exactly the same place as I had done three years ago from where one could watch the 'Reverse Angle' of the Red Carpet. Three years ago only one celebrity had actually spotted us (and blew us a kiss - Plácido,  of course), so it was a bit of fun to see how other celebrities reacted.
I don't think many of them were particularly aware of the growing group of people peering in, so it's unfair to deduce anything from their failure to see us. I expect they are being talked at from three or four directions, maybe anxious about the photos that have just been taken, trying to work out what to do next. And so on.  But I did get a couple of almost passable photos of Jonas.
One celebrity only passed the test! David Suchet, who saw me, smiled and waved. I pressed the button on my camera, at which point my battery gave out. Aaaagh! I enjoy watching Poirot, but although I like him, I've never considered myself a fan. He is now on my list of Genuinely Nice Celebrities.
The doors were opened to admit the dining guests who weren't doing the red carpet, so I went round the other side. I was surprised that I didn't have to wait long to get myself a place on the rail, and I watched as all sorts of people arrived.
I took photos. God knows why, they all pretty turned out pretty dismal. In any case, however decent my photos might have turned out, the official paps' photos will always be better. Furthermore, the subject matter on the whole was not that exciting.
Some bloke was walking round being all charm in some ludicrous jacket. I didn't have a clue who he was but I overheard someone say he was Jonathan Ansell. Still didn't mean anything to me.
Then four blokes got out of a car, all looking like cardboard cut-outs. I guessed they were some boy band, but as I don't know my McFly from my I don't know what, I wouldn't have known who they were but for someone saying they were "Blake". I had some vague memory of some anaemic crooning on the Festival of Remembrance.
They walked round the perimeter posing for photos. I had my camera round my neck, quite possibly on, with the nose sticking out. They looked at me expectantly, assuming that I wanted their photos, and at least one of them looked quite crestfallen at what I guess was my evident lack of interest.
Hayley Westenra and Faryl Smith also came near; they both seemed unassuming,  conscientious and polite, although, like all these other pop singers, I wasn't sure of their purpose at something purportedly about classical music.
Having seen Jonas, I was only interested in Plácido and José, but they didn't do the red carpet. Why I don't know. My speculation - and I could be way off beam here - is that José refused to do it (too big a superstar?) and Plácido out of loyalty declined to upstage him!
The Red Carpet was over, so it was time to go inside and kill time. I had had half a bottle of wine with dinner. Too early in the day and too much drunk before my stomach was full, it managed to hit me towards the end of the red carpet and I was slightly squiffy for a while longer. Nicely relaxed in that 'able to follow one's instincts without fear' way. Aled Jones walked past. I exclaimed to Jimmy "That's Aled Jones!" He turned round and impulsively, I asked to shake his hand. "Of course!" he replied and held his hand out, beaming a warm smile. Just a fleeting encounter, but one more to add to the Genuinely Nice Celebrities! Of course, by the next day, I was recounting the tale in terms of 'drunkenly accosting Aled Jones'!
Afterwards I went to the Stage Door. Neutrally, I asked someone 'if anyone important has come out yet'. I was told 'Katherine Jenkins, but she wouldn't let the likes of us near her'. I was asked for whom I was waiting. Cautiously, I said "Jonas Kaufmann and Plácido Domingo". That was clearly the right answer.
Various people came out and I took a few photos rather optimistically. I also realised that I am an idiot to myself. A few times people said "Excuse me" and I instinctively let them through, until I realised that what they actually meant was "Can I get in front of you and shove you out of the way." Eventually, I just turned to some big blokes, and just said "Do you mind not pushing?" They hadn't just pushed me out of the way but were shoving other people who were in their way. None of the names were lingering; perhaps unsurprising because there was drizzle and dampness in the air. I got two shots of the back of José Carreras's head.
I did get to speak to Jonas Kaufmann, rubbed his arm (yeah, that was a bit embarrassing), and said I was looking forward to Don Carlo. I loved his reaction, it was if he was thinking 'ah, someone who is enough of a fan to know already about my career'. He smiled and said that he was, too (looking forward to it). I asked him to pose for a photo, and he asked whether it was okay. It wasn't; I'd managed to do camera shake, but seeing that he was rather anxious to get away, I didn't want to be the irritating person who goes 'just one more, no, oops, let me get it right this time, sorry for delaying you Herr Kaufmann'. I would have missed him but for Jimmy noticing him come out of another door.
Not much later Lang Lang and Herbie Hancock also emerged from that door, but they were definitely straight into the car, no hanging about.
I hung round a bit longer; there were several of the 'usual suspects' I see often at The Royal Opera House. The big question was - where was Plácido? We all have had experience of waiting a long time for Plácido to emerge, but know that the wait is worth it. Someone said that someone inside had said that Plácido had left much earlier. We didn't know whether that was actually so, but some of us were conscious we had work the next day. Jimmy was getting restless, so I decided to call it a day. I wouldn't be surprised to learn that Plácido had emerged from the Stage Door moments after I got into a cab, because that would have summed up my cleb spotting for the day!
I'll stick the least worst of my photos up as and when, but don't hold your breath waiting for them, they're not worth it.