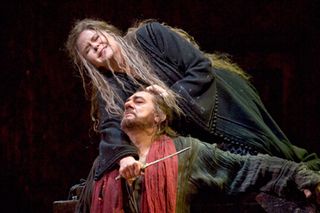 I am loath to award the title of 'Possibly My Favourite Opera' to any specific work - but I have been using this to describe Iphigénie en Tauride for quite some time now. So, naturally, I found myself down at my local cinema this evening for the live broadcast from New York, and I was not disappointed, even though I had high expectations.
The overture started in a lively fashion, perhaps too lively, and I thought 'oh no, I don't like the pace he's taking this at', but actually, it didn't bother me after that, except for during O malheureuse Iphigénie, which I thought could do with a bit more lingering over those glorious phrases. And generally, I felt that there were insufficient contrasts in tempi during the work, but that is nit-picking.
Before proceedings even started, Peter Gelb walked onto the stage to make an announcement. He hurriedly confirmed that all scheduled singers would perform, but both Miss Graham and Mr Domingo had been suffering from colds, so he said that the - hopefully few (hard stare) - coughs from the audience may be supplemented by some from on stage. (Unfortunately, he didn't also stare and say 'And also from Row D of Clapham Picturehouse, right behind Ms Blog' because that might have shamed the 'gentleman'). And then, delightfully, we heard the evening's host, Natalie Dessay, say over the feed 'I fucked up'. Ooh, I thought, the thrill of live! Which was increased by a very visible camera descending into shot during the overture. But I only noticed one further technical error during the transmission, though I suspected at times they didn't have the sound balance right for the orchestra.
By the time Susan Graham had finished her first phrase, I already had tears in my eyes. What I love more than anything about this opera is the way that the music sounds, I want to hug myself and let the joy flow through my veins and then listen again to what I've just heard, immediately.
I have written at length about this opera before and I see no benefit in repeating what I have said before, because I do not disagree with anything I previously wrote about the work, and I don't think I got any new insights into the music.
Reading over my impressions of when I actually saw it in New York, my great regret was that it was not to be shown in the cinema and thus not captured for posterity. Thankfully it has now been filmed, and most of these seem to find themselves first on USA's PBS and eventually on UK's Sky Arts, so I hope that *even if* there isn't a commercial DVD, I will have this captured to keep and rewatch repeatedly.
I was interested in the camera work. There were considerable number of close-ups, which always comes as a surprise, and especially in a production you've already seen live three times. In some cases they missed a trick with the close-up: for example, I'd have liked longer shots of the fight scenes. They also used overhead shots well, not least when Plácido was lying on the sacrificial altar, waiting to be sacrificed.
All three of the Principals were outstanding: I kept changing my mind about who was the stand-out. To be honest, that really does have to go to Susan Graham. She's never off stage, and she dominates almost every scene. She has the amazing show-stopping aria, O malheureuse Iphigénie. I did wonder momentarily whether she would actually make it to the end (maybe her having a cold influenced the conductor's decision to take it at a relatively fast pace), but she did, and really, vocally, you wouldn't have known she had a cold. And she stole the show with her fabulous Act III aria Je t'implore et je tremble, not just vocally but with such dramatic passion, just at the point where the orchestra was on fire.
I only really know Susan Graham from this role - and from Octavian in last year's Rosenkavalier in the cinema - but I just adore her for it. I don't think there's anyone who approaches her in this role (I don't mean, I've heard loads and compared; I mean she is the obvious first choice for leading opera houses). If I never hear her again, I will always love her, as Iphigénie.
Paul Groves, like Susan, featured in both my London and New York performances, and so I have bundles of affection for him. He was in top form tonight, and my personal highlight from him from the heartfelt beautiful rendition of Unis de la plus tendre enfance, which I have declared to be one of the great love songs, heralding this amazing brotherly or comradely love between the two men.
As for Oreste, Plácido was Plácido. Excellent for a 70 year old with a cold! I did feel that the cold was noticeable at times in Act II, but only because I knew and was being hypercritical. I think what I noticed was a slight inconsistency in tone, but nothing major, and certainly nothing to make me feel that perhaps he should retire. I do worry when he flings himself around stage, up and down, on his knees, perhaps a little less rolling than I've seen him do before in this role. I'm sure he knows what he's doing, so I'm worrying more in theory than practice.
Don't misunderstand me, I thoroughly enjoyed his performance, but in comparing him to the three times I have seen him live in this production and the additional performance I have the audio-only recording, I guess this was the least of them. He was still compelling and mesmerising, vocally gorgeous and dramatically convincing. I love him so much!
Naturally, Susan and Plácido were interviewed immediately the interval started. I'm not going to write up exactly what I remember of the interviews, but it did amuse me, and many of my fellow cinema goers, when he was commenting how he gets to play Susan's brother or her father but never her lover, and he was so endearing - so Plácido-like - there were chuckles!
It was bizarre how during the interview, they had a camera in his dressing room as various people from wardrobe were fussing over him, checking the costume, touching up the make-up and so on. I think it was something that seemed like a good idea but maybe didn't work so well in practice.
All in all, it was thoroughly enjoyable, and I'm tempted to go to the Encore performance tomorrow...today now...but my partner is finishing work early (perhaps in a fit of jealousy) and will be cooking me dinner!
During the interval, they ran trailers for the remaining performances in the Live in HD series. I am tempted to attend all of them. (I've already got a ticket for Die Walkure, assuming it would be sold out). I'll skip on Capriccio but I've actually gone and booked Le Comte Ory, even though I don't like Rossini. Hey, why not!