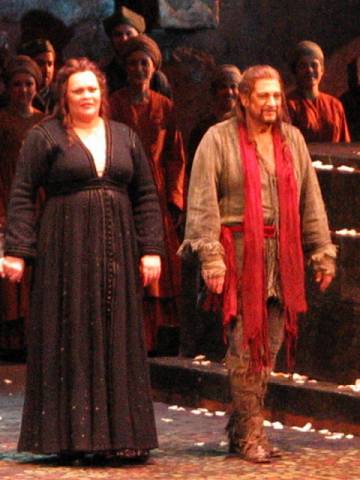 Have you noticed how all great operas start with a fabulous storm scene? Otello, Die Walküre, Le Nozze di Figaro and Iphigénie en Tauride. Okay, not Nozze, but can you imagine, if Mozart had bothered to start it with a storm scene, it would be a really great opera.
I have had trouble writing this review because I have to keep resisting the temptation to write a long narrative on all the bits of the music that are so amazing, but that would be a poor attempt at a verbal description of great music, which makes no sense to do.
And yet, how can one give a review of a performance of such a great opera without at least acknowledging the greatness of the score, and in more specific terms than just 'it's really ace, you have so got to listen to it loud, over and over again' and then that becomes an 'analysis' of the opera rather than the actual performances I attended.
I thought the orchestral playing was of a high standard. I am still of the view that soundwise, it should be played on instruments of its time, not modern instruments, but as that didn't happen, I was at least grateful for a rendering of the performance that recognises this is of the late 18th, not the late 19th century. And I thought the general interpretation was lively; I really enjoyed the changes in volume and tempi and mood, and got a strong sense of the overall cohesion of the piece.
The production was the same as I saw in New York last year and which I wrote about at some length in the imaginatively titled  Iphigenie en Tauride, at the Met and I also wrote several 'hit-and-run' posts, from outside the Opera House or indeed inside the auditorium (but only when the curtain was down).
I did think that the two performances were very different experiences, but quite a lot of that was down to crowd trouble. On the Monday night the only crowd trouble was that the woman next to me felt it necessary to tell her husband every time Plácido started singing; whereas on the Saturday I endured something similar from the two women behind; a relentless cacophony of coughing louder at times than the orchestra and chorus combined; the inevitable ring of a telephone; the applause of the star as he arrived on stage; and the coup de grace, the premature ejaculation.
Two members of the audience decided to leave the auditorium before the second act had finished. I assume that one of them was ill, because there can be no other reason for walking out on O malheureuse Iphigénie, and I fully understand that sometimes one just has to leave and there isn't a way of doing it discretely. Of course the people in their row had to stand to let them out, and the people behind them stood so as not to have their view blocked. This then led to quite an animated discussion from all around me, no doubt as people either speculated on the reasons for the early departures or else commented on how it was interrupting their enjoyment of the music. When the departing couple eventually reached the aisle, there ensued a full-voiced conversation involving maybe half a dozen or more people. 
I resolved however not to let the distractions around me spoil a performance I had paid a lot of money for (including travel and accommodation). But Tuesday's was altogether better in so many ways.
I wonder if the reason that this opera is so rarely performed is that sounds an utter bastard to sing. I have heard mezzo and soprano in the title role, and baritone and tenor as Oreste and I can't really decide which is better. The ranges of both roles seem so wide that I don't think there is an ideal fit. Pylade doesn't seem any easier, with there being considerable straining and wavering at the top, but I don't think it would suit bel canto-type tenors because although their high notes might be more secure, they would lack colour and resonance in the middle and at the bottom. I think, anyway. And I have now heard Thoas sung by three different basses and not one sounded anything but shouty, which of course underlines what a nasty person Thoas is, but shouty doesn't do it for me.
I was well impressed by Ismael Jordi as Pylade and suspect that we will be hearing a lot more from him in the future. He did seem a bit rough around the edges but I'm sure that will go. And he was quite impressive in the moving about stage and generally being a believable character, without necessarily being that much of a stage animal.
I thought Violeta Urmana was worthy of praise, indeed excellent in places but too screechy in others. And of course she was replaced in the course of Monday's Act III by Jennifer Check. There had been an announcement at the start but the only bit I understood was that 'she will sing'.
The supporting cast did what was required and the chorus sounded very good.
But the main reason I went was for Plácido. Much as I love this opera, I wouldn't travel at considerable cost to hear just anybody in it, and not twice, in the most expensive seats in the house (although not the best, I didn't manage to get seats particularly near the front. But they were fine).
I think my ideal, vocally, would have been the Acts III and IV from Saturday and the Act II from Monday (Oreste and Pylade do not appear until the very end of Act I). As I said in my speedblog, he did seem to take a while to warm up on the Saturday night, really only coming into his vocal gorgeousness after the interval. On the Monday he was vocal gorgeousness from the moment he entered.
I find it quite difficult to write reviews of Plácido. Partly because I have such a high opinion of him, and partly because of who he is, irrespective of my opinion. There are mockers and sneerers who accuse people like me of going to see him perform because of who he is, and imply that, therefore, we are unable to make critical judgement. I have no problem with the idea of enjoying a legend while you can,  even when he is past his peak. I have seen Bobby Charlton play in a charity football match against the Altrincham Bus Garage XI on the Linotype ground. Tony Benn still makes more sense than any other politician even though he is no longer in Parliament. 
But because of my admiration and because of my awareness of his incredible accomplishments, I am also hyper-critical. I can't review Plácido in the same way as I did, say, Ismael Jordi, even though a pedant would argue that there should be no difference in the review.I could have taken contemporaneous notes  and - bear in mind my comment about the parts being bastrads to sing - I could have written down the notes which were less than perfect, especially in Act II Saturday. But, as well as being very sad, it would have completely missed the point.
I called this blog 'Gertsamtkunstwerk' as a silly play on the German word Gesamtkunstwerk - according to Wikipedia
Wagner used the term to refer to an operatic performance encompassing music, theater (sic), and the visual arts, especially where the story was rooted in folk heritage. Wagner felt that in ancient Greek tragedy, these had been fused, but at some point they drifted apart
I don't regard opera as ever been entirely satisfactory as an audio-only experience. Might as well listen to a Song Cycle; it isn't truly opera without the dramatical and visual aspects, too. I adore Plácido's voice but I also adore the way he is on stage. When I watch him, I don't have a thought process of 'Ooh, that's Plácido Domingo - my hero'; instead it's about the character. Some of it is just the basic stuff of moving around stage and making credible gestures and so on.
I like the way he interacts with the other players; so often you see singers who either fail to acknowledge their co-stars, or do so with a series of stock directed and rehearsed gestures. There is more to him than that, though. I spent most of the second half with my binoculars to my eyes observing everything he did, irrespective of whether he was singing or not. Just completely fascinating.
Coincidentally, I was chatting with Stephanie and Maureen at the airport the next day (hello! and hello! to Shirley who I met getting off the Gatwick Express!). Stephanie said how much she had enjoyed watching him even when not singing; Maureen, like me, had not noticed exactly when the soprano had been substituted, being so focused on Plácido. 
I am conscious in theory of his age, but this simply isn't something that comes across on stage. Or hardly. I did notice that he climbed up onto the altar gingerly, but then so would I, and would have done at twenty or whatever. I did also notice that sometimes he seemed to be pacing around stage a bit unevenly. Not quite limping, but it was something that I noticed in Die Walküre at Covent Garden just over a year ago; perhaps a lack of flexibility in the right knee. There again, he spends so much time on the floor, I don't think that it's particular an age thing. I do have to say that in the fight scenes he did look a teensy bit like he wasn't trying. I don't mean that in a bad way, but he wasn't launching himself into armed combat in a Simon Keenlyside-esque way.
However, if for some reason he stopped being so physical on stage, he wouldn't be parking and barking, because he sounds so gorgeous. That is not the voice of someone almost 68. I simply can't describe his voice or what it does to me.
I go to all this effort and expense to travel to hear him sing, taking it as a given that I love his voice. I sit there and I listen and I enjoy, and a thought flashes through my head 'oh,that is so beautiful' and then I remember I have no business being surprised! But during the performance I forget the meta stuff about him being a legend and my hero.
Until the curtain calls, of course.
He gets the loudest applause, and that is partly because of who he is, because many people are attending, maybe have travelled from around Europe (and even beyond) to be there for him. He never plays the superstar, takes his applause and then stands back for Iphigénie to take her bows. Then, of course, there is the series of joint cast bows, which is where the silliness starts. Flowers are thrown form the audience and he gathers from the floor and redistributes them. On Saturday he was tossing them backwards over his shoulder to the ladies of the chorus; on Monday he was flinging them, I'm not sure whether it was into or over the orchestra pit. 
So I definitely enjoyed both performances. And it is difficult to say whether this was more because of Plácido or because of the opera. The music is extraordinary. It was premiered in 1779 and yet much of the music seems fresh and challenging to my ears. I have a notion that if it had been lost for 200 hundred years and rediscovered recently, and performed as if new, it would be labelled as controversial and modern. Even though I am a great fan of the way that composers such as Wagner and late Verdi use the orchestra as something much more profound than mere accompaniment, I hear something special in this opera that I don't hear in anything else especially not from before the 20th century.
Kobbé says:
The dramatic and the sensuous meet in Iphigénie en Tauride  to form  a whole that is more consistent and more expressive than anything Gluck had previously written...homogeneity of style, with whole scenes dominated by a single idea expressed in music of the greatest power...such invention in the individual arias
There will be curtain call pictures, I promise, b ut I am in the process of post-processing over 300 photos taken in the past six weeks or so.
Some photos from Iphigénie en Tauride