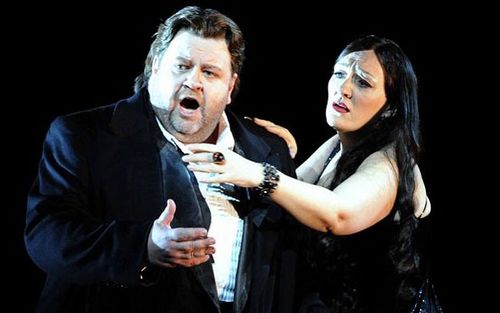 I feel as though I have been on a pilgrimage and emerged at the end as a changed person.
I spent an amazing evening at the Royal Opera House, a true red-letter day which will be forever etched in my memory, right from the first two notes when I gasped - and thought 'all the other notes have a lot to live up to after that' - until the final climax where I gripped the handrail in front of me, my body in convulsions as the tears ran down my face.
For a long time, I have owned a CD of Tannhauser highlights - I'm sure you know the one - and the work has frightened me. Even in highlights, the emotional intensity of the music is something I find daunting. I vowed not to get a complete CD, nor to seek out a DVD. This awesome work needed to be approached on its own terms. It was like I had made a pact with the devil or a vow with myself. I can't now remember how my logic went, but, call it intuition, it made last night a truly special occasion.
Finally, the Royal Opera House announced they would be staging a new production. I looked at the cast. Not exactly starry but attractive enough. Well, let's be honest, other than the Angie/Jonas/Bryn Toscas at year-end, nothing in the ROH season appeals like this.
There was a logic to choosing the night, which escapes me now, but it turned out to be the right night. No more work until after Christmas. Take a deep breath, sit back and relax. Only, I can't relax because the music is so powerful, so emotionally gut-wrenching, so able to overcome me.
If Pikova Dama, Lohengrin and Don Carlo weren't already enough, last night's Tannhauser was the absolute proof that Semyon Bichkov is a truly remarkable conductor who turns already amazing scores to gold. There were three outstanding principles in Johan Botha,  Eva-Maria Westbroek and Christian Gerhaher. An orchestra that was singing and a chorus that was on fire. It may get better than that, but not often and not by much.
I'm not sure how to judge the production. It worked, in as much as it generally helped and rarely hindered the delivery of the story. Most of the 'production' - apart from the ballet - lay in the sets. Based on the proscenium actually at yer actual Royal Opera House Covent Garden, I suspect their impact were lessened by my having read about them previously. As many people have commented, it was largely a static production, with considerable amounts of standing about. It has been suggested that the production was deliberately static, in order to accommodate Johan Botha. Not to mince words, he is enormous, and seems to have expanded sideways since I last saw in him Lohengrin a year and a half ago. He's a leaden lump, with almost zero acting skills, who moves awkwardly round stage, and has as much eroticism as a sack of potatoes. For a production to be designed around someone like that, Pavarotti-style, he has to have a very special voice.
And oh boy, what.a.voice. I truly burst into tears in the first act when his voice hit my 'T-spot', and I actually panicked that I wouldn't hear it again. I could listen to him for hours. At one stage, for a few phrases, he sounded strained and wavery, but taken in the context of the lead role in a long Wagnerian opera, that was fluff. A friend commented that she doesn't usually much like heldentenors. I started saying something about bottoms, and we started sniggering, but my point was going to be that he is an exceptionally lyric heldentenor, as far as can be imagined from a Bayreuth Barker.
I simply don't think that the production would seem so impressive at a fourth revival with a leaden conductor and strainy/wobbly/squawky singers.
Christian Gerhaher was outstanding: I've only heard him once before, over five years ago in Creation, and I recorded that he was 'very special'. An exquisitely beautiful voice: during O Du, Mein Holder Abendstern time stood still for me, and each beat of the ceaseless chorus of coughs from around the house was painful, as this astounding singing was almost ruined by the inconsiderate philistines.
I haven't got a lot to say about Eva-Maria Westbroek. I think I just took her for granted. In retrospect, this may have been because she fitted the part so well and it all seemed so effortless and pleasing.
The first half hour to forty minutes is orchestral, with the curtain rising after about ten minutes, when a ballet begins. This could well be a recipe for awfulness, but was in fact just one of the many awesome elements. The ballet depicts the debauchery of the Venusberg, and if handled badly could have been an exercise in 'OMG are they trying to shock us, if so how lame, or are they trying to avoid shocking us, if so why!'. It was fantastically choreographed for about a dozen dancers, male and female who never stopped moving in vibrant flowing movements, an ensemble entirely comfortable in their bodies and oozing with barely restrained erotica. I was almost disappointed when the ballet ended and the singing began. A useful lesson in how an emphasis on the sensual can be more powerful than the crudely sexual. A lot of people are scared of sensuality, much more so than sexuality. Sexuality can be avoided by lifelong dull abstention, or by making lame schoolgirl jokes, or by taking dogmatic religious/political positions, but sensuality happens when we're least expecting it, in awkward places, and is difficult to avoid. And is so powerful.
My overwhelming memory of the evening will be of an amazing powerful sensual interpretation of emotionally gripping music. Using words like 'visceral' is easy; claiming to have been on the verge of orgasm is a literary conceit. But I really was gripping the handrail and I was not really sure what my body was doing, except that I wanted to lie back, stretch and maybe even scream with ecstasy. I suspect that of all operas I have ever seen, this will lose least (except for the ballet) by translation to radio. And I believe this actual performance will be broadcast on BBC Radio 3 on Christmas Day, and no doubt available afterwards on iplayer and the usual other internet archives! I think I will record it and turn it into real tangible CDs!
Picture taken from Telegraph: Dramatic whole: Johan Botha (Tannhauser) and Michaela Schuster (Venus) Photo: Alastair Muir