There I was sitting minding my own business on the terrace at Covent Garden in the interval of Cyrano de Bergerac, when I was approached by a woman. I was going to say, who introduced herself, but she didn't! So I said, "So, who are you?" and she replied "I'm your correspondent from the Frozen North" - it was Raffe, who had arrived unannounced in London to see the King of LatinoPop in Cyrano. So we chatted and I said "If it's not raining after, maybe I'll see you at the Stage Door", my logic being that if it was to be as raining heavily as it was during the interval, he wouldn't want to be lingering in the heavy rain.
But as I left the Opera House at the end, it was barely raining at all, and it occurred to me that the rain has been characterised by heavy downpour followed by extended, well, dampness. And as I walked down Floral Street (which is the quickest route to the Tube) I saw that there was quite a crowd outside the Stage Door - and inside, too. So I decided to linger. I then made a decision which was probably not the wisest decision I ever made - no umbrella. I had one in my bag, but I really don't like umbrellas. The trouble is, once they are wet, you are lumbered with them, wet and dripping over everything. I actually prefer kagoules, but I draw the line at wearing a kagoule in town. I'm digressing, aren't I...
I was joined by Raffe (who sensibly used an umbrella) and we proceeded to stand outside the Stage Door for a very long time. Well, curtain down is officially 22.40 and it was after midnight when we got away. Much of the intervening time was spent chatting with some and observing other Domingo-fanatics. And believe me, I am not a fanatic. Not in comparison, anyway!
Part of the conversation was focused on whether Plácido would even come out through the Stage Door. Considering there was goodness knows how many people waiting, and it was cold, wet and windy, was it really fair to expect him to, and the last thing anybody wants is to force singers expose themselves to conditions that are harmful to the voice.
And then, somehow, we found ourselves inside the Stage Door and realised that he was behind the desk, signing autographs and so on. Which is far more sensible than being mobbed in the street in the rain. I took one photograph (another in the series of useless photos I have taken of Pláci...)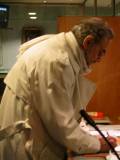 I was going to get another one when I got to the desk, but on the spur of the moment I decided I would ask him for his autograph. I am not a collector of autographs as a habit, and I have a belief that the only justifiable reason for asking for autographs is because it's a way of creating a conversation, somewhat less sycophantic than saying "I'm a massive fan I think you're wonderful." I'm not bothered by signed CDs or books, because the pleasure I get from them is the inherent product - the "intellectual property" or "intangible asset" rather than the actual object. And I don't need an autograph to prove to me that I have met a famous person. What matters are my memories. But I know I'm in a minority, and just because my view is right-ish for me, it doesn't mean it's right for other people. And it's not even a view I stick to dogmatically.
So I asked him to sign my programme;well, I don't think I even asked, I just presented it to him and he signed. I said "This was the fourth time I have been to Cyrano and I think it's growing on me." He looked at me as if he didn't have a clue what I was saying, and I cursed my fondness for colloquial English, hastily rephrasing to something like "I'm getting to like it more. And the final act is wonderful!" As I emphasised 'wonderful', I looked into his eyes with passion - it wasn't an act it was the natural thing to do - and he looked into mine, with the most gorgeous look on his face, in his eyes, and with tenderness and passion, he said "I agree". And my heart was going boom-boom-boom, but you know, I wasn't trembly or stammering or blushing or anything like that which I am liable to. I will treasure my signed programme for ever, but even more will I treasure the memory of my brief chat with Plácido.
We paused for a few moments outside the Stage Door. I wanted to make sure that I had my camera safely back into my bag, having nursed it carefully under my jacket for the best part of an hour. And Plácido left, by car this time, and as he left, he waved to the group of people still on Floral Street.
Raffe and I walked down to the Strand and parted; I squelched along to Charing Cross, realising that I could deny no longer that my left shoe has a massive split across the sole, and my girlie Doc Martens desperately need replacing. I also realised that the flares of my over-long trousers were soaked through. I was cold, and physically miserable, although inside I was warm and happy. By the time I got to Charing Cross, I decided that I was going to get a cab home. The driver asked me where I had been for the evening, so I explained that I had been to the Royal Opera House. As an afterthought I said "And I waited outside the Stage Door for an hour in the rain." (Taxi-drivers see all of human life, they're unlikely to be surprised by just moderately crazy behaviour).
"Who were you waiting for?" he asked.
"Plácido Domingo," I said.
"It must be good to hear a really great voice!" he said enthusiastically. "Have you heard him before?"
"Well, it was the fifth time this month!"
"So, you're his number one fan?"
I laughed. "I'd like to think so but there are people who travel all over the world to see him!"
"He's the best, isn't he?" asked the driver.
"Oh yes!" I replied.
I should have gone straight to bed when I got home, but of course, I didn't. And when I did I lay there shivering for about two hours. I decided that I had hypothermia, then remembered I don't have a clue about hypothermia, but suspecting I was actually suffering from 'devotion beyond the call of duty' - but it was worth it. He's worth it!