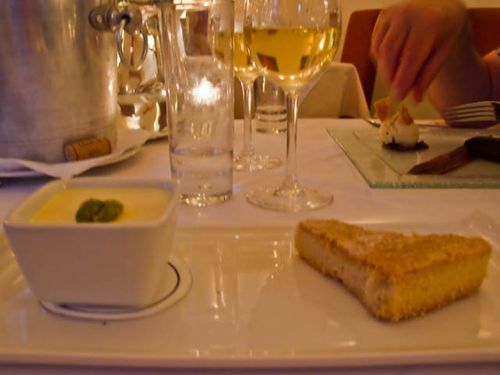 When I was picking a hotel in Bournemouth,  a swimming pool was a must, but what clinched it was the description of the restaurant. Not just their own marketing, not particularly the two AA rosettes which is not a system I understand, and not just Trip Advisor rating it number one restaurant in Bournemouth. But they all helped. And as I said, if it's not that great on the first night we'll just eat somewhere else on the second night. We went back for the second night.
It wasn't perfect, but it had some immense strengths. The serving staff were very polite and there were no mistakes, but I felt they were there for (successful) English language practice rather than because of a passion for food or customer service. Minor quibble, and didn't interfere with my enjoyment. Also, it is primarily a hotel restaurant, which seems to lend a different atmosphere than a standard restaurant or one that is only coincidentally attached to a hotel. I can't quite define it, but it seems marginally less relaxing.
On the first night I started with Crisp Brioche-Coated Goats Cheese with Apple Puree, Hazelnut & Watercress Salad. A really clever dish. I've had deep-fried goats cheese many times, but the use of brioche was inspired, adding a sweetness to what is normally savoury. And the salad was lovely, with the apple purée providing the traditional sweet offset to the cheese, itself offset by hazelnut. 
My main course was Pan Seared Sea Bass Fillet with Nero Linguini, Bouillabaisse,and Brown Shrimps. 
It's been a while since I had pasta as a casual accompaniment to a not-obviously-pasta dish: I think over-cooked gloopy tagliatelle in watery cheese sauce in Montmartre rather put me off.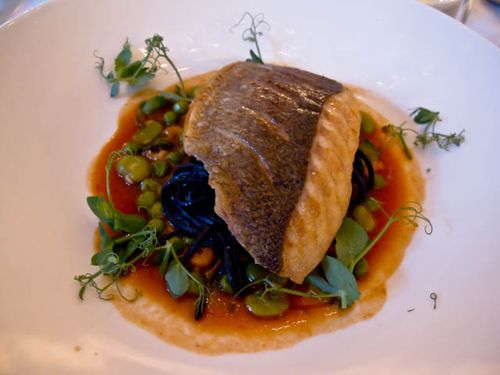 Thankfully, Bournemouth rescued me! A nice piece of fish nicely cooked. The nero linguini was just right. To my surprise I enjoyed the broad beans. I've always hated them because of the inner shell, but double-podded, they were very nice. But the highlight was the Bouillabaisse. I'm not going to wade in and pretend to know anything about Bouillabaisse, but I've always thought to be basically a big fish soup, so I was confused. This was a richly flavoured, heavily reduced sauce and was the absolute highlight of the meal, a taste whose memory will remain for a long time.
My pudding was lemon posset and shortbread (see above). The shortbread was nice enough but not up to my own standards. The posset was very lemony. Overall, a great success!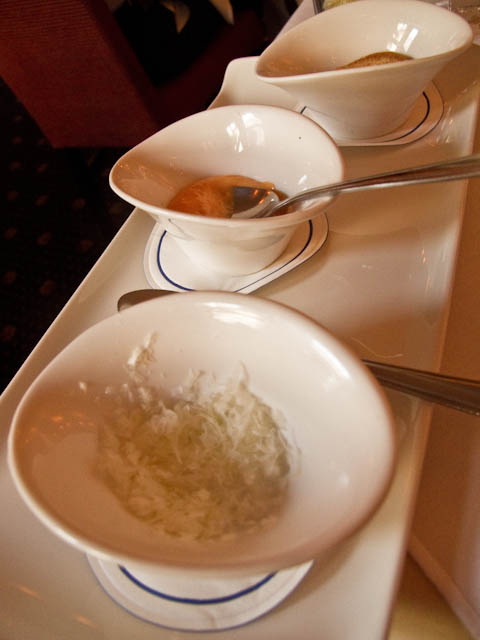 Because we were so pleased with the restaurant, and because there wasn't anywhere immediately locally that presented as an alternative, we decided we might as well return the next night. I imagine if we had been staying longer than two nights, we would have wanted some variety, not least because every restaurant has its own distinctive style.
This time, I could not resist the starter that Jimmy had on the first night: Pan Seared Scallop Bouillabaisse Soup with Rouille, Parmesan & Croutons. Partly, I was fascinated by the ritual of service: first, the scallops placed in the centre of the bowl, and then the bouillabaisse spooned carefully around it, and, finally a selection of the three accompaniments were spooned in with a touch of panache. It was the same bouillabaisse as the previous night, so flavoursome, I was desperate for more. And yet, despite being so strong, it did not overpower the scallops.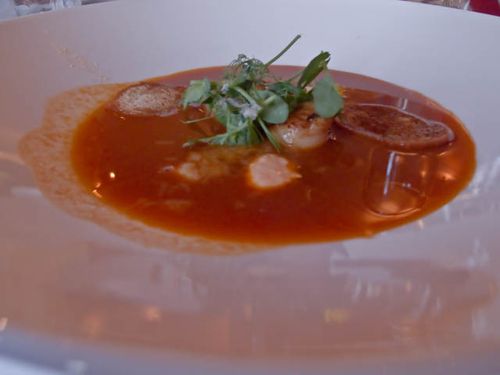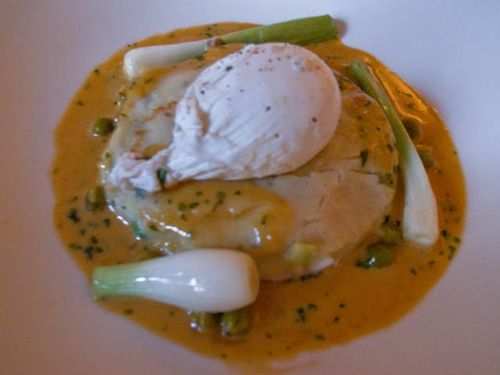 For my main course I had the "Great British Dish" (of the day) - Poached Smoked Haddock fillet, with poached egg, herb pancake, with a Tarragon and dry vermouth sauce.
I think it was the least successful of the five dishes that I had at the restaurant. It was surprisingly bland considering its component ingredients. If my main course the previous night had been an 8++ or even a 9, this was probably a 7-. Far better than I've had in many places, but disappointing. I ate it without hesitation. And I was quite stuffed when I'd finished, so chose not to have a pudding. In fact, I was quite tired, so we took our wine back to our room and lay in bed watching TV. Which is a great advantage of a hotel restaurant!
Overall, I was very pleased with Blakes restaurant. I've had good and bad experiences in hotels; this was definitely one of the best.  Not having tried any of the others, I'm in no position to judge whether it actually is Bournemouth's best restaurant, but I would certainly recommend it strongly.