A notable example of Neo-Mughal architecture, says Wikipedia. The inspiration for the Brighton Pavillion and also featuring in John Betjeman's autobiographical Summoned by Bells
"Down the drive,
Under the early yellow leaves of oaks'
One lodge is Tudor, one in Indian style.
The bridge, the waterfall, the Temple Pool
And there they burst on us, the onion domes,
Chajjahs and chattris made of amber stone:
'Home of the oaks', exotic Sezincote."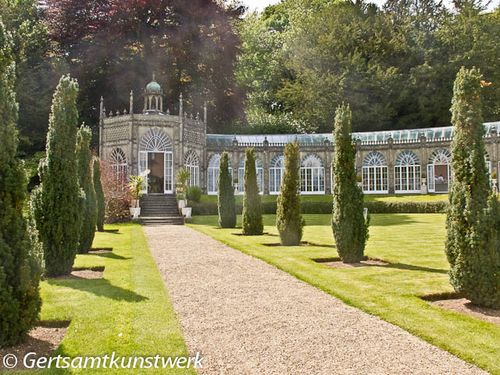 We had tried to visit on the Sunday of our Cotswold adventure but it was closed. When we exited Batsford Arboretum, we  realised that the entrance to Sezincote was just opposite and Sezincote was open. We drove down the long single track drive. I started to feel anxious: it's a bit odd to turn up to someone's house and expect to look around. But the car park and the sizable queue for the ticket office reassured us we were not alone! We declined to book on an interior tour - there's a limit to much walking one can do in a day, there was a long wait with several tours already booked up, and why go indoors on a lovely Spring  day!
First stop was the Orangery, for a much needed cup of tea and a very welcome slice of cake. Proper cake, homemade, by locals I think - I had lemon drizzle. Tea came out of a pot, with tea cups. The teapot was wielded by Camilla, the lady of the house, with refills freely available.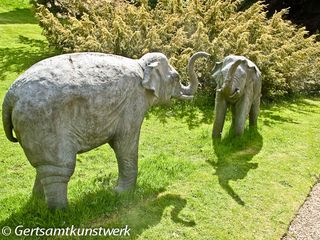 And after the Conservatory, the lawn. There was a sheer climb to the top of the lawn, and it was very pleasant, one could imagine tea and croquet parties, but the elephant statues aside, there was far more to explore elsewhere. I enjoyed walking round the garden, the sun and the delightfully mild temperatures were an added bonus. Relatively few people ventured far from the house and lawn, which made strolling the outer garden even more pleasant.
It was quite a different experience from any garden I've been in before. I can't say I had any profound understanding of the Indian influences. I did especially enjoy their incongruity in an area which for many would epitomise the English rural idyll.
This folly is near the tennis  courts, a useful place for storing deckchairs and so on. There was a church on this sight but this was razed to the ground during the English Civil War. It surprises me that they never bothered building a replacement - every village should have its church (especially in the days before motorised transport) but perhaps when it was gone they didn't miss it!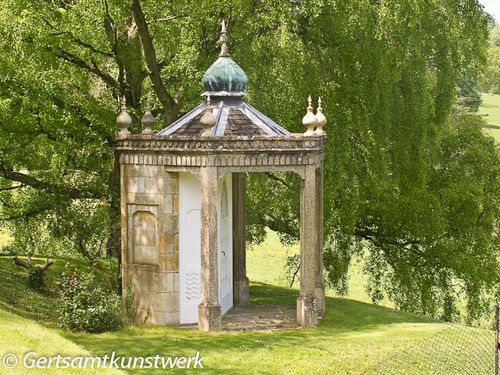 As we strolled around there were some great views back to the house and into open country.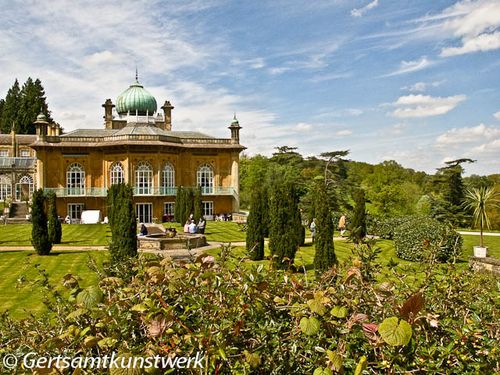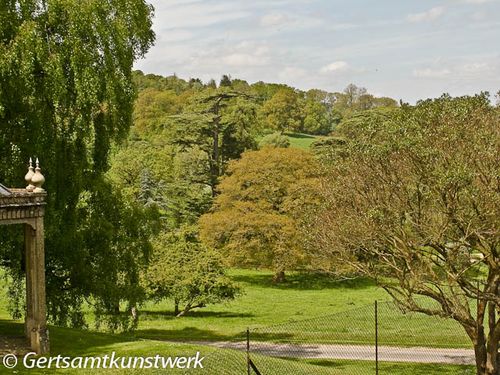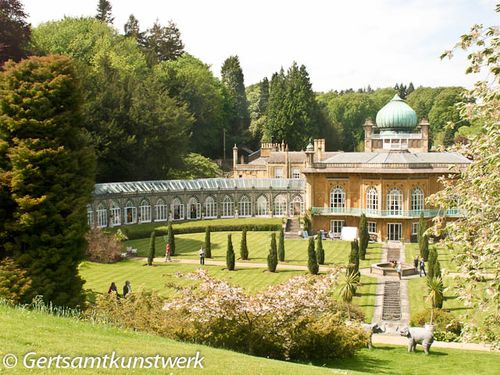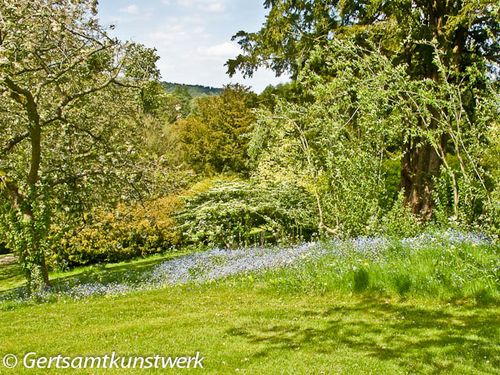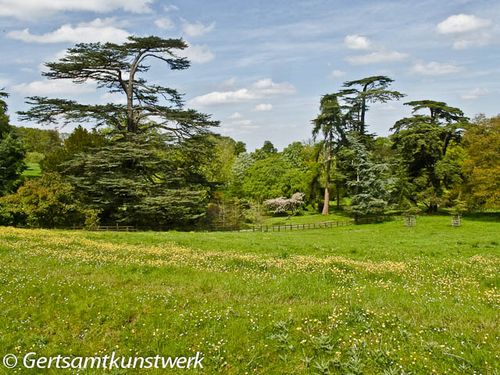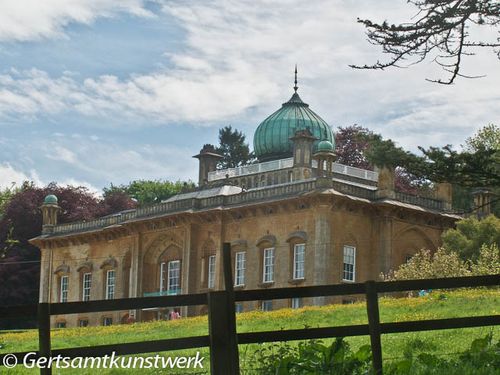 I particularly enjoyed the area round the lake. Do notice the two chaps in red trousers and yellow trousers. I do have a zoomed shot of them and they look spectacularly Cotswoldy posh. On balance I decided not to blog the zoomed photo. Although I feel confident they would probably not be hurt by having their conscious fashion choice mocked, I don't want to set a precedent of mocking people doing no harm in photos where their faces are recognisable! But we saw probably even more yellow and green trousers on a certain type of man than even red trousers, and more red trousers than even at English National Opera or Brixton Village.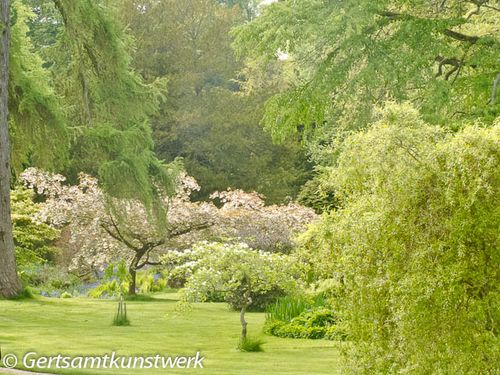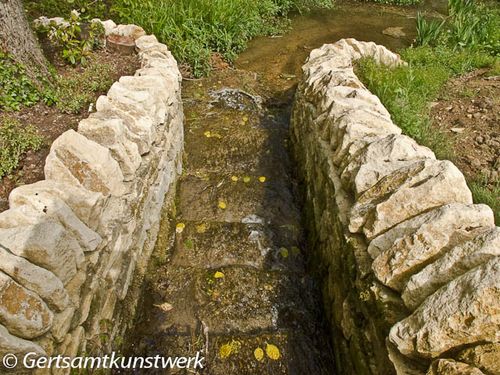 I'm convinced there must be some great photos to get of herds of cattle. This isn't one.
Now I'm writing this, I assume these are bluebells, but I can no longer be sure. Nice, anyway!
My favourite part of the whole estate was the Snake Pool with its Hindu temple and statues. If time or energy is extremely limited, I would suggest prioritising these.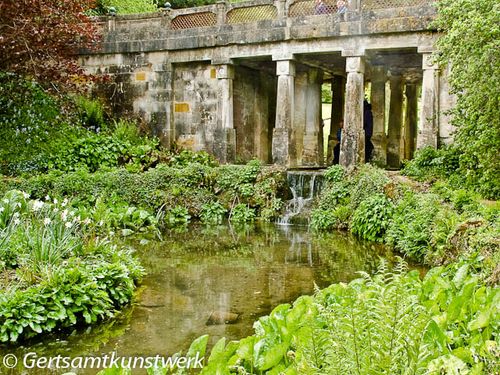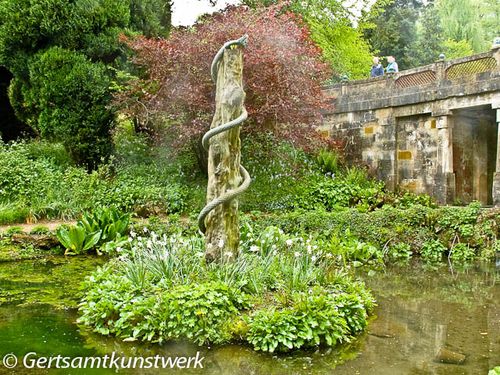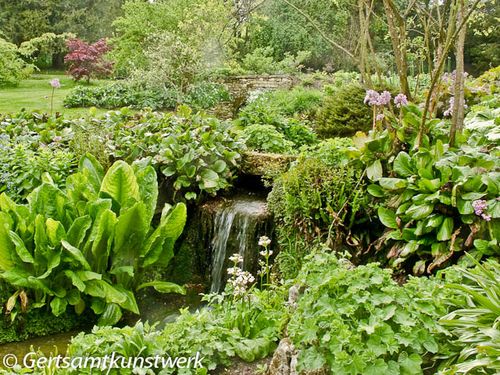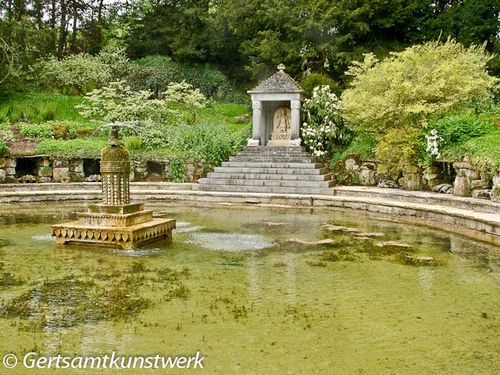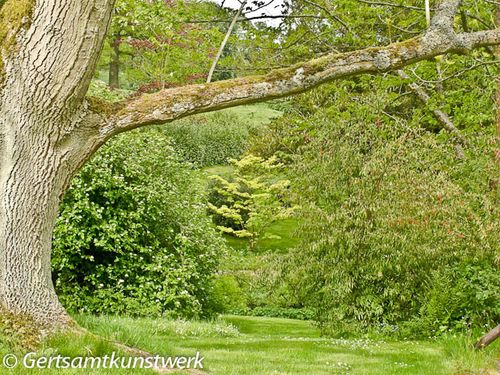 You would think, with my political philosophy, I would rather visit gardens owned and run by English Heritage or National Trust, but this was the second place we visited in 2013 (the first is yet to be written) managed by the resident family and with limited opening, where the experience was far more pleasant, even down to details of proper fresh home baked cakes, served by local volunteers, rather than packaged processed stuff served by staff on zero hour minimum wage contracts. Ok, I'll admit that if I lived in a village and had time to volunteer it probably wouldn't be for the local landed gentry. On the other hand, it must be very social, mixing with fellow volunteers and the the public.
We left soon after four and realised just how hungry we were. We knew it would be difficult to find anywhere serving food at that time. We tried Churchill, and various places -under-Wychwood but were not surprised to find the pubs shut. We ended up in Chipping Norton just as full time was approaching in the Championship Play Off final between Crystal Palace and some other team. Himself is, technically, a Crystal Palace fan, so we sat in the car park in the Town Square listening to a crackly commentary with poor reception from Radio 5 until the glorious news that Palace had been promoted to the Premiership.
We then found a pub serving food all day, with a wonderful name, Bitter and Twisted As I said to the manager, I was expecting something on the level of Wetherspoons, or possibly Wetherspoons plus, but it was much better than that. Obviously, not comparable with The Wild Thyme over the road, but peerless, in my experience, in the All-Day Food category. For whatever reason, I didn't photograph my food, battered prawns followed by a veggie risotto, but I had fun photographing my Singapore Sling.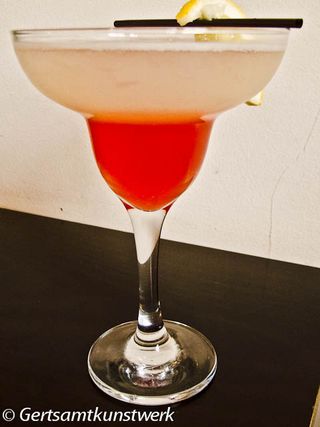 The Galloping Gardener has also blogged about Sezincote.
My other Cotswolds blogposts are here: First day in the Cotswolds, Bourton-on-the-Water, Slaughtered, Wild Thyme Chipping Norton, A drive through the Cotswolds, An evening in our Cotswolds hotel, Batsford Arboretum
All the photos and more are in Cotswolds photo ablbum.
We drove home the next day. It absolutely chucked it down, with visibility extremely poor on the M40. We experienced a spectacular soaking-by-lorry-driving-through-puddle on the A40 Western Avenue which would have hit us head-on if it had happened a split second earlier. But it was great to have the three full days of our break in beautiful Spring sunshine.