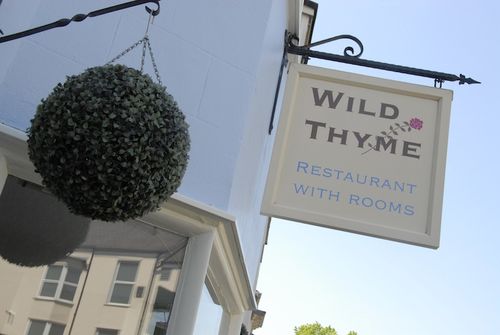 When I booked a weekend away in the Cotswolds, I had Gloucestershire on my mind. Only after booking a Gloucestershire Inn did I realise its postal town was Chipping Norton, Oxfordshire. I apologise to the majority of blameless citizens of Chipping Norton, but it does have certain connotations.
It wasn't difficult from the internet to determine which is the most highly thought of restaurant in the area, so I booked a table with pleasurable anticipation, yet tinged with some anxiety. (outside photo taken from restaurant's own website - I believe this to be fair use for the purpose of review)
It is very difficult to find anything to criticise about Wild Thyme. The biggest downside is it is so very small, and understandably, they've tried to maximise the number of people who can fit in. We were at a table between the service station and the kitchen. On the one side the manager was confirming reservations for the next few days, on the other side, a constant procession of waiting staff knocking on the door of the small kitchen (to ensure no one was in the way when they opened it).
That aside, no criticism. Good service, appropriately attentive  - they responded in a timely manner to our requests without trying to rush us or to interrupt our conversation to parrot a robotic "Everything alright, you guys?". I'm sure I was the youngest customer, and JImmy may have been the second  youngest, and possibly the only man not in red or yellow trousers. I would expect such a clientele to be quite conservative, but the menu certainly wasn't. Modern British, in the best way. A starting point of fairly classic dishes and using seasonal local ingredients (or those with provenance) to take them beyond 'staid' into 'refreshing' without reaching 'quirky' or 'frankly bizarre'. Portions generous enough to satisfy Jimmy, not so huge as to daunt me or leave no room for pudding.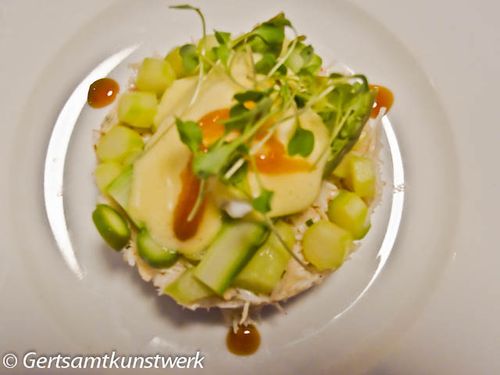 I started with Tian of dressed Cornish white crab meat, asparagus, poached quails egg, pink grapefruit hollandaise. 
Generous portion for a starter, and attractively presented, with each element given its space to shine, but not driven by the elements alone. This was the same with the taste, some distinctive flavours rolling over the tastebuds and yet blending into a coherent whole.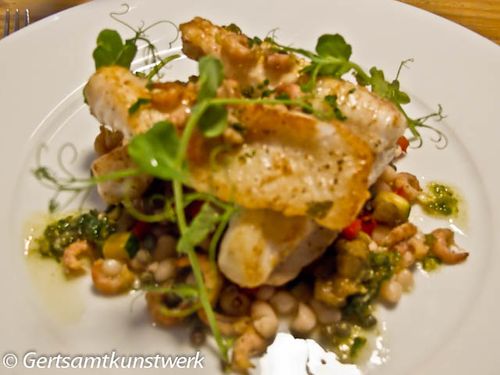 This was followed swiftly - minor niggle, possibly a tad too swiftly - by Sauté Cornish monkfish tails, brown shrimp, lemon, capers, ratatouille, braised haricot blanc, pesto.
What I said about the starter can also be said here. Choose good quality fresh ingredients, blend them intelligently, and prepare them perfectly. Chef either has a good palette, or, at least, one in tune with me. I had been unsure about both ratatouille and haricot blanc but neither was overdone and they acted as good base, without overwhelming the monkfish. The dominant taste was salty; I don't mean that negatively. I really don't like food with lots of salt added artificially/unnecessarily, I'm quite averse to it, and this was about the natural saltiness of the monkfish and shrimps starring in a way I found most attractive.
I nipped to the loo and searched the corridor and loo walls for photos of celebrity clientele. Assuming they have taste - and perhaps that is too big an assumption - I suppose Cameron, Clarkson and Brooks will have dined here on occasion. To my relief, there were no ghastly reminders of their existence!
We finished with poached pear. Such a risk. I'm sure we all remember poached pears from childhood which resembled nothing more than a once-decent piece of fruit boiled to within an inch of existing. This was the antithesis of school dinner pears, surely a signature dish, an elite pudding, and something I won't forget for a long time. It was on the menu as Vanilla poached pear, ginger ice cream, rice pudding, Nick's raspberry jam and peanut brittle. I was surprised at how well the ingredients combined, whilst (again) maintaining a clear separation. Vanilla poached pear would be to die for, I can conjure up a memory of the taste two months later. The rice pudding and jam added subtle waves of flavour. Outstanding! I may be misremembering but I'm pretty certain the ice cream was injected into the pear!
We finished dinner somewhat earlier than I had expected. We had had little time to linger between courses. But, also, the need to drive constrained our drinking, so perhaps speeded us up. Our drive back to our lodgings was spectacular, as an orange ball of fire slowly sunk into the Evenlode Valley, illuminating local landmarks, ranging from Bliss Mill, to Churchill church, to the nursing home at Kingham.
I wanted to stop the car, but being extremely squiffy (though well within the legal limit) I assumed that Jimmy, the driver, also well within the limit would also be squiffy and not wanting to stop. Actually, he wanted to get back to our digs, park the car, and have a drink!