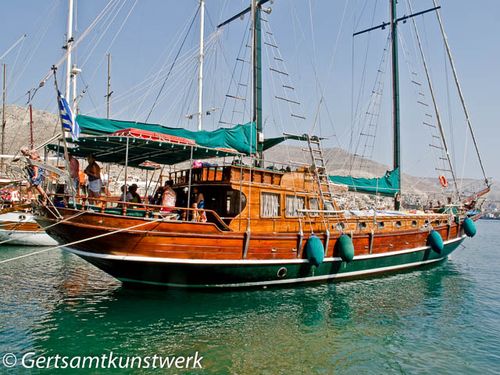 On the final full day of our Greek holiday, we went on a boat trip. We did it the easy way, buying from the rep in the hotel rather than at the Quayside. That way, we got transport to the harbour, and were booked on a boat aimed at English-language tourists. Our boat was filled with mainly with Brits and Dutch, and one Italian couple who were very out of place. He spent much too much time on his phone, almost certainly talking business. She was dressed impeccably - for a restaurant - even with full make-up and heels, and looked disapprovingly at British and Dutch women in our shorts and flip-flops.
The boat chugged out of the harbour and seemed to travel for miles. Nothing much to see but open sea, the occasional tourist boat and one or two islets. 
I put my camera away. I don't wish to labour the point, but while I love the blue of the Aegean Sea, the arid landscape does nothing for me.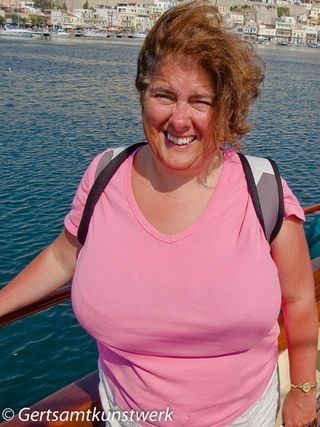 Eventually we arrived at our first island. It was a slightly misleading description, for we anchored off the coast of Platti  and were encouraged to dive into the water. Off with the t-shirts and shorts, under which most people had their swimming togs. Some people dived in; I did it my way, gingerly down the ladder backwards. What utter joy! Swimming is nice. Swimming off a beach is joyful. Swimming off the back of the boat is an amazing sensation.
Sitting near us were a mother and daughter (50s/20s). What a palaver they went through so the daughter could change out of her bra and knickers into her bikini and back again, with Mother holding up a towel and glaring at anyone sitting nearby. The daughter was flat-chested and it wouldn't have looked odd if she had worn her bikini beneath her tailored blouse. Women with actual boobs were doing so under their t-shirts or beach dresses.
We were served a 'barbeque' but there was precious little - bread and tomato - for those that didn't eat meat. The meat was pork. Jimmy said it was pretty horrible, and made him yearn for the buffet at the hotel which we had otherwise become bored of.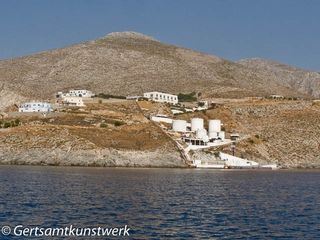 Our next stop was Kalymnos, the Sponge Island. As we approached, we passed the island's cement works, a major source of cement for the Dodecanese. I'd read the tour leaflet, and told Jimmy, who hadn't, that we were going for a tour of the cement works. He was somewhat dismayed, so I had to tell him we weren't.
We were encouraged to visit the Sponge Factory and buy large quantities of sponge, but we took a coffee, strolled round the harbour, took another coffee, strolled some more and returned to the boat.
I thought it was a nice little town and it seemed to photograph better than I thought at the time. But it did drive home to me the futility of these trips. It's great to be out on the boat, on the open sea, getting the chance to swim. And I understand why they stop in towns. People go into cold sweats if they can't shop all day, and, more practically, it gives us access to more food and drink than the boat can provide. It seems disrespectful to local people to show such superficial interest in their culture, snap-snap, there's my photo, doesn't it look picturesque.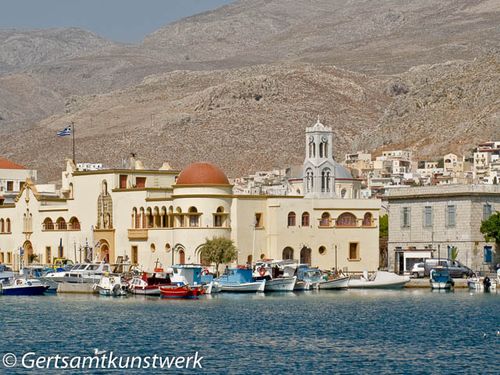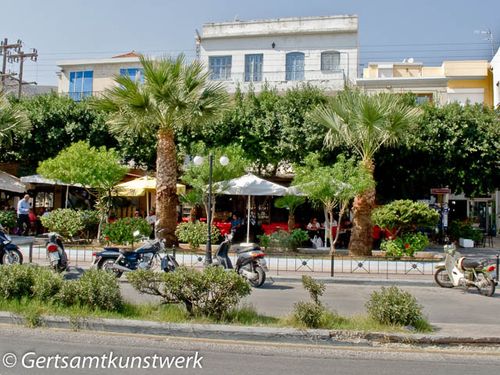 I liked the statue near the harbour , depicting different aspects of local life and myth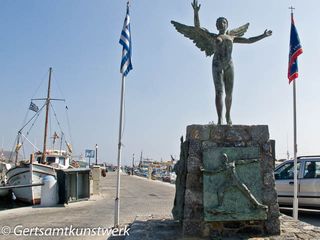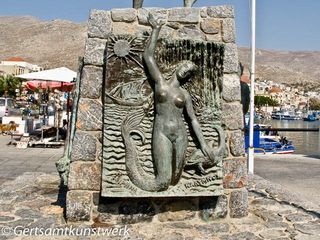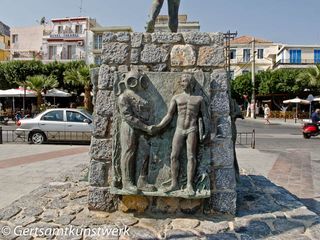 Perhaps inevitably, a statue of Poseidon was not far away.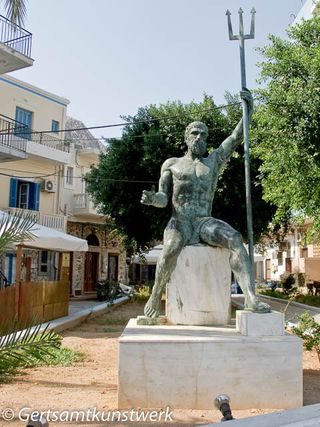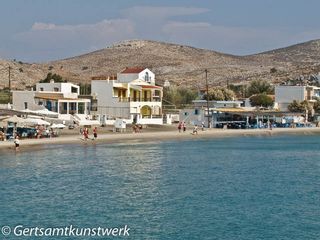 Our final stop was Pserimos,for some off-beach swimming and to enjoy beach cafés. The strange people continued to act strangely.
The mother-and-daughter-with-towel show repeated itself, only for daughter to wade out knee deep and no further into the sea. Mother was later seen to be rinsing off the daughter's bikini - in the sea, which made no sense to me.
Meanwhile the Italian woman removed her high heels and let her feet go into the water. Suddenly, I pitied her. I couldn't tell whether she was enjoying the sensation and wanted more but didn't dare, or she felt nothing but acted a wriggle to convey the joy she had learned from other people. Meanwhile, her husband fastidiously brushed off sand that had dared to encroach onto his impeccable trousers and matching shoes.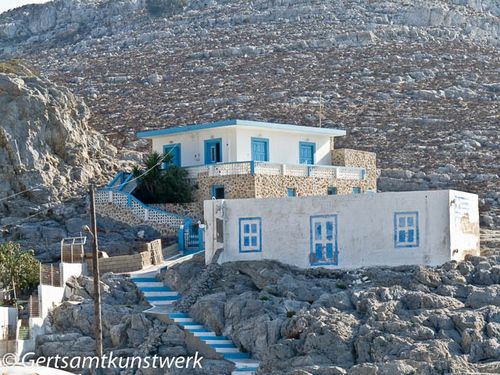 One of our more gregarious companions engaged the barmen in conversation. At first it seemed a charming way to show interest in them but soon became clear it was a way for her to regale them with the epic story of her holiday. She and her husband were here to celebrate their thirteenth wedding anniversary. Their anniversary was in March and they had gone to Amsterdam (thus being more knowledgable about Amsterdam than Dutch people) but in September they were celebrating their anniversary - by going on holiday with her parents. (Sub text, look how loaded we are). Mother, meantime, got anxiety attacks if she wasn't shopping, and yet shopping also caused obvious stress. At least I found out who buys all that jewellery and ornaments made of shells in tourist resorts!
I couldn't quite work Pserimos out. It has a population of 130 and we saw one old boy who I imagined had lived there all his life and his ancestors for generations before. Where we landed was pretty, but had no anthropological interest. I think the buildings round the bay were holiday lets, probably for prosperous folk fondly imagining that they were living hippy alt culture for two weeks before returning to their bonus-heavy city jobs.
We sailed back to Kos town. I enjoyed the day, there really is nothing like it. Lots of fresh air, open seas, swimming, people-watching. Splendid day and a great end to an holiday which had been better than the sum of its parts and much better than I've conveyed in these blogposts. But we won't be doing All-Inclusive again any time soon.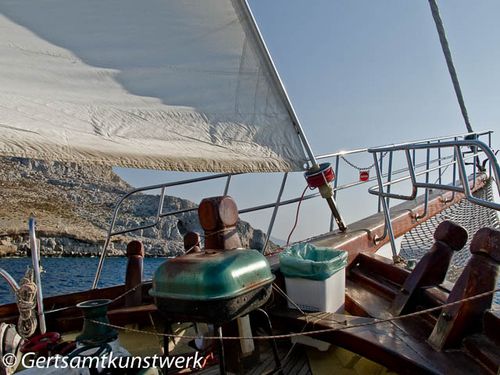 Other blogposts on my Kos holiday: