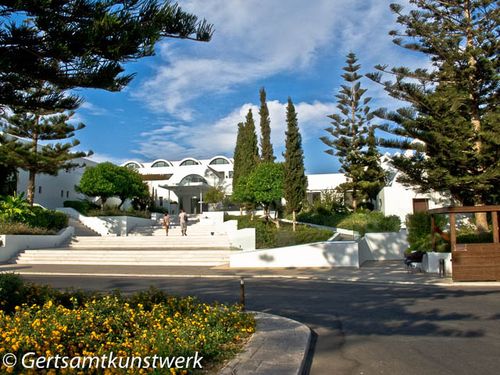 Last year we spent a fortnight in an All-Inclusive hotel in Kos, just outside Kos town. We wanted sun and sea and that was what we got. The hotel, the Oceanis, had many positives. Absolutely scrupulously clean at all times. Beautiful landscaped grounds and thoughtfully set out. Food was plentiful and not without variety. 
We had ordered a standard room, and were upgraded to a more roomy suite, which even had a jacuzzi on the balcony. The reason for the upgrade soon became obvious - it was directly above the hotel sauna and became extremely hot. Fortunately there was air conditioning.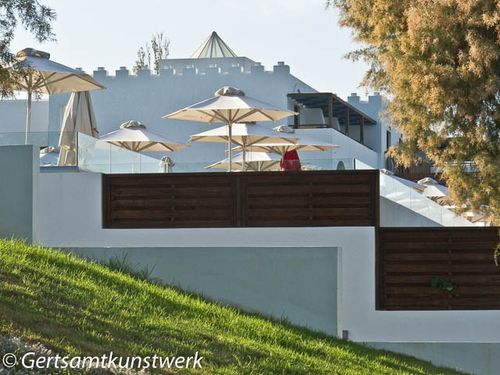 However, we did remember why we had vowed never to go all-inclusive again. After a while, the buffet meals became monotonous in their bland lukewarm sameness. By the last couple of days I was surviving largely on fruit and cheese. Every night there was live entertainment in the Pool bar, often until after 11pm. This was amplified throughout the complex, destroying any sense of quiet. The most frequent entertainment was from the resident 'pub singer' by the name of Andy Foster. He sang versions of numerous classic pop hits from several decades. Bearable for one evening, when I was really quite drunk, but he just seemed to get worse and worse. No real musicality, whining voice and no real rhythm. But there was no escape. One night we made the mistake of inviting some people to sit at our bar table (it accommodated four, there were no free tables). They talked at us, boasting about all the other All Inclusive holidays they had been on; by the time the woman started on about how wonderful the Royals are I got rather impatient and was extremely rude, describing Kate Middleton as a lazy waste of space. I have no regrets!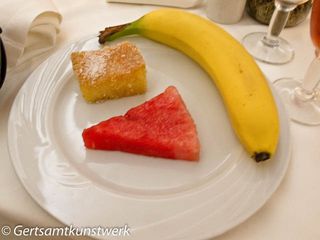 Each week we were entitled to a meal in the 'a la carte' restaurant - ersatz Italian. Really quite poor and an insult to anyone who is Italian or has ever been to Italian.
It's also worth noting that the staff did not have a single day off for the entirety of the season, except if ill, and they worked long hours. Many of them were delightfully candid, making it absolutely clear that they were only working here because of the dire employment situation in cities such as Athens. I strongly suspected many were desperately over-qualified and/or experienced for this menial work. However, despite what they must have felt, they were unfailingly polite and efficient in their service.
We went into Kos Town on the frequent cheap local bus and also on two excursions (future blogposts) but otherwise we stayed in the hotel. We had intended to hire bikes and explore, but the weather was much hotter than we - or anyone - expected. I had seen that it averages 25 degrees during the day, and have been to Greece twice before at this time and found it pleasant, but there was not a day that the temperatures didn't exceed 30, often by quite some margin. Too hot to do anything but swim in the sea! The locals kept saying that it should have rained, there should have been rain. A short heavy shower would have been welcome.
There were two pools but we didn't much bother with them. One was called the Quiet Pool and we frequently had coffee beside it in the first week, noting how people clearly just wanted to read or  snooze. We returned on our final day and noticed two parties who insisted on loudly playing bat-and-ball in the pool. I wonder about the mentality of people who see a sign saying Quiet Pool and go out of their way to make noise. "Oh look at me, I'm so interesting, I demand attention"
The hotel included a chapel, apparently one could get married there, but it was closed when we did our walking/photography tour of the campus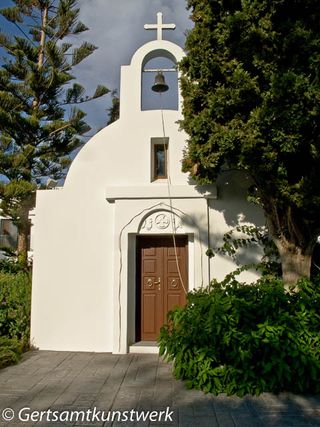 Some of the produce for the kitchen was grown in the grounds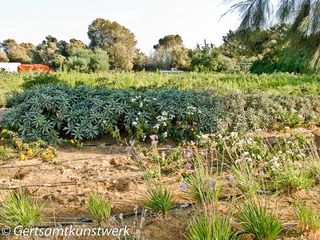 It was rarely dull looking out to sea across a busy shipping lane to Turkey. When large or fast ships or boats passed, a few moments later a particularly lively wave would ripple onto the beach. It took me a while to work out cause and effect!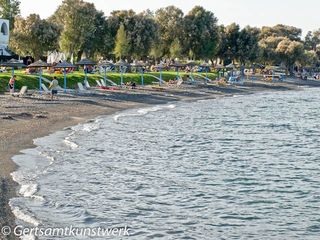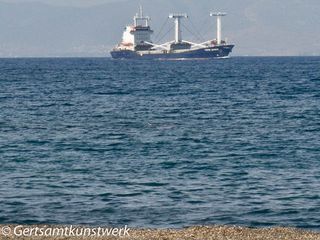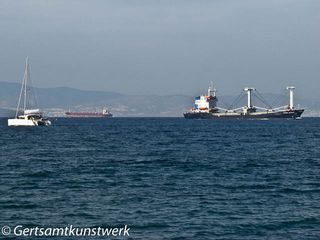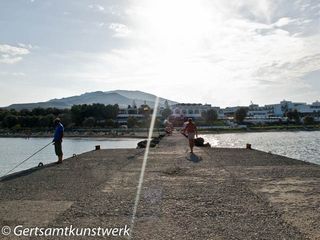 The grounds were nice and they had strict rules about leaving towels on loungers early in the morning or late at night. There seemed to be a natural divide between the lively noisy beach below the Pool bar and the further beach where peace and quiet was rarely interrupted.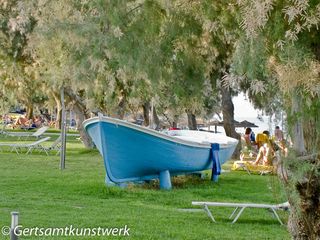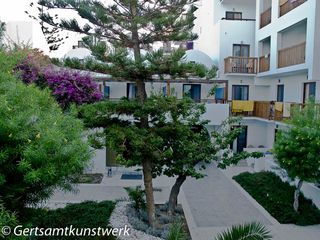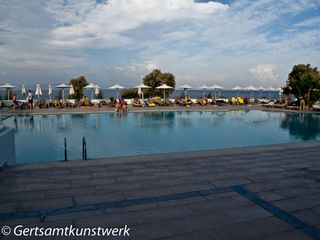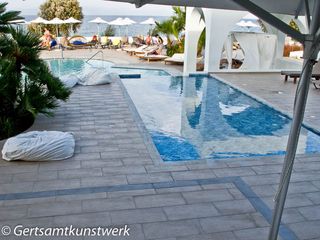 As seems to be de rigeur in these hotels we experienced the delights of towel art. It all gets a bit tedious after a few days.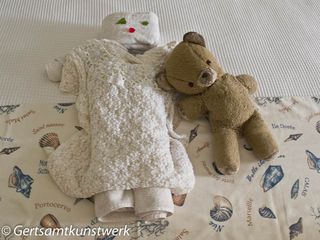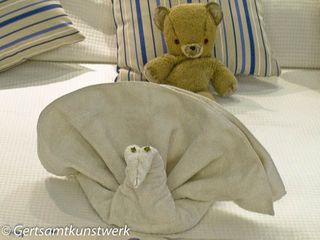 As I say, there's a lot of positives about the hotel, and if you're looking for a holiday of All Inclusive indolence I would strongly recommend the Oceanis, albeit with the caveats expressed above. But we strongly concluded that AI is not for us, not for a long time now.