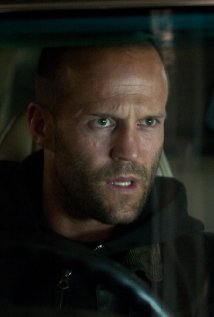 Bored and listless on Saturday evening I proposed we watched a film. The free-at-source channels, terrestrial and satellite, offered very little we hadn't seen and could both watch together, so I chose Blitz. I probably wouldn't have chosen it to watch by myself but the premise seemed reasonable. a cop on the trail of a serial killer.
A starry cast including my perennial favourite David Morrissey, the enigmatic Paddy Considine, Zawe Ashton (Vod from Fresh Meat) and even Mark Rylance.
It wasn't a bad film, but it just wasn't very good. David Morrissey and Mark Rylance were entirely wasted in peripheral roles, so I can only assume they turned up as a favour to a friend. Paddy Considene and Zawe Ashton put in decent but not great performances. The official star was Jason Statham, of whom I have frequently heard mention but am not sure I have ever seen in a film. It seems that he generally plays bad guys and I think that sums up part of the problem with the film. I'm entirely cognisant of the concept of the 'rogue cop', a thug, but they tend to have some self-awareness, a realisation that they are not conformist, and quite often a sense of purpose. I didn't really understand how he'd ever found the braincells to pass his Sergeant's exam, and I could find no sympathy with the character.
A greater problem was the story. I think there was a decent plot somewhere, but just as I didn't sympathise with the main cop character, I also found the killer Aiden Gillen to be two-dimensional. Sure, we found out that he hated the police, but there was no insight into his psychology. Many people are anti-police and may even be violent towards them, but there was no explanation as to why he should carefully plot a series of assassinations of the police officers who had previously arrested him. 
It was so predictable, which I admit is not necessarily a bad thing. I don't like it when films or TV dramas have a twist for the sake of having one, but when there were no real character exposition, no insight into policing techniques, no eye-catching cinematography, a mundane plot doesn't attract.
And, at 90 minutes, it was too long. It would have worked better as an hour long (or 48 minutes on ITV) TV drama. It seems to have been based on a series of novels, and, as far as i can be bothered to research (not very much!), this wasn't the first. Perhaps I would have understood it more if I had read or seen the earlier ones, understood what motivated the Statham character. It filled the time in between two sessions of doing very little on a lazy afternoon.