Not being in the mood for the jingoistic Last Night of the Proms and being in the throes of an attack of CFS-induced-CBA, I needed something fairly mindless to watch on the TV. A filum, I thought, and found two that didn't include any of aliens, shootouts*, American soldiers saving the world from Moslems, thin-plot-barely-justified-by-CGI & all the other elements that make up most of the film content on TV.
I didn't have high expectations of either film, and they didn't disappoint. 
*SPOILER ALERT*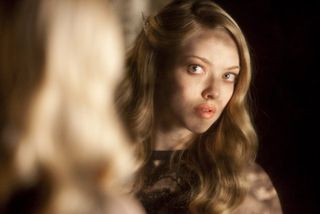 I actually enjoyed The Women more but know that Chloe was the better film, Chloe suffered from being aimed at a North American market. It has been described as sexually graphic - it wasn't, it carries a 15 classification in the UK - and erotically charged - only up to  a point.
The basic premise of the film was a good one but too thin to hang an entire film on. I wish there had been more exploration of the relationship between the two female characters. Perhaps that is just a bi-product of my own sexuality (I am totally happy to acknowledge my own partial bi-sexuality - I enjoy female-female erotica but have never sought a female-female sexual encounter or relationship). I just don't think that Julianne Moore could have had a one night stand with Amanda Seyfried and then just gone back to being entirely hetero. I also found Amanda Seyfried's character troublesome.
She was a sex worker and conveniently drop-dead gorgeous. There didn't seem to be any clear reason why she was a sex worker, no drug habit for example. They attempted to use her dishonesty and slight obsessiveness to hint at mental ill health, but that just seemed like the normal (ish) behaviour of a normal person consumed by a passing crush. There was no hints at emotional scarring or the characteristic brittleness of sex workers. So she was this female character who served a purpose in the plot but wasn't a whole person with a real life, as opposed to Julianne Moore and Liam Neeson who lived rounded lives with jobs, friends, a son, marital disharmony and so on. It was slightly odd that Neeson's character was ostensibly a professor of music, but the only diegetic music was so mainstream as to be ClassicFM-lite. And other than lecturing in music and attending a couple of concerts, music didn't seem to be of any importance to him.
The performances from the three main leads were convincing, the settings were obviously well chosen, and shot with some fairly good cinematography, but there were wasted opportunities for  some more self-consciously gorgeous lingering shots of scenery and interiors, perhaps combined with some thoughtful music.
I felt this was a reasonably good film with the potential to be very good. At times they captured well the erotic tension, often by understatement and by not making it particularly graphic. But it was obvious they were trying to avoid shots that would invoke the wrath of the censor, and that made it clumsy. It attempted to portray the psychology of the main protagonists but only succeeded partially. It has whetted my appetite to see the French film Nathalie from which it was adapted which I suspect will be more satisfying both erotically and psychologically.
Liam Neeson was his usual handsome self, Julianne Moore was satisfactory in her role, but the real star was Amanda Seyfried, whose understated acting create an irresistible aura around her.
This film is currently available in the UK on Sky Box Office, and, presumably also Pay Per view from other providers.
* actually several of my favourite films include shoot-outs: Indiana Jones and the Last Crusade, Pulp Fiction, In Brussels, and Sound of Music. But they have to be done well!