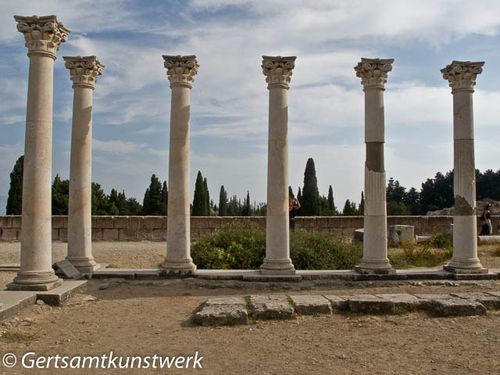 During our All-Inclusive package holiday near Kos Town we booked a day coach trip to tour the island.
I have mixed feelings about coach trips. It is an excellent way to see the cultural highlights without having to juggle bus timetables or hire a car. But you don't have control over how long you spend at places and it's all a bit whistle-stop.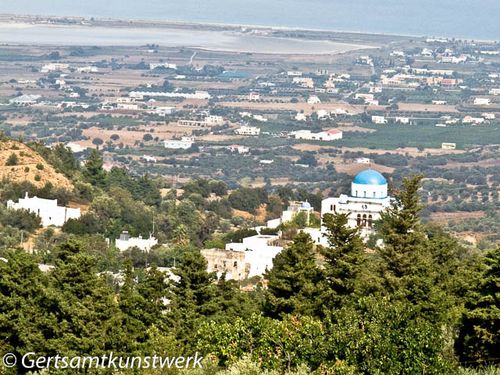 On the whole it worked out well. We had an excellent and knowledgeable tour guide. The coach wasn't completely full and there was nobody entirely obnoxious. There was one elderly woman who was clearly getting drunker and drunker and more garrulous as the day went by, but she was a hoot. One slightly odd woman seemed to want to follow me around and take the same photos. 
As I have said before, the weather was much hotter than I had expected and despite drinking copious amounts of water, it did take a lot out of me. If we had been going under our own steam, it would have been even more draining.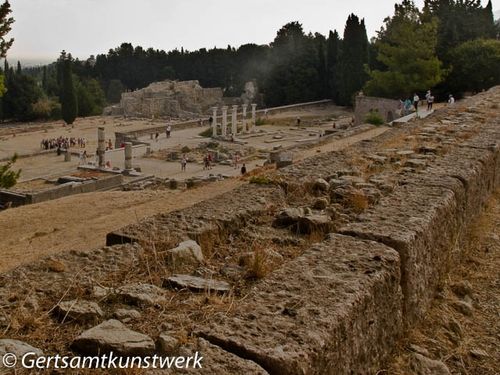 Our first stop was the Asklepion, not far from Kos Town. One of the most important sites in Western Civilisation but I hadn't heard of it until I booked to visit Kos. It is a 'healing temple' sacred to the Greek god Asclepius. The Asklepion on Kos was probably the largest and most well-known in the ancient world, dating from 400 BC. Modern scientific evidence-based medicine has its roots here; Hippocrates worked and taught at this site. Medicine was 'systemised' . Pliny wrote that Hippocrates learned medicine by writing down the successful cures that had been recorded by patients on the walls of the temple.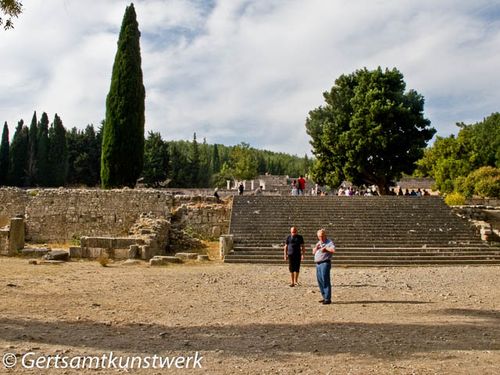 One level of the Asklepion included hydrotherapy. Our guide explained the importance to them of clean drinking water. The guide recounted a story where he had to guide a school party round. He asked the children whether  Asclepius existed, and one child, aged about 9, replied "Yes, because he exists in our heads." A profound comment.  Of course these gods exist; it was the genius of humanity to create them to serve society!
 Kos has a history of earthquakes, and the hospital is in ruins. Excavations were begun in the early years of the 20th century. Anyone who visits Kos must go to this site, with a good guide. However, you get more of a sense of space and the size of the place, and great views out to sea, then any insight into the workings of the hospital. Also, because it's built on four levels, there's a lot of stairs to climb. Those with greater mobility problems than me would not get the full experience of the site.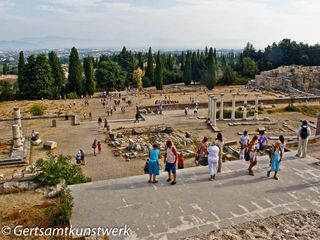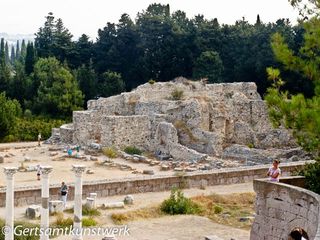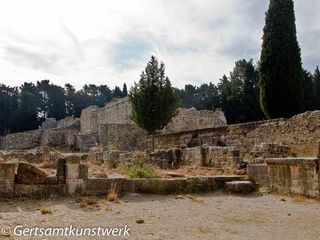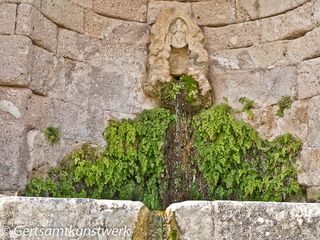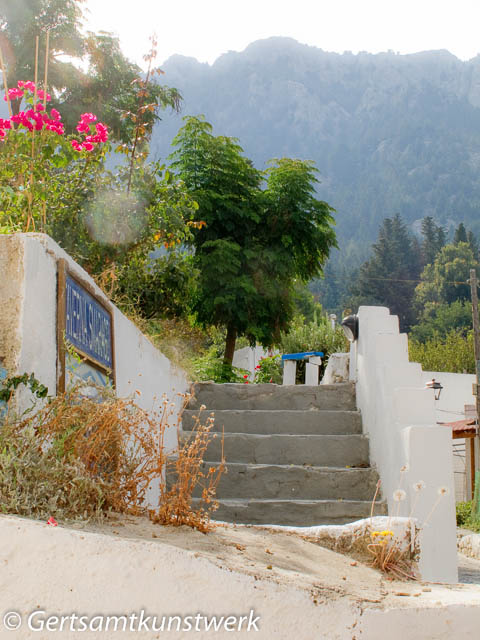 We drove into the mountains, to the touristic village of Zia that lies at the base of Mount Dikaios, the highest mountain on Kos. We visited during the day but it's a popular destination at sunset. 
The coach dropped us off in the village square.  Some people headed straight for the shops, which sell everything from the cheapest tat to local foodstuffs (eg honey) to some lovely pottery. I was tempted by tableware but I knew it would be a pain to bring home by charter flight.
We climbed up to the Orthodox church above the village - but first, coffee in a nearby restaurant. I was pleased by the photo I took of the steps but later saw other similar pictures on the web - clearly an obvious shot!
The church was highly decorated. I felt awkward. I'm not religious, and it felt odd being one of many people wandering around taking snapshots. But it's part of the tourist route, and presumably the church tolerates it as it brings money to the village. This is the point where I start to feel guilty as a relatively prosperous Western tourist bestowing my grandesse on a struggling economy. Does it feel more awkward when it's in an EU country?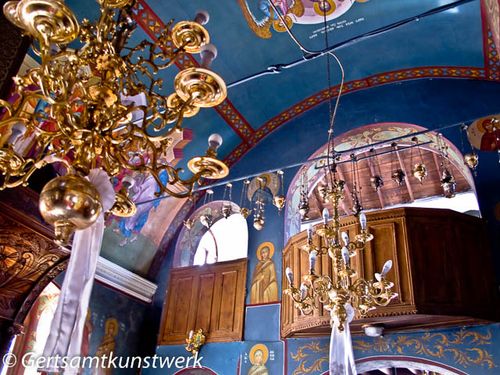 We walked round the village, which is pretty, with magnificent views.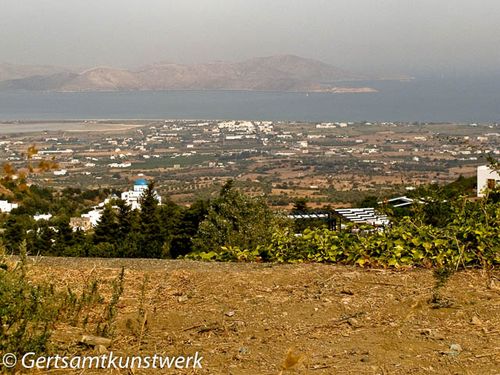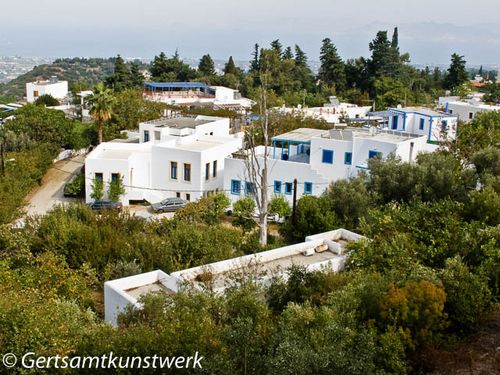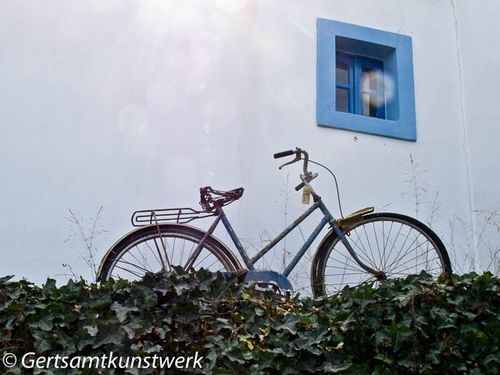 As we waited for our coach, I spotted this vintage mowing machine parked up in the village square.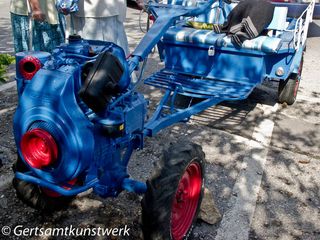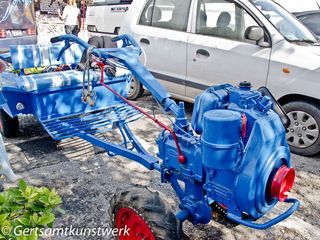 Next stop was Pyli, in order to see a fountain. I understand why the coach tour stopped off there but it wasn't a highlight. The guide explained a rite associated with fertility - drinking from each of the taps or somesuch. One poor woman dashed round like she was desperate. I saw it as an opportunity to replenish depleted and warm water bottles!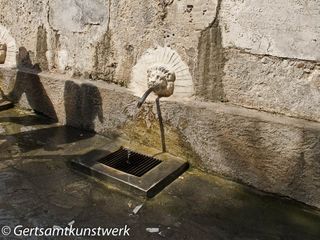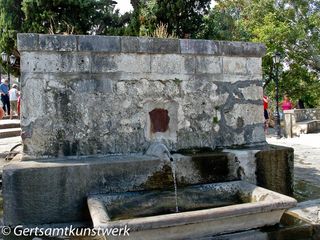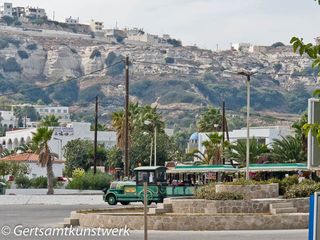 We drove across the island to a beach town for lunch. Kos is said to be one of the greenest Greek islands. I've previously been to Corfu and Crete, but the scenery just doesn't grab me. The town we stopped in - whose name I forget, I didn't make contemporaneous notes - had an air of end-of-season. A few people sunbathing on the beach but not much else. Even the tourist train was parked up and seemed out of commission.
We had a decent meal in the restaurant recommended by the guide. A beau
tiful piece of fresh plaice, some eatable chips, and a lettuce, tomato, onion and pepper salad. All very pleasant but so very bland. I was beginning to yearn for the flavours of Modern British.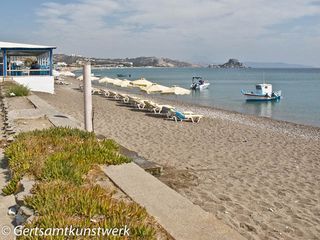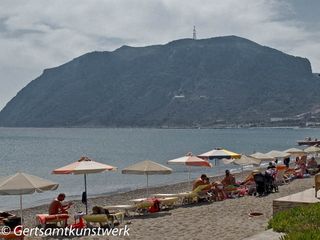 I saw one of the best shop signs I've seen in a long time. It made me laugh!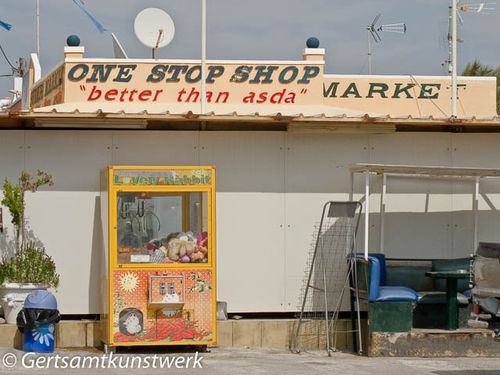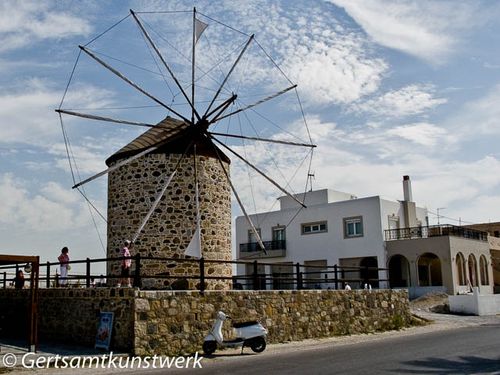 We had two more stops. One was at a honey farm, which was interesting. I began to understand the process of bee-keeping and honey making. We bought several jars of the stuff, primarily heather honey. But I took no photos.
Our final stop was a village with a restored windmill and a 'traditional house'. But tired and hot, I had run out of energy, and was pleased that the next item on the itinerary would be the hotel drop-offs.
More photos of the day are in my Kos photo album