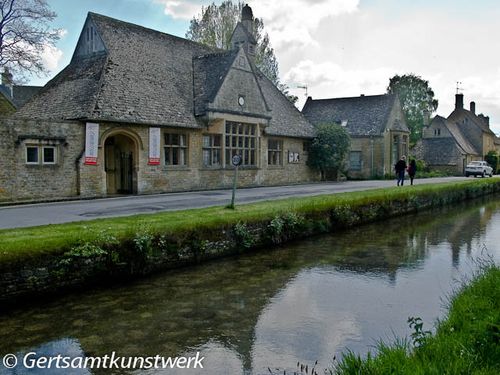 An afternoon in Lower and Upper Slaughter! After we had exhausted the sights of Bourton-on-the-Water, it was time for lunch. We had no clear idea where we wanted to go, and, in any case, with a 7pm reservation at the Wild Thyme, we didn't want anything too substantial. I spotted a hopeful sign; following it took us to the village of Lower Slaughter. We quickly realised that the Luxury Country Hotel was not for us.
Apparently, the main/only road in Lower Slaughter was voted the most romantic street in Britain in 2011. I admit it's really quite nice, but, seriously, I think there must have been an orchestrated local campaign to write-in.
We stopped at The Slaughters, delightfully situated on the banks of the River Eye, with a beer garden and lawn sloping down to the river, It was fairly busy outside, with more than its quota of screaming kids and unleaded dogs, so we went inside. I ordered tea and a sandwich. The menu stipulated that the sandwiches were available in white or granary. I ordered granary. It came on white, with an explanation that they were out of granary. Fine, places run out of things, it happens. And the white bread was quite nice, certainly not processed rubbish. But, it did strike me a little bit casual just to assume!
The church opposite the pub had a banner outside inviting people in to see their flowers. A generous move, I thought. Unfortunately, nice as the vases of flowers were, they were few, and I think more money had been spent on the banner. The church looked moribund, no Children's Corner, no evangelising notice board, no Parish Notices. No sign of their having been a wedding this Saturday of a Bank Holiday weekend at the start of half-term. Wikipedia refers to the church being "13th century" but largely built in 1866. So no historical or social purpose as far as one can see.
I don't especially advocate the widescale demolition of redundant churches; on the other hand, I do feel they serve only two purposes. I imagine that having an "old" church - half a century newer than my house - in a village helps maintain house prices - three bedroom semi, £635k and it serves the Establishment and especially the Church of England that while their buildings remain dominating the landscape, dying or redundant, they seem Relevant to people's lives and Entitled to dictate how those lives are led.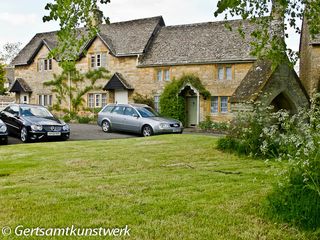 We strolled around the village. A mixture of older houses (16th & 17th century according to Wikipedia), and many modern ones keeping with the local sandstone but otherwise non-descript. We strolled along one bank of the river, noting how the picturesque nature of the village was marred by ubiquitous motor cars.
We walked as far as the 19th-century water mill which has an undershot waterwheel and a chimney for additional steam power. Attached to this was a tea-room and a shop. It was one of the strangest shops I have ever seen in a tourist place. It included local ice creams and other artisan foods, local guide books, and local souvenirs such as staddle stones, but also a seemingly random collection of vaguely hippy clothes, some cheap/over-priced costume jewellery and an eclectic collection of books that should have been remaindered weeks previously - Fifty Sheds of Grey, anyone? Annoying on Twitter, even at the height of the 50 shades craze, but imagine that someone used paper to publish this, and expected people would buy it.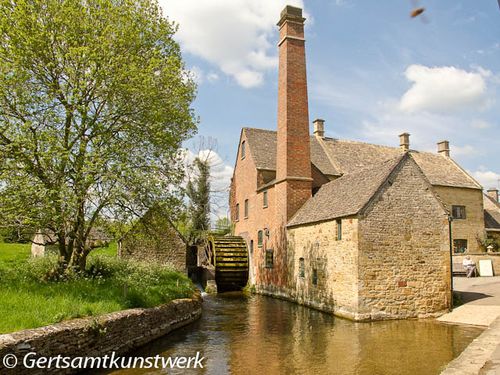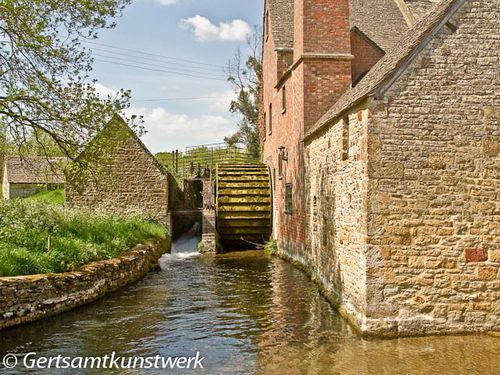 We walked along the opposite bank of the river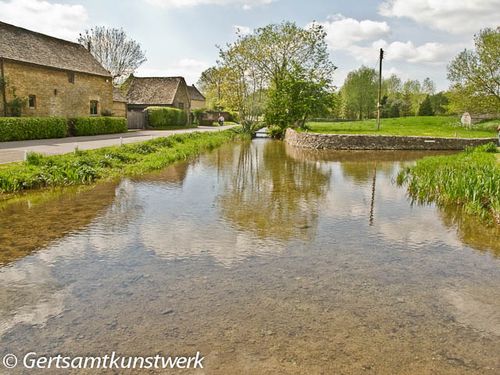 We passed the quaint old school house

We also passed the building at the top of the post. If I recall correctly, it's a former library and was hosting an Arts Show. With no little irony they advertised this with an ugly banner perched like vandalism on an interesting old building. I can only conclude someone in the village makes these banners and forces community groups, from the church to the artists, to buy them, or else.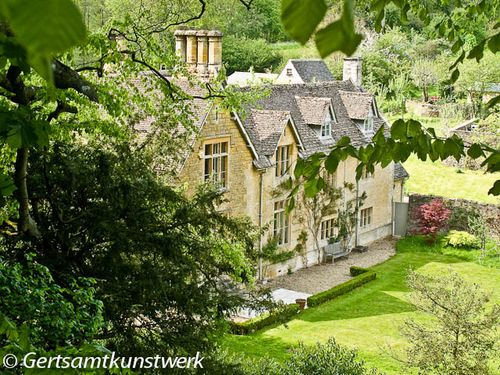 It is suggested that one walks from Lower to Upper Slaughter, which is a fine idea if you're up to it. The downside of having a car is that any walk from A to B must also necessitate B to A. Instead, we drove, and having strolled around Upper Slaughter, I knew I had reached the limit of my walking endurance.
Upper Slaughter is even more delightful than Lower. We explored the church, which had slightly more signs of life than its neighbour, although hardly a thriving place. From the churchyard, we looked down on the former Manor House, now a hotel with a Michelin star restaurant.
We were puzzled that the churchyard seemed to contain no War Memorial. I only later found out that, despite its name*, Upper Slaughter, is one of only 52 Thankful Villages and one of 14 Doubly Thankful Villages. A Thankful Village was one which had lost no men in the Great War because all those who left to serve came home again. (England and Wales)
I write this on 4 August, the day when two people are finishing their visit to all 51 - some confusion about the numbers. See more details here. I have never heard of any of the others (with the possible exception of East Wittering - I've heard of West Wittering but never stopped to consider the existence of East). Upper Slaughter is really very small, for example, there doesn't seem to be be a village pub or any suggestion that there has been one recently closed. I guess the others are similarly small; every community of any size lost men in the First World War.
The graveyard includes relatively recent and well-tended graves of young children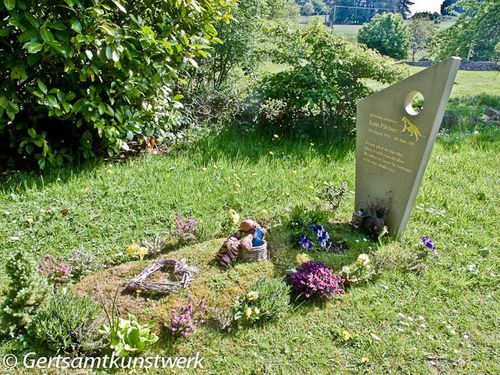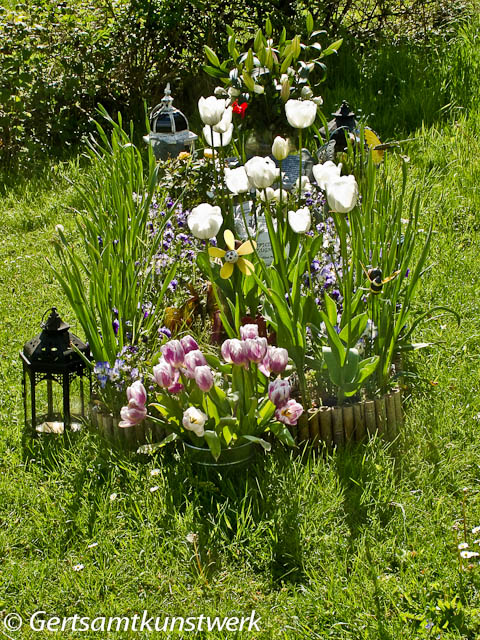 We strolled through the residential area, across the Ford and a few yards along the river. The weather was just perfect - warm, but not hot, hard to recall the low grey skies and teeming rain of twenty four hours previously.
For a few moments I imagined myself living in such a rural idyll. But, aside from the fact that Cotswolds house prices are beyond the reach of ordinary people, even newly gentrified Brixtoners, I soon realised that a place that's lovely to visit would not be so nice to live in, lacking the most basic services. Still, it's good to have these thoughts and remember to appreciate home!