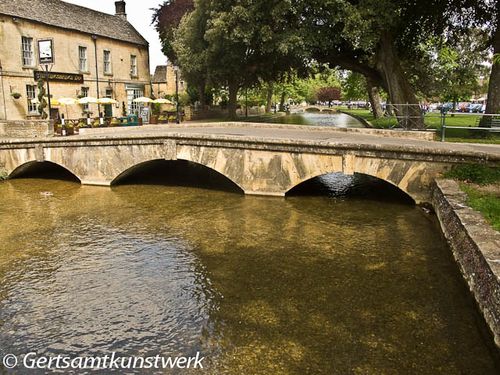 The first full day of our Cotswolds Mini-Break. Decent breakfast at the country inn, although I've had better. A promise of sunshine later in the day, and the forecast set to be decent all weekend. 

I had bought a book called Short Walks in the Cotswolds, one of a series. I decided that we would do the walk nearest to where we were staying, a stroll round the outskirts of Bourton-on-the-Water. I suggested that maybe we could find a coffee shop to start the day off. 'Somehow', we found ourselves in a field, with all-day parking available for a fiver, just a short stroll from the town centre. One thing led to another and we spent the next three and a half hours in Bourton.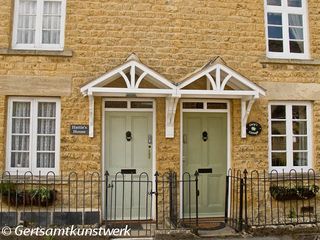 A lovely town, delightful to visit. I would hate to live there. It was quiet when we arrived, not many people around. When we left at 2 pm, the pavements were crammed with visitors, and cars were queuing along the main A road to turn into the village. 
They call it the Venice of the Cotswolds, a lazy description, because it looks nothing like Venice. Venice is sited on 118 small islands separated by canals and linked by bridges. Bourton has a small stream running through its centre, which goes by the name of the River Windrush, and has five bridges across that river, that would prevent boats passing along, if the river was navigable, which it isn't.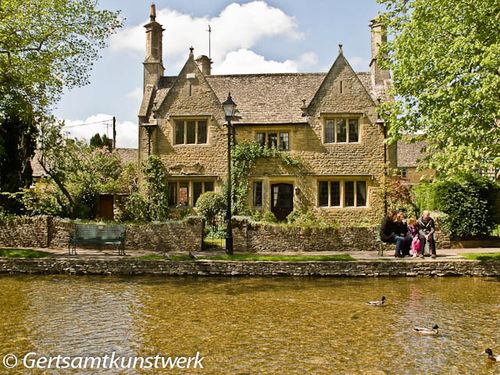 I was briefly struck by the name 'Windrush'. We use it in Brixton. Our town square is Windrush Square, named after the MV Empire Windrush, the ship that brought the first group of immigrant workers invited over from the Caribbean to assist in rebuilding Britain's post-war economy. The Windrush was one of a series of, often secondhand, ships named after minor English rivers - Windrush had previously been a German cruise ship and then troop ship, and was captured and taken as a prize of war.
After coffee we wandered along the river and found ourselves at the Model Railway Exhibition. Photography forbidden - fair enough - so no photos. Basically, it consisted of three rooms, each with complex and intricate model railways. By this, I mean glorified train sets, but not disparagingly. Fascinating, wonderful amount of detail. I'm sure if I returned I would spot many things I didn't notice on this visit. You get the opportunity to control some signals and points, allowing the trains to move along their various tracks. Particularly good fun if you get to elbow small children out of the way*.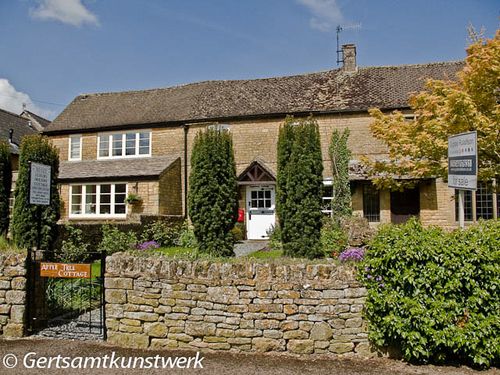 All around the village were signs that indicated that dwellings were holiday lets. Such a high proportion must rip the heart out of a community, even it does, I suppose, provide some low-paid local employment.
We spent quite a time strolling around, watching people in and around the river, basking in the sun that grew warmer.
We didn't go in the Motor Museum but enjoyed its exterior.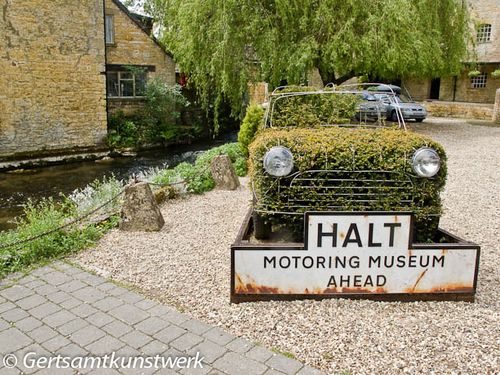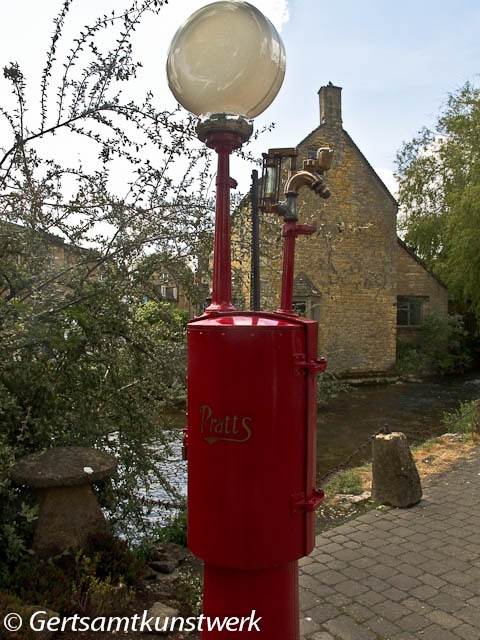 Jimmy bought an ice cream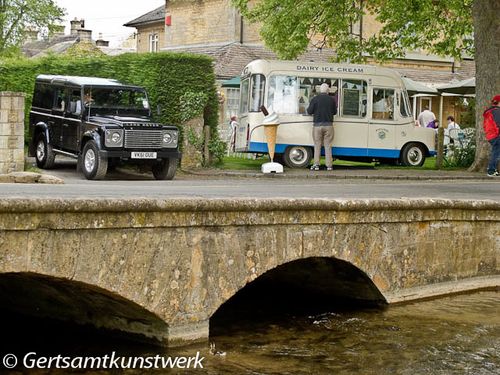 The local hardware shop played up to the quaint olde-worlde image (1950s-ish) I think the village would like to project.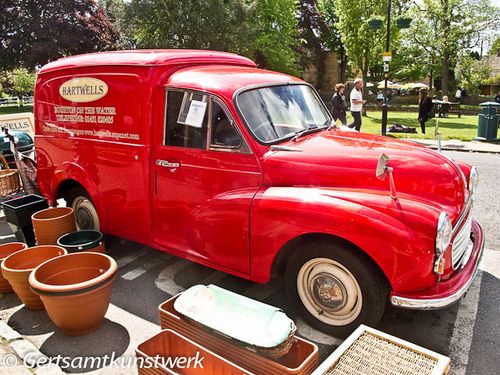 These girls walked fearlessly through the water. Small boys yearned to join them but were held back by over-anxious parents.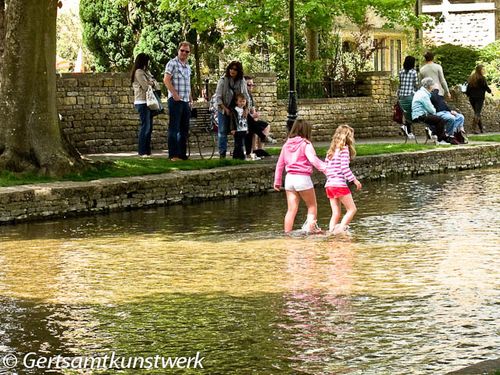 We finished our stroll along the river.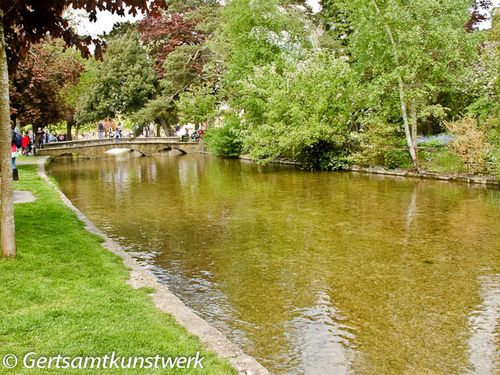 We finished off our half-day trip by visiting a Model Village, for which Bourton is famous. I have this idea in my head that I've been to loads of model villages, but I'm not sure I have. I do recall one near Bexhill in 1972, which I guess is Hastings, which reportedly closed in 1988, and Tucktonia, visited in 1980, which closed in 1986. Bekonscot is supposedly on my list of Days Out, but it's a long way to go for the day, and Bourton Model Village, delightful as it is, has probably fulfilled any residual need for half an hour in a model village.


Seeing how the town was filling up with coach parties, locals, and weekend visitors, we knew it was time to leave town. 
We returned to the car park where I was briefly amused by this sign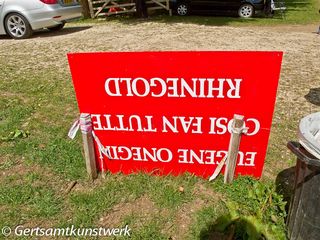 The next day we passed the entrance to Longborough Opera House, so the sign's origins were (probably) explained. On the other side it said "Parking all day £5".
I was entertained slightly longer in the car park by these beauties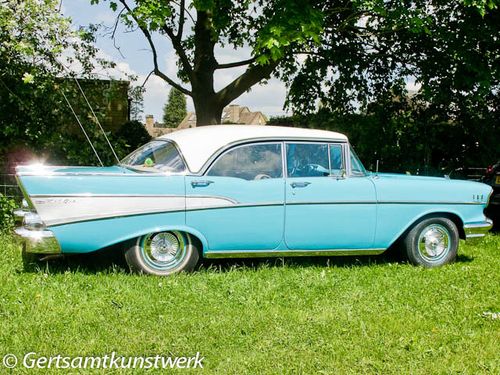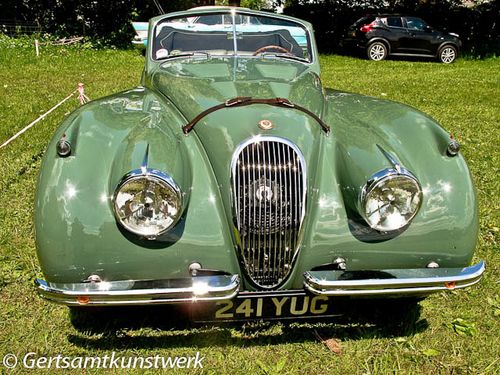 A striking feature of our long weekend was the high number of well-preserved old cars we saw. Many older then these, and many from the early 70s (the days when I could name most makes and models) in seemingly pristine condition. At first I assumed there was some sort of Old Car convention but concluded that it's all the rage in those parts to own and drive old cars.
We drove away from Bourton-on-the-Water for a late lunch. But that is another blogpost!
* joke