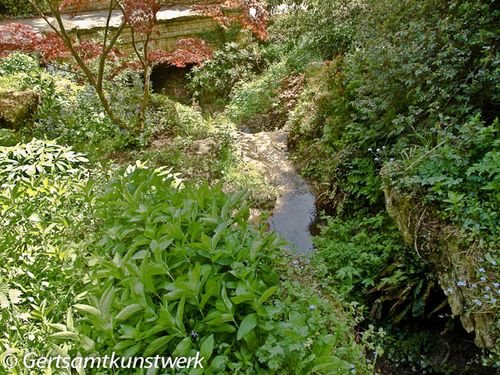 This is situated just outside Moreton-in-Marsh in Gloucestershire and was recommended by my guidebook as a place to visit. I've never really visited an arboretum before, but they seem to be growing in popularity. I wasn't entirely sure what to expect, but hoped it wouldn't be rows and rows of trees planted in neat lines, sort of like a glorified garden centre. There was a garden centre, gift shop and café attached. My hopes soared when I saw the sign by the ticket office recommending sensible shoes.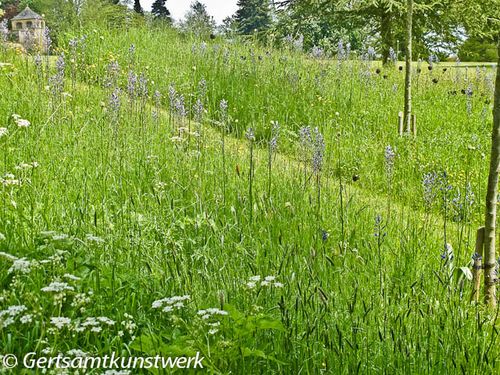 The Arboretum is set in the grounds of a Stately Home, and it's good that they have turned their land over to display the country's largest private collection of trees and shrubs. I expect the income as a visitor attraction is  useful, too.
The Stately Home isn't open to the public, but, like so many stately homes, the historical significant is virtually non-existent. It is of some minor literary note, having been the home of the Mitford sisters, and part of Nancy Mitford's Love in a Cold Climate was set there. For some reason I find the Mitfords faintly fascinating whilst retaining not one iota of interest in them. I think generally, their significance in the national consciousness has faded rapidly.
 It was a Bank Holiday Monday and fairly warm and perfectly dry so there were a fair few people out in the Arboretum, although thankfully it wasn't as crowded as it ought to have been. It's possible to walk along a well tarmaced path, but there is more benefit in going onto the lesser paths, some well-maintained, some emerging from nature. On the whole most people were wearing at least semi-sensible shoes, although not one particular party, a mother my age with her 20ish daughter. One was wearing shoes with a sharp almost stiletto heel of medium height and the other was wearing flip-flop style sandals.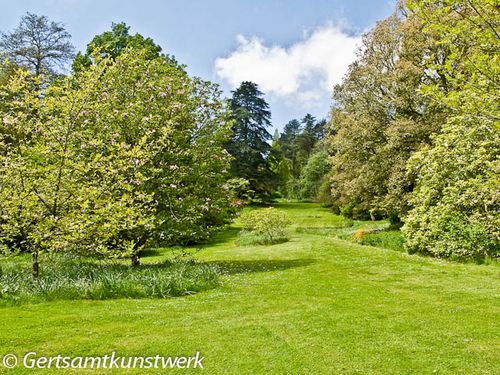 Their choice, of course, and none of my business. But it puzzles me, and it has puzzled me even more since, what goes through people's heads. If I'm out on the town, of course I want to dress up, put on heels, but I don't get why people do that for 'country' pursuits. Given that travel by car is fairly essential for this sort of destination, wouldn't it make sense to keep a change of shoes in the boot? I'd feel out of place dressed in fleece and walking boots in a trendy bar in a town centre on a Friday night, and I wonder why people evidently more anxious about fashion and fitting-in than me, don't feel out of place tottering around uneven paths and protruding tree roots. Surely it must limit your enjoyment of a place if you daren't leave the path for fear of stubbing your toe or turning your ankle?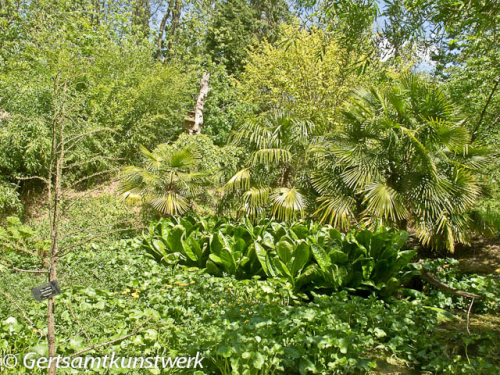 I have little to say about the arboretum. I am sure that many people would appreciate it better than me, especially if they have an active interest in trees. I am poor at identifying species of tree, and hadn't read the leaflet properly to know to look for the specialist collection of trees. However, I thought it a perfect walk. Not too far, and with a variety of terrain, including steep slopes. I thoroughly enjoyed the experience on my terms. Stretching but not over-strenuous exercise, surrounded by managed nature on a lovely day. I respected the management.
I'm sure it's a difficult balance to strike. I doubt there are many accessible places in Britain that are truly wild, and all are managed to some degree, whether it be path and pond maintanance or expert thinning of woodland to encourage new growth. And, as far as my non-expert eye could tell, this was done sensibly. The signange was discrete and just about enough to guide a visitor with a complementary leaflet/map but the signs never dominated nature.
I enjoyed walking through the Waterfall, but it was a mistake to try and take a photo while doing so. It took me months to get the equipment  - including Giottos Rocket Air Blower - necessary for cleaning the lens* and for a good while too many photographs were spotted.
We saw the Mansion where Love In a Cold Climate was set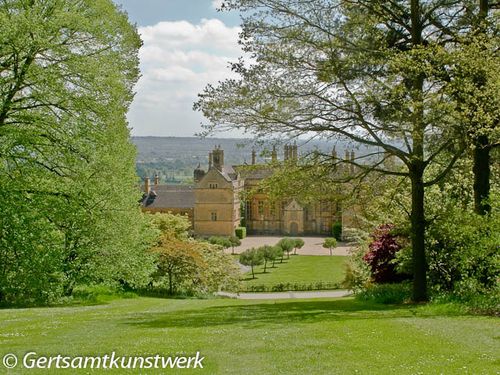 but I was more interested in the Thatched Cottage and the Hermit's Cave
We wandered out of the Estate and into the adjacent village, including by a church. There seemed to be more signs of life there than other churches we visited in The Cotswolds. Well, I say 'signs of life', I mean an Order of Service remaining from a funeral the previous week. The churchyard was dominated by graves of the lords of the local Manor, from decades ago.
There were streams, ponds and marshes, demonstrating the balance between nature and management.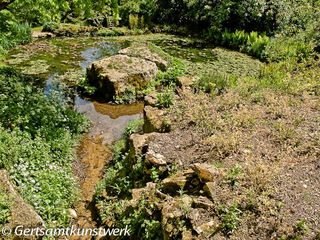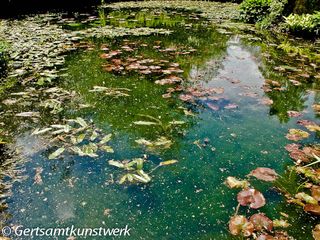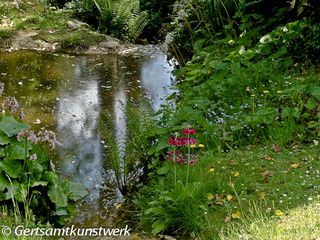 I was disappointed by the relative lack of colour - although, to be fair, I went to a place, an Arboretum, whose name derives from the word for trees. But there were some colourful sights.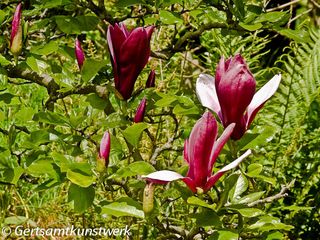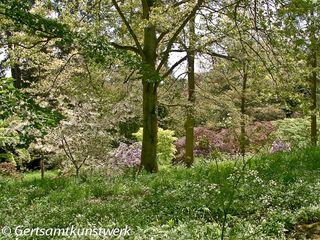 Altogether a pleasant couple of hours and we were pleased we visited. 
*The Giotto's Rocket blows away dust particles, which may scratch the lens if you just try and wipe it; it's also enormous fun as a toy/stress buster. I was being particularly stupid the day it arrived and pondered aloud "What happens when it runs out of air?" I was given an incredulous look.