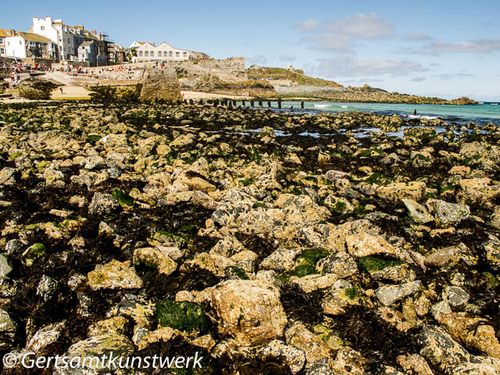 I visualised St Ives as a slightly-bohemian and somewhat intellectual town, where I could browse contemporary art galleries and convivial coffee shops and engage in stimulating conversation with other Guardian Readers in Ethnic Skirts. On holiday in West Cornwall, St Ives was a must visit. I knew that, on a Monday outside the school holidays, it would be quiet, a positive joy to which I looked forward.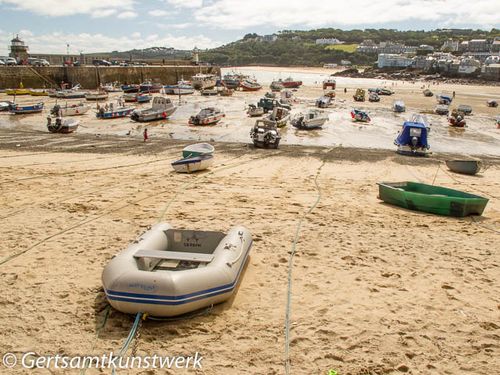 We arrived on the outskirts and followed the signs to the car park. Ahead of us were several cars. The road climbed and climbed, up and up, away from the coast, until we found a car park, so far from the Town Centre it could have been described as 'out of town'. Indeed I noticed a shuttle bus service running between the car park and town. The car park was full but we followed the signs to a field, where parking was controlled by a team of stewards. By the time we had Paid-and-Displayed and generally faffed, the field was full, and two more fields were being opened.
It was a steep walk down. We met people on the way up who advised us to get the bus back. One woman complained that she had proposed that but had been 'outvoted'. No one used the prospect of a cream tea to motivate us. However, we knew we would find a divine and undiscovered coffee shop, overlooking the sea front, with a quirky collection of local paintings or artisan pottery.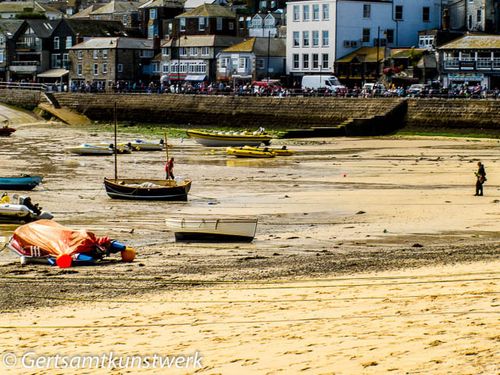 The roads were narrow and progress down the tiny pavements was difficult. We seemed to be in amongst people who had little idea how to walk-when-out-in-public. We saw a sign for the harbour, my pulse increased. We rounded the corner, and my face fell in horror. All I could see was 'fish and chips here now' 'beer and burgers'. And hordes of people. Thankfully, we found a nice place for coffee, Al Fresco. I looked at the menu and yearned to return there for dinner. Sadly, we didn't but it was an oasis of class and quality amidst a town that wasn't exactly Blackpool but made Southend  look distinctly upmarket.
I'm not particularly ashamed to say that St Ives brought out my inner snob. My photos told me how wonderful the light is, and why it has been such a draw for artists. But how can I enjoy a town when I have to watch every step I go, when if I move to avoid bumping into someone I risk tripping over someone else's dog lead? People wandering aimlessly. Not because they were relaxed into a world of their own but because they didn't know why they were there or what to do. It was summed up by seeing a woman sitting against the seawall trying to read her book; another woman had parked herself a couple of yards in front of her and was shouting a conversation with a couple who had stopped on the Prom.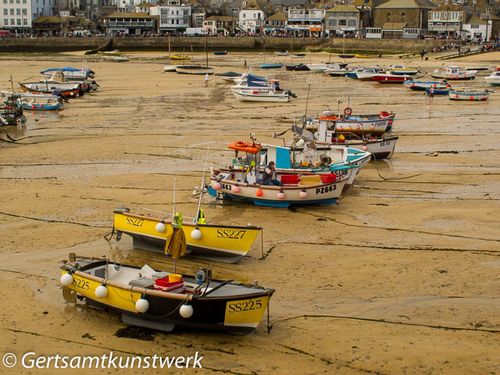 We made the most of what could have been a bad day, walking out along Smeaton's Pier, and also along a jetty. Even on the jetty was the inability to walk-when-out-in-public. I saw a group aproaching, I moved to my left, they moved to their left, and we passed. Except for one woman who stepped back to her right and came up to me with confrontation on her face. It seemed she'd decided to walk on that side and I was in her way. How tedious.
If you notice in that photo, some of the boats registration number begin SS and some PZ, representing their home ports of St Ives and Penzance. I always like to look for boats registered well outside the local area and wonder what brings them so far.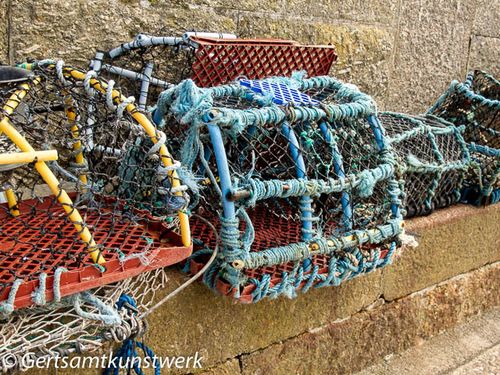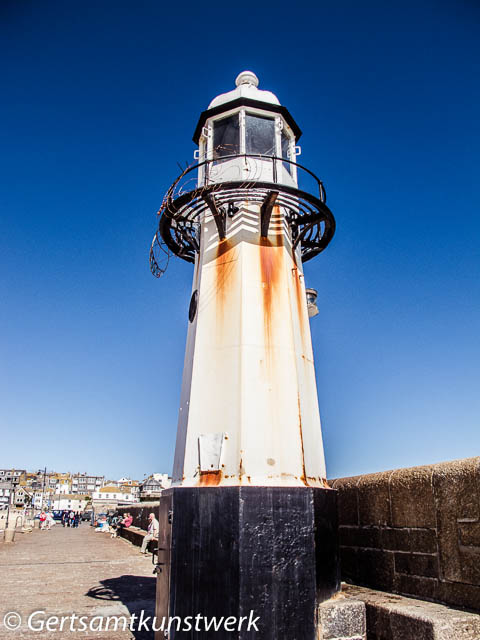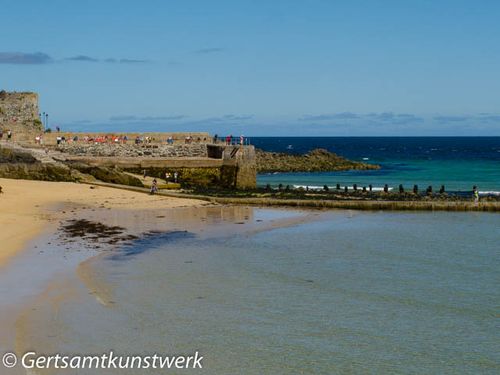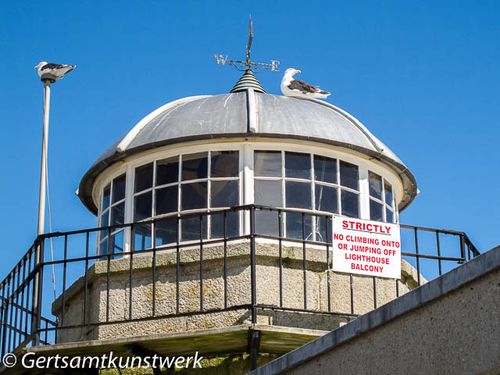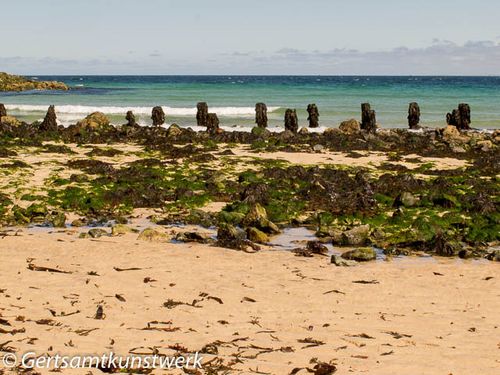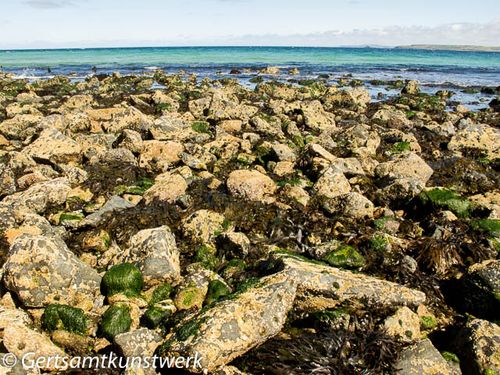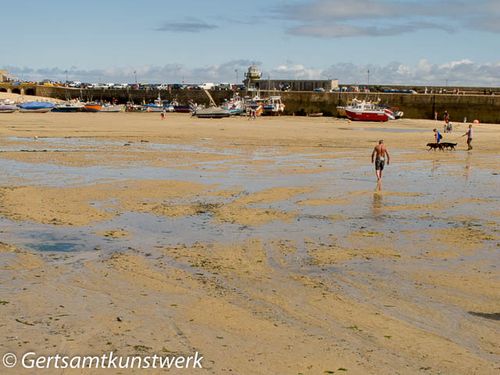 We could have done more in St Ives but neither of us found it a particularly pleasant place. We could have gone to Art Galleries, but it seems odd to waste such a gloriously sunny day peering at pictures of scenery that we could see for ourselves, in fresh air and with walking. We found the queue for the bus back. Flat fare, pensioner's pass not valid. In actual fact a very sensible service, enabling the tourists to pour into town in their thousands and boost the local economy without entirely clogging up the town with stationary traffic. In my ideal world, the shuttle bus would have been free, but no doubt that would have raised the cost of parking for those willing and able to walk.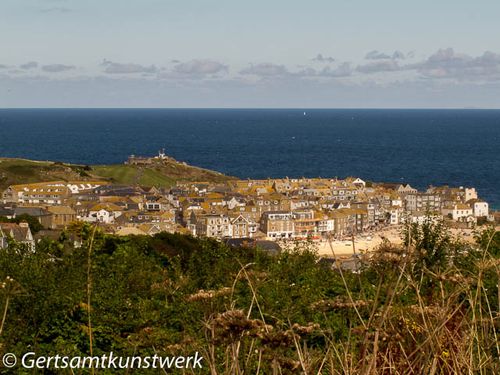 In fairness to St Ives, not all bloggers see it the same way as me, for example, The Londoner
View Larger Map