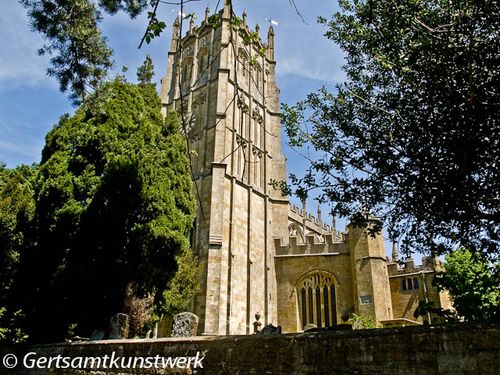 Nothing quite went to plan, but I think we got to see a fair sweep of The North Cotswolds, one way and another.
After another hearty breakfast, we set out on the start of our epic journey through the gloriously sunny Gloucestershire countryside. First stop Sezincote, a house and garden, open to the public, highly recommended by our Lonely Planet guide. Unfortunately, it's closed on Sundays. Time to replan.
Our plan took us via Fish Hill. Fish Hill is a steep descent into the outskirts of Broadway. Don't take my word for it
At this point, it becomes 3-lane and descends steeply through some sharp bends - the second one, going downhill, a near hairpin.
A rural trunk road, you'd expect the speed limit to be 60mph. It was actually 25mph. There were numerous signs and road paintings urging 'slow', 'use low gear', 'beware cyclists', 'careful now', 'oh sheeeet'.  Lots of signs with black and white arrows indicating sharp bends. Not one but two escape lanes. Although, in a trucknetuk discussion, someone says yeah thats right but i dont think they would help you on that gradient!!
There are videos on YouTube, eg this from a lorry
or a motorbike
This is some hill. But it took me a while to persuade my other half, a very safe and experienced urban and motorway driver that that number of "Careful! Mind yourself!" signs kind of means they're not messing around. We survived, however, and agreed it was an awesome descent.
We ended up in Broadway, Worcestershire, the 'Jewel of the Cotswolds'. What a lovely town! Although, for some reasons, I failed to take any photos. In a sense there's nothing to see, but what makes the town truly outstanding is their parking policy. Simply put, there is no parking on the main road, all cars are directed to a car park. Admittedly, by the time we were leaving, it had reached a 'one out one in' situation, but whoever thought of that rule had their head screwed on. 
To be honest, there isn't a great deal to see in Broadway but shops. It was too early for tea so we went for coffee. Fairly randomly we chose Prego. Of course, it's impossible to judge a restaurant solely on the basis of coffee, but I've rarely been sent such positive messages on service, decor, presentation. Even the Ladies' loos - spotlessly clean - had an understated elegance about them. Reviews on TripAdvisor seem to confirm my judgement.
We thought we would head for Moreton in the Marsh, but when we got there, it was packed. We didn't hold a hope to get parked. Perhaps the crowds from miles around were drawn by the junk - euphemistically labelled 'vintage' - market. We got out of town via the Fosse Way. Cars were queueing for several miles to enter the town. We knew there would be no turning back! The road just went on and on, straight, for miles, crossing the border into Warwickshire. By now we were hungry. Momentarily we toyed with the idea of Stratford-upon-Avon for lunch, but considering it was a sunny Bank Holiday Sunday we quickly changed our minds. We nearly went to Shipston on Stour. I went there with my father thirty years ago, on the way back from dropping my sister at college, as an alternative to touristy Stratford. Then I noticed on the map that we could go to Chipping Campden via B roads.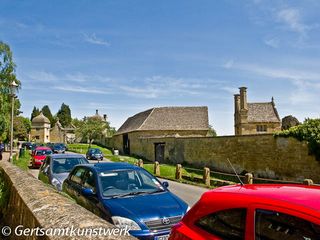 The guide book and Wikipedia paint Chipping Campden to be elegant, a delight for architectural eyes, one of the prettiest towns in the Cotswolds. I found it hideous. They have a one-way system and encouraged parking in the school carpark, just a few minutes stroll from the high street. However, they didn't discourage on-street parking, and the village centre was nothing but a mess of parked cars, poorly driven 4x4s, their incompetent owners distracted by the desperate search for a parking space. Very unpleasant.
Chipping Campden's one saving grace was the Badgers Hall Tea Room. A gem of a place, worth visiting especially to go there. Almost as if the dream tea room I had concocted from various novels had finally come to life under one roof.
It was run by a couple who were just this side of eccentricity, in the nicest way. A new girl had started just that day to wait; they were up front about this. I'm sure she has done well - I asked whether the quiche contained meat. Her answer "I'll go and find out" and she returned with the information I had a choice of quiche. I'm sorry I didn't take a photo, because it was beautifully presented and delightful to eat, texture perfect, good portions. Indeed, Jimmy ordered a soup and something else, and, actually, was really quite full. I asked the proprietor whether it was too early to order a toasted tea cake. He assured me it's never too early!There was a big table in the middle of the room filled with tasty-looking homemade cakes - proper cakes, not cupcakes and brownies masquerading as cakes - but somehow, a toasted tea-cake was just perfect. Tea came in a variety of blends, but this was before I began to care passionately whether it was bags or leaves, I can't truthfully say. Overall, I thought it was a lovely place, as if someone had somehow bottled the best of the 1950s, and enveloped it in the best of contemporary values. Wonderful! Some fairly decent visitor photos on TripAdvisor and Flickr
We did try strolling the streets of Chipping Campden but it wasn't just that pleasant because of all the cars, so we beat a retreat and returned to our hotel for a couple of drinks and a lie down.