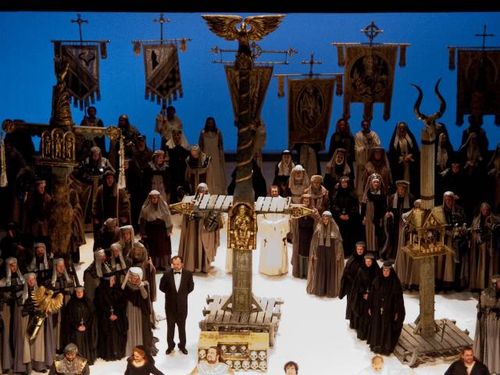 I went to this with very confused expectations. Everything I had read had told me that the production was the worst example of Met trash this side of Manhattan. It's an opera I do love, but I was a bit scared that my adoration is based too much on the DVD I own of a very special knight in shining armour being very seductive.
I didn't leave the house as early as I intended and pondered how much I would regret arriving late and missing Act I. Not much I decided. But then there's Act II and that's very long, as well. Ah well, I'll just put up with it.
After four and a half hours in the opera house (with intervals) I emerged wrung-out and strung-up and yet bouncy and elated too, a real catharsis.
I can see why the production came in for so much criticism. An eighties production, it was obviously dated. This was particular noticeable in the costumes, some of which bore close resemblance to those in My Primary School Silver Jubilee Pageant where we celebrated the subjugation of Wales - I had to peer very closely to ascertain that the chain mail wasn't in fact knitted by someone's Mum. I am certain though that they borrowed some shepherds' tea-towels from the Infants' Nativity play. The King turned up to the wedding dressed as a Dalek. Here's a picture of René Pape from six years ago. He's very tall; Kwangchul Youn isn't, and looked swallowed-up in that costume.  It didn't help that the costumes clearly  didn't fit some of the singers, or else weren't cut to flatter their figures. Petra Lang, who is not plump had her large breasts squashed unflatteringly inside her dress.
I didn't particularly like the lighting. Too much reliance on spotlights and not enough effort to disguise the shadows they caused.
I took a dislike to the floor coverings. In Acts I and III a wrinkled sand-coloured cloth served as...sand (obviously pre-dating the era of ROH wonky boxes and paddling pools). In Act II a red cloth was rolled out, a brilliant shade of red, symbolic of Elsa's wedding night. I especially loved the Arabic women who did their  exotic  dances on it, although I couldn't quite work out what they were doing in mediaeval Brabant. No matter.  After a few  minutes, though,  it just started to look like a threadbare cloth.
The production was very static indeed, and I guess I was lucky being in Row K of the Amphitheatre where I was able to take in the big panorama rather than sigh from the expensive seats at the lack of action. The chorus had nothing to do but sway from side to side occasionally. And sing, of course. And, for the most part, the principals had little to do but raise their arms in traditional but thankfully now outdated operatic semaphore.
But I think that static works in Lohengrin. I couldn't really imagine it as manic dashing around; short of totally re-imagining it, I am not sure how it can be much more than a concert performance in mediaeval costume. What I would want though, is there to be more personal chemistry, especially between Lohengrin and Elsa. I regard Lohengrin as one of the most Romantic heroes of opera; he's so Romantic he buggers off at the end!
This reads as if I didn't like the production, which isn't really true. Perhaps because I had been prepared for the worst. Or perhaps really it was adequate. Having seen so many productions live and on video that are not adequate, that is in itself something.
If I have to single out one great aspect of this overall very enjoyable evening it was the conducting. It was quite an achievement for the Royal Opera House orchestra (especially the brass...) to get through an entire performance without one flub discernible by me.
Semyon Bychkov conducted an extraordinary performance. I had expected a lot of Wagnerian bambambam and crash-bang-wallop (those aren't the official technical terms); instead I got a sensitive, intimate performance of a chamber opera. I suppose it would have been lovely to have that matched with a production that was also chamber-like. I accept the downside of chamber-like and intimate is an absence of passion. That was noticeable especially at the end of Act II and start of Act III. The pay off was a stately, dignified, restrained reading which thrilled me with anticipation even as it unfolded.
The very special treat for me was the singing. I cannot believe that Johann Botha has escaped my notice for so long. What a beautiful voice! He can't act for toffee, physically or facially. He barely moves, his sword fighting was lame. There is no polite way of saying that he is fat;  his fatness (and a dodgy wig) makes him  look a lot uglier on stage than in photos. But there is something special about this short fat ugly bloke with the honeyed voice, secure at the top and sonorous at the bottom.
Even though he can't act and doesn't move much, he arrived in a stately manner, and was dignified and regal throughout. I did feel let down in the bridal chamber scene which I know can be romantic with barely restrained eroticism bubbling under the surface. It only struck me that the tenor doesn't appear until late in Act I, and barely figures at all in Act II. But Act III belongs to the tenor, and most certainly belonged to Johan Botha on Monday night. In Fernem Land was masterful; by Mein Lieber Schwann I was in tears, wanting to curl up in a ball and die, but in a good way.
Edith Haller was interesting. She wasn't initially planned to be it, but was drafted in to replace someone or other, I forget who, who withdrew months ago. Looking at her biography, she is not much over thirty if that, and having spent several years in inconsequential houses I've never heard of, she's suddenly taken on big roles - Elizabeth in Madrid's Tannhaueser, and now this. I'm not being dismissive of inconsequential houses; it's a great foundation for learning the roles and not forcing the voice.
I have to say she is not yet the finished article. She clearly lacked that intangible something I crave 'Stage Presence'. There wasn't a great deal of vocal personality nor colour, but there again what does Elsa do but "Lovz u, haz teenage crush on u shinning kniht on swan. Pls tell me ur name LOL" (Ortrud and 2 others like this).
But her voice got right to me. It has a pure bell-like sound, and sounded very unpushed. There was one note where she cracked at the top, but she recovered quickly, and it didn't mar that phrase let alone the evening. To me, it was an interpretation of Wagner that was influenced by the bel canto. To some extent, anyway. I read the reviews, mainly from the first night, were not particularly positive, so I feel pleased to have left this until late in the run. I suspect she will return in the not too distant future.
(Veering completely off topic I looked up her future schedule and discovered that she will be singing Emilie du Châtelet in Emilie in  Amsterdam in March. Having never heard of this opera I looked it up in wikipedia and instead got the biography of a fascinating 18th century mathematician and physicist. The opera is by Kaija Saariaho; Edith alternates with Karita Mattila.)
The rest of the cast were fine, without being particularly memorable. I found Petra Lang's voice to be quite harsh, which I suppose suits Ortrud, but I'm not sure I would like it in a more sympathetic character.
A few random thoughts - there were several musical reminders of  Weber's Freischutz.I thought it was a serendipitous pairing (for me) with Peter Grimes, looking at the  role of outsiders, the power of the crowd, the 'if in doubt, blame the woman' mindcast. Also, although they are both secular works, they both have strong religious-style chorus writing.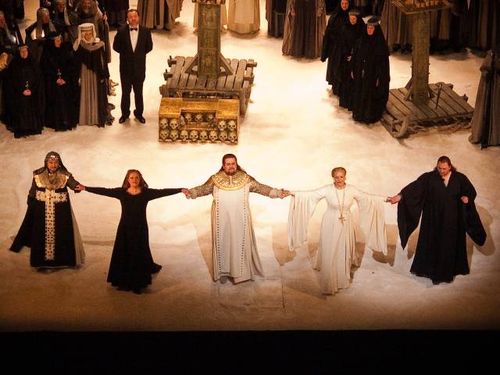 Credits
Director: Elijah Moshinsky

Designs: John Napier

Fight Director: William Hobbs

Lighting: Oliver Fenwick

Conductor: Semyon Bychkov

Lohengrin: Johan Botha

Elsa: Edith Haller

Ortrud: Petra Lang

Telramund: Falk Struckmann
King Henry: Kwangchul Youn

Herald: Boaz Daniel

First Noble: Haoyin Xue

Second Noble: Ji-Min Park

Third Noble: Kostas Smoriginas

Fourth Noble: Vuyani Mlinde