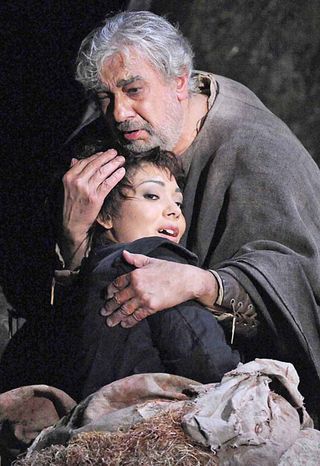 I was there on Thursday night. I thoroughly enjoyed it, and will write it up in due course. I am also going again on Sunday!
I shall update this post if more (worthwhile) reviews are published!
A homage to a great who still gives it his all - Independent
Thankfully, the Royal Opera House chose to celebrate his career not with an evening of arias, duets and endless applause but with three acts from Verdi's most powerful works in which Domingo could – and did – show his commanding stage presence both as a tenor, in 'Otello', and as a baritone in 'Rigoletto' and 'Simon Boccanegro'.
He doesn't do tantrums and last minute illnesses. What he does do is totally committed performance. Last night he did it again. An evening as much of Verdi's music as the singing, driven (we are lucky to have him) by Antonio Pappano's tremendous feel for drama in music as conductor. But, in the end, the occasion was an act of homage to a man who, even at 70, still gives us his all.
Placido Domingo Celebration, Covent Garden - review (Evening Standard)
Domingo could have come on and recited the Royal Opera's health & safety regulations and still commanded the standing ovation he received last night.
Plácido Domingo Celebration – review - Guardian
Plácido Domingo Celebration - The Stage
Vocally he is a marvel for his 70 years, though this particular selection gave him little chance to prove it
 Slideshow from Reuters
Plácido Domingo Celebration, Royal Opera House, Covent Garden, October 2011 By markronan
 Your Plácido Domingo highlights
Placido Domingo - thrice - Intermezzo