Actually, there are few people in the world less likely to suffer cabin fever. It's not that I'm agoraphobic, just agora-can't-be-arsed. I am ever resourceful in amusing myself and savouring my own company. And it's not like I could ever be bored, with infinite riches of housework to occupy me.
But desperate times call for desperate measures. There is nothing wrong in being a drama queen from time to time. And when there are no buses running and my satellite dish refuses to receive a signal, and cycling seems a less then attractive prospect, I will be as dramatic as I wish!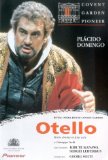 So Cabin Fever needs to be averted. I have a collection of DVDs which have been somewhat neglected of late. Being that I am half-woman half-anorak, I have a system for playing them which seems to have stalled on 'Figaro'. So I went to the shelf and picked one randomly.

Oh my God! Turn off the lights, cancel the porn!
I have a habit (sometimes good sometimes bad) of multi-tasking. Hey, I'm a woman, I'm can! (insert big smiley)
So during the overture and opening chorus I was drafting an email and not actually looking at the TV. Then I heard this extraordinarily gorgeous voice singing Esultate! and desire shimmered through my body. I looked up and, if anything, my desire increased.
I finished off my email during the drinking and fighting chorus and again, was drawn by Abbasso le spade! Be still, my pounding heart! A prime example of why it's not advisable to meet one's hero! The reason I say this is because meeting Plácido face-to-face as a fan,  he is very sweet, kind, patient, humorous, courteous. Seeing him on this DVD, with his gorgeous eyes flashing with anger and authority and looking somewhat frightening, it can seem a bit strange. Not that I am unable to separate the off-stage persona from the character on stage.
This is, of course, followed by Già nella notte densa. 
Seeing and hearing him sing Già nella notte densa has a much more marked effect on me that any erotica or porn. It's like having the arousal with someting more added. I suppose like the difference between different sorts of sex.
This is, anyway, one of the most erotic duets in music, and of course, much of that can be attributed to Verdi, Boito and Shakespeare, but I have heard lesser tenors sing it with less thrill. It can be enjoyed on several levels: music and words, the foreshadowing of what is to come, the delicate but profound love between Otello and Desdemona, including the 'Ancora un baccio' and the leitmotif which both occur at the end of Act IV, and for me, the way that Plácido performs this. Live, it can take me right to the edge. I don't imagine I am alone in finding this fantasy-provoking. I don't fantasise that I'm Desdemona, nor do I fantasise that I'm Kiri Te Kanawa (or whoever is the supporting soprano). He has this wonderful way of acting these love duets which has me convinced. Tenderness, desire, and staying just this side of a line. I think if I were to list my favourite Domingo scenes, a disproportionate number of them would be duets, which may seem strange - some woman (or, indeed, later, in Sì, pel ciel marmoreo giuro, a man) sharing the limelight. But maybe it just demonstrates how well he reacts to the other person. There is one particular phrase, where she sings Tarda è la notte just before he sings Vien. . .Venere splende - the look on his face. OMG.
Sometimes I go through phases when I don't listen to a lot of music. Sometimes I go through phases when I don't listen to Plácido's voice every day. And it's been a while since I actually sat down to watch an entire opera DVD. So, sometimes I think 'Am I going off him?'. 'Going off' is a relative concept. Sometimes I go off football, or photography, or chocolate. Nevertheless, I occasionally question the ardency of my fervour, the totality of my obsession.
But it only takes one act of this DVD to remind me that I will never go off him. Just superb.
And there are three acts to go yet!