UPDATE: Further links added 3/7/10:
From the Telegraph, where Rupert moans and nitpicks, damns with faint praise, then awards five stars!
From Music OMH
Domingo is perfect both in his paternal role and that of the tormented ruler, his scenes with Amelia on an emotional par with anything you might experience at the RSC, and his singing, whilst it may not please those who prefer a deeper, darker tone, burns with commitment and pathos. 'Figlia!' of course tugged at the heartstrings, 'Plebe! Patrizi!' gave us a stirring reminder of just how to dominate a stage, and his death scene was ample proof of the fact that Domingo did not want to sing this role because he wants to become a baritone, but because it is one of the greatest in the repertoire.

Placido Domingo digs deep to return to his roots (From Daily Mail)
his gloriously burnished tones have always had a darkly glinting edge. And it is that lower register that he now explores in this Lear-like journey of self-discovery.
From the youthfully dashing pirate of the opening to the tottering, poisoned old Doge of the immensely moving final scene, Domingo inhabits the role with awesome nobility and majestic power.
And he inspires a terrific Royal Opera cast to rise magnificently to this onceina-lifetime occasion.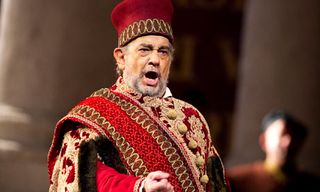 From the Guardian
only Domingo could inspire those around him to the point that his personal achievement seems only one part of a memorable ensemble performance.

Domingo projects Boccanegra's music into the audience with a tenor's glinting edge rather than a true baritone's heft, and the Doge is a different man as a result.So this Boccanegra is not really what Verdi had in mind. But does that matter? Not this time. Once again, Domingo creates a convincing character on his own terms. At the end of the first act, as the Council Chamber descends into chaos around him, Domingo does little but stand and sing, but the effect is riveting.


Crowning glory for triumphant Domingo (Independent)
As the plot winds towards its terrible denouement – of retribution, reconciliation, and the passing on of the torch – it is clear that there are three heroes in this production: Calleja, Furlannetto and Domingo – with Domingo wearing the crown. Stumbling and struggling to breathe as the poison in his veins takes hold, his leave-taking wrings the heart, with his last words sounding like a benediction from the grave. Long may he continue to triumph.


From the
Financial Times
he bestowed on the Genoese Doge a tragic stature that had nothing to do with vocal categorisation and everything to do with vocal acting, posture, stage presence and Verdian grandezza.
It may indeed be a vanity project for an ageing tenor to prolong his career by singing roles never meant for a tenor. And yes, it was frustrating to listen to Domingo's caged voice, knowing it was not going to climb those meltingly romantic heights that were for so long his domain.
But if operatic singing is 50 per cent characterisation, I'll gladly accept Domingo's Doge. He brings more histrionic intensity to the part than any true baritone. He has aged handsomely, though in his appearance as the young buccaneer, I could have sworn I was watching a singer half Domingo's 70-plus years (strange innumeracy from the Financial Times...)


Placido's warm baritone has the tenor of his thrilling past in Simon Boccanegra 
(
Evening Standard
)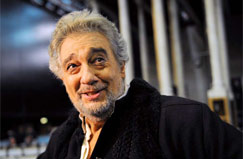 From
What's on Stage
Domingo doesn't fully convince as a baritone.  As we're accustomed to a distinctly  baritonal quality to his voice, for much of the time he sounds little different from his other Verdi roles and when he does force the voice down there's a slight constriction of his usual expressiveness.  While there's nothing essentially wrong with the sound, it produces a discomforting effect and moments of tenorial flow come as something of a relief.
What we get, of course, is the singer's magnificent and irreplaceable stage presence.  As with Olivier's late, late TV appearance as King Lear, we get a lifetime of experience from the greatest performer of a generation poured into the character; true stateliness, grace and depths of suffering that no-one else can bring to muster.  What Domingo still has, which Olivier had lost by the time of an otherwise heart-wrenching performance, is sheer power.
From The Stage
decently rehearsed
From Musical Criticism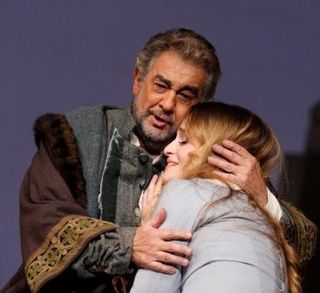 It was as the older Boccanegra that he truly excelled, however. To play the father is something that suits Domingo's appearance now. No longer the dashing lover or young poet, he's able to explore new emotions and aspects to his acting by adopting a parental persona – one which is contrasted with his responsibilities as the Doge, of course. Domingo was absolutely in his element in the Council Chamber Scene: the centre of attention is where he likes to be, and his communication of the character's courage in dealing with the plebeians and patricians in the midst of their violence was impressively compelling. Still, the death scene was (perhaps inevitably) his real tour de force. Here, the portrayal of Boccanegra's physical weakening as the poison takes over his body was subtly done, matched with a high level of expressive nuance in the voice and his unending musicality.
From Intermezzo
What matters is that regardless of theoretical vocal fit, he gave a truly monumental performance by any standard...Burdened by public duty and private regrets, the aging Doge's wearied yet inexorable progress to his final end was magnetically charted. Cosmetically rejuvenated for the Prologue, his forced sprightliness hinted tellingly at his eventual fate.
Placido Domingo as Boccanegra, and Feruccio Furlanetto as Fiesco, formed a powerfully opposing duo, whose meetings in the Prologue and again at the end of the opera remain etched in my memory.
The acting of Domingo, Furlanetto and Poplavskaya was simply wonderful — I cannot imagine better. Add to that the singing of Joseph Calleja as Amelia's beloved Gabriele Adorno, and this was a terrific cast — Calleja sang like a god.
Curtain call and post-performance photos (thanks to commenter Vera!)
Video (from Reuters): Domingo hits new lows