Don Carlo is Grand Opera in every sense. Verdi called it an opera of ideas. To do justice to these ideas he wrote big music. An opera which uses Leitmotifs to tell the story, to create atmosphere and to reflect the complexity of characters - and an opera that was first performed - in French, as Don Carlos - before Wagner released his Ring.
It is an opera that requires excellent singers in several roles, and a conductor who knows the overall arch of the masterful piece: not enough merely to accompany the singers in oompahpah. It is impossible to review succinctly without omitting so much that is important.
The production, by Nicholas Hytner of National Theatre fame. I saw it twice fifteen months ago; with the Dress Rehearsal and Thursday's performance, I have seen it twice more. When the cast is 'on' the production does not interfere too much. It is far too traditional for my liking but feel sure it will be regarded in New York, where it will eventually appear, as being too avant-garde.
It is easy to confuse 'production' with 'scenery' and 'costumes', and I have several criticisms of both. I hate the First Act (Fontainebleu) scenery, which consists of several unrealistic trees and two white walls perched on a white sheet. I don't advocate the dreadful - and dangerous - mound of snow from Francesca Zambello's Pikova Dama, but I think the Royal Opera House can manage a more convincing depiction of snow than what I would expect from a typical Primary School.
I also hate the infamous 'Lego' scenery where the Veil Song and subsequent exchanges take place. I can see the attempt to capture the colours and lights of a Moorish setting but it is too obvious and it fails.
I very much like the scenery for the crypt at St Juste, the focus on the tomb that holds Carlo V. It conveys a bigness, which is deliberately awe-inspiring. I like the spareness of the King's chamber, furnished only with a desk and chair, and a prie-dieu and gold monstrance; I am pleased they resisted the temptation to fill the vast space with bed, couches and other soft furnishings.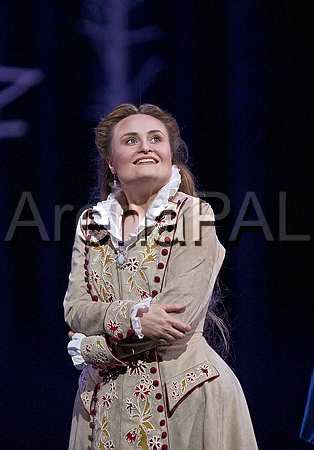 On the whole I dislike the costumes. I concede that setting it in the correct period historically* requires doublet-and-hose for the men. I can see why there was so much black, in order to provide a contrast with the sparse use of red. But, other than the young Elizabeth's Fontainebleau outfit, none of them was particularly attractive. This photo doesn't show that this is an ankle length coat over trousers in similar material. I was puzzled by the Queen's Ladies all wearing black - surely the colour of mourning, yet none of them covered their heads.
There was more personenregie than in 2008 and more of a sense of the singers responding to each other. There were delightful touches, such as when Posa and Carlo hugged as blood brothers, but rather than being manly hug (perhaps as exemplified by rugger buggers) it was as if Carlo, the weaker of the two, was putting his head on Posa's shoulder, despite the height differences.
The performance brought out well the very different relationships and emotional dependencies. It was not played as a doomed love affair between Carlo and Elizabetta;  that is the golden thread that dictates the linear narrative but it is not the subject of the work.
I think the most important relationship was that between Posa and Carlo, or perhaps between Posa and Flanders. I am searching my memory for some anecdote about some singer or critic enquiring 'what's all this with Flanders anyway?' along the lines of the tenor who was sacked from a recording of Otello for enquiring about the point of the handkerchief. Posa was obsessed by freedom for Flanders, and his love for Carlo led him misguidedly to believe that Carlo could become the leader of the movement for Emancipation. Carlo just wanted to escape Spain, his infatuation with his step-mother and his dysfunctional relationship with his father.
Posa was like a surrogate son to Philip, who could depend upon nobody, being the most powerful man in the world. And yet the King was also dependent upon the Church, personified as the Grand Inquisitor (leader of the Spanish Inquisition, with all that that entails). Verdi was evangelical in his anti-clericism, his dislike of Organised Religion, a theme no less potent today as it was at the time of writing. They may not burn heretics at the stake any more, but their need to meddle destructively in civic life to the detriment of the ordinary people, especially the most vulnerable is undiminished. But the 'Auto-da-fé scene, the climax of everything Verdi wanted to portray regarding the corruption of Church and absolute rule was ruined by extraneous detail. I can only hope that for the next revival they get the message that nobody likes the unscripted shouting during the music and they do away with it.
Eboli came over quite differently from how I have seen her before. For example, Grace Bumbry on DVD portrays her as haughty, but just that. This portrayal showed her to be desperate, verging on the cariacature of the woman who chases anything in doublet-and-hose, and revealing her inner insecurity. It is telling that when Elizabetta banishes her from court for betraying her (to exile or a convent), despite having been the King's mistress, despite having thought Carlo in love with her, despite having the hots for Posa, she exclaims that she will never see her Queen again. I've never seen any reference to this, except in the subtitles/libretto (translation).
Elizabetta's plight is the most pitiable. Even though she was brought up to expect it, and even though she had the partial compensation of living in material comfort, what can be more harrowing than to have leave the place and country of her birth and travel to live in a foreign land. No chance of visits back, no communication except letters. An arranged, or in effect, forced marriage to a 'much older man with grey hair' ** She was a very clear example of Double Standards, her supposed adultery with Carlo being driver of this story; his adultery with Eboli (and others) being accepted and unchallenged. I don't believe that she was really in love with Carlo, but as a teenager she was inevitably attracted to someone of her own age, who wasn't making sexual demands.
But the most chilling aspect was the role of the Grand Inquisitor. I have little sympathy for the King being dependent on him. Both of them were unelected and unaccountable usurpers of power of oppressors of people. But somewhere in the King was a glimpse of humanity; the Grand Inquisitor simply believed that anybody who stood in the way of his grand project should be liquidated. He declared that the King should have no confidant; he declared that Posa must die. Power crazy and merciless, his weapons had such diverse elements as fear, surprise, ruthless efficiency, an almost fanatical devotion to the Pope, and nice red uniforms***
What makes Don Carlo ultimately one of the greatest in the operatic canon is the music. This is where blogging - or any other form of writing falls down. Great music defies words. I can say which bits I like, and why; I can highlight where the use of leitmotifs reinforces the plot, especially in their repeat. The brass in particular were outstanding, in their playing of the G.I. motif, and when Posa's body is borne away, in a passage which surely influenced Wagner's writing for Gotterdammerung,  or the strings in Philip II's great great aria Ella giammai m'amò. There was also a passage where the flutes and piccolo made me catch my breath.
But those who know the work better than me don't need lectures from me; for those for whom the work is relatively unfamiliar, I would strongly advocate listening over and again. I am not a great fan of opera by radio, but I would advocate tuning into Radio 3 on Saturday 17 October (two weeks time) to listen in - check listings nearer the time, I have seen various start times eg 6pm, 7pm. The broadcast won't be of the performance I attended; if it were I would definitely say it was one to keep. Without wishing to dredge up perennial slanging matches, it is a great example of how opera isn't just about 'singing' as some would aver. This would be nothing without the orchestra, but the orchestra writing would never happened without the drama and the characters.
Greatness!
NB I bought my ticket for this performance myself. I did not receive it compliments of ROH or anyone associated with them.
* The historic Don Carlos was the son of Philip II of Spain whose second wife was Mary I of England. . This opera surrounds Phillip's marriage in 1559 to Elizabeth of Valois, the year after the death of Mary (and succession of Elizabeth I of England), when Carlos was 14 and Elizabeth deV 15.  Both Carlos and Elizabeth deV died quite separately in 1568, in their early/mid 20s. The opera, out of Schiller,  has no further historical accuracy.
** in actual fact a 32 year old, but never mind!
*** oh damn, I mentioned the Spanish Inquisition