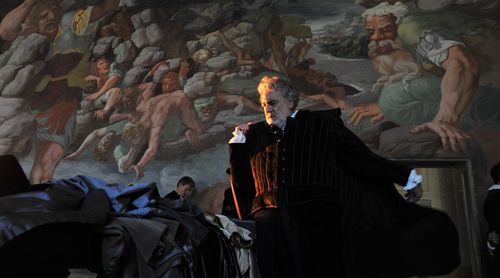 I enjoyed this tremendously. I really can't be bothered with the opinions of people who decided months ago it was a certain failure and have set out to prove that it was. Certainly not the half-witted self-appointed opera 'experts' who claim that the opera has 4 Acts.
I believe that opera is primarily an entertainment, and it entertained me greatly. Obviously, if one sits here and lists all the flaws - inevitable in a live performance, televised or otherwise - it will show one to be so very knowledgeable and on a higher intellectual plane than others.
That isn't to say I didn't have my doubts. I didn't especially enjoy Act I Scene 1, and I thought in general that in Act I there was a failure to utilise the no doubt sumptuous scenery. Far too many close-up shots: to have some is useful, but it might as well have been recorded in a bland studio, Act II I thought was outstanding, managing to highlight all the very best bits and thoroughly execute the idea. Act III I found a bit distracting, and judging by the tweets I later read, I wasn't alone. I was distracted by how they were going to stage the storm, and then found it slightly ludicrous to have unsubtle flashes periodically illuminating their faces. I thought the traditional exchange of the sacks was badly handled. I don't think they always matched up the volume mixing to the camera distance - for example, when the camera was outside Sparafucile's place filming a distant Duke, his voice sounded miked close-up.
I think a lot of people see something like this on TV and compare it to a theoretical performance combining singers from quite different eras. I can't say I have ever seen a 'perfect' cast n any opera, I think all we can hope for is some excellence and none below adequate.
I didn't sit & Tweet incessantly, because that would have been sad and I would have missed the opera, but here is a selection of what I did write:
Okay, I take that back - partly: nice long shot of Gilda in the garden!
Bravo @VittorioGrigolo
Ah, into the heart of Verdi's best singalonga oom-pah music! Love it:-)
What beautiful acoustics in that room! Placido's voice has such gorgeous resonance
RT @Lucrezia_G: CORRRRTIGIANI, VIL RRRAZZA DANNATA! http://yfrog.com/ngzuuvj
Really wonderful, ramping up the drama; some gorgeous scenery shots. Splendid ( - forgive Julia Novikova's scream at the end)

RT @mystic_cat: Placido, this is another awesome incarnation! We want to see you in this role on stage! <<< Agreed!
RT @jessicaduchen: Hooked on Rigoletto from Mantua. Domingo is amazing - a devastating performance...
Oh dear! I blubbered just a bit during #rigoletto Act III, though I thought that the staging/special effects were a bit contrived.
Though weird that it seemed *more* contrived than on stage #rigoletto. Overall, despite some drawbacks, I thought it splendid 
That chap who sang #rigoletto seemed pretty good! I'd like to see him in other roles, too...
RT @RestrictedView: @Gert Sadly I hear he has a really limited repertoire or something. Only knows like 2 baritone roles.
I thought that Plácido personified Rigoletto splendidly. I appreciated the change between the snarling, angry - frustrated - court jester and the tender over-protective father. I was moved by the ending of the final scene when he is so utterly in despair.
Vocally, I wasn't sure. I think there was a lot to praise, but I was also conscious of there being some aspects that weren't so. I could sit down and watch the video over and again and spot flaws. I'm also blessed with an extraordinary inability to hear someone sing a role and think "They don't sound like so-and-so singing it". It's not that I lack discernment but I tend to get into the moment and judge something on its own merits, as if I'm hearing it anew.
Also my TV is being a bit annoying at the moment; it may only need a new Scart, but I spent a lot of the time fiddling with the audio settings, and a few other people have commented on mixing levels, so I'm not sure whether I can draw meaningful conclusions from the evidence of my ears.
As I said about Simon Boccanegra, I love seeing and hearing Plácido in this, I believe he brings something very special to the role, but I miss the velvety chocolate sound of his voice, not just in his prime, but in his recent tenorial roles. I won't be upset if it doesn't bring this role to the stage, but if he does (locally), of course I'll go and see him - and don't really care if the naysayers don't - it's not like getting tickets for Plácido is easy. Stay away, be purists or prophets of doom, nobody else values your opinion.
As for the rest of the cast. I enjoyed Vittorio Grigolo, and do find him an exciting singer. He seemed a natural for the Duke, but although I have no specific criticisms of his performance I don't think he brought any great insights to a role that, admittedly, is not deep. I thought Julia Novakova was fine-ish. She looked like Gilda, I think, and for quite a lot of time she sounded okay, although there was never a wow moment. And although I said I'd forgive her the scream at the end of Act II, I'm not sure I will. I absolutely hate it when sopranos do that, and I don't tend to feel very disposed to them.
Nino Machaidze and Ruggero Raimondi were both class acts, although obviously in supporting roles. 
Also, I don't really know what to say about the orchestra/conducting. It would have been too much to expect great musical insights and delicacy, so I wasn't disappointed. It was perfectly adequate accompanying; if I'd heard it played like that in the opera house I would have been disappointed.
And, finally, the production. It was ultra ultra conservative, and offered no real insight into the inner psychology. I thought the opening scene was a joke, some tame country dance straight out of a pre-watershed Jane Austen dramatisation. There was no real hint of menace, no clue as to how debauched the Duke's court was, very vanilla and tame. I suppose the directorial conceit was using the 'actual' locations (although as several people have pointed out, Mantua was only adopted to escape the censor's wrath; the libretto was adapted from Victor Hugo's Le roi s'amuse, which I assume was set at Versailles, certainly in France, it's perhaps a conceit too far.
Still, it made for good TV, and, actually, that really is what matters!