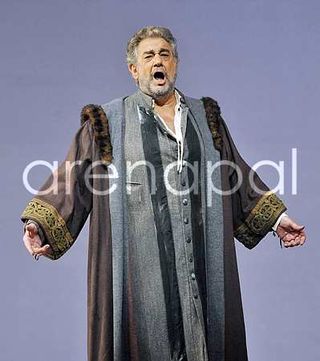 Lots and lots of photos, albeit watermarked of the production (if the link doesn't work, search 'Simon Boccanegra')

Picture Perfect — Plácido Domingo as Simon Boccanegra, Royal Opera (from Opera Today)
Domingo's authority is all the more impressive because there aren't any florid, crowd pleasing arias in the part... Indeed the tension in Domingo's voice at some points enhances his characterization of Boccanegra as a man ravaged by fruitless struggle.
Domingo was convincingly tender in the reconciliation scene with Amelia, but reached true heights later. His monologue "Ah! ch'io respiri l'aura beata del libero cielo!"was exceptional. Acting skills grow with experience, so even if a voice ages, a true artist like Domingo can bring out aspects in the character deeper than words alone. 
Wonderful wonderful opinion piece: James Naughtie: why Placido Domingo has been the best opera singer of his time
It may be a curious word to use, but that feeling of determination has always characterised Domingo and set him apart from some others who roost near the top of the tree. There are relatively few who have been willing to take so many risks for so long. Perhaps the reason why that side of him has been underestimated is that most of them have come off...
...These human characteristics, of course, shouldn't be remarkable: but they are, because something about the pace, the physical pressures and the emotional atmosphere of opera tends to work against them. It sometimes seems easier to be a pain.
Calleja triumphs alongside Placido Domingo
(from
Times of Malta
)
"Placido arrived a couple of days late for rehearsals, and during the first rehearsals without him I often wondered how his approach towards this role would be, given his gargantuan experience and megastar status. Once he arrived , he came straight from the airport where he had just landed from LA and I was flabbergasted to realise that he was actually looking forward to rehearse and go through the role with the rest of the cast there. His approach still fresh and unscathed from over 45 years of rehearsing and performing."
The serious business of football has played a part too, even if the Maltese tenor managed to annoy the grand old man a little on that score . "During the first week of rehearsals he requested that no one would tell him the scores of the ongoing football matches. For some reason this 'request' didn't reach me and I kept telling him. He politely didn't tell me not to
(I was supplying Joseph with updates in the final matches of England's group, during rehearsals...!)
Did this fabled Spanish-Mexican superstar manage it? Musically, and in Boccanegra's tricky psychological journey, yes in all respects. Yet perversely his timbre remains firmly that of a tenor, glowing best at the radiant top, with a tendency to thinness at the bottom, the precise opposite of baritone instinct. But as long as he can make an utterance called singing, displaying frailties as well as magnificent treasures, this artist will always give pleasure. His Boccanegra is a monument to an incomparable career. Watch the broadcast on BBC2 next Saturday, 7.30pm or, better still, catch the big-screen live relay on Tuesday 13 July in London, Bradford, Bristol, Ipswich, Leicester, Manchester, Plymouth or Portsmouth.
And just for good measure, some photos from the Gala in Vienna a week ago Saturday