Another review several weeks late. I really need to get disciplined, sooner rather than later! (After this I will still have two outstanding...)
I was filled with apprehension, having endured a rather poor performance of this at Royal Opera House, and even though the reviews suggested that I would be better off at Opera Holland Park, I was still a bit nervous. I can't say I was filled with confidence with the news that the scheduled tenor Rafael Rojas would be miming while David Randall would sing from the pit. I don't know anything about Rafael (except he is the third Mexican tenor to cancel on me this summer), but miming/pit singing never quite works.
I took my seat and then stood up to survey the crowd to find a couple of friends who had said they were sitting in a row several behind mine. Initially, I didn't spot them, but did spot John Major, who, presumably, was playing the role of long-suffering opera husband to Norma.
I always held the view that John Major was probably a perfectly pleasant bloke, but that doesn't alter the fact that he was a Tory Prime Minister, the one who privatised the railways, and generally ran down the NHS. Besides, two disgraced former Lambeth Councillors is one too many at a small opera house. Still, I did think it was very brave of the man who referred to the bastards in his cabinet to attend an opera about a political assassination.
Before the opera started, the people behind me were lamenting the fact that it had been 'updated' and talking of a friend of theirs; for him, opera is everything but he absolutely refuses to go to any updated production.
I think this is such a stupid attitude, because avoiding a particular type of production may mean you miss a glorious vocal performance. There is always the possibility that you might get a better, or different, insight into the story, or you might just be entertained (admittedly, not always in the way the director might have intended). In any case, it strikes me as being totally bizarre to be into a totally unnaturalistic and somewhat unrealistic art-form, and then to demand naturalistic or realistic performances.
The chap did ask the question - why do these companies have to update it? My reaction, thought but not spoken, was that, for a small company like OHP, I bet it means they save a fortune on the costuming budget; probably also on scenery and sets (although OHP don't do sets and scenery in a big way, anyway). Also, and conversely, by allowing the singers to be more naturalistic, it probably allows them to be truer to the characters.
Sometimes people mention that Un ballo is based - very loosely - on historical facts and therefore doesn't stand up to modernisation. To be honest, I think the story is just a great opportunity for emotional outpourings. The story is just 'backstory', the reason why these outpourings are happening, so it doesn't ultimately matter whether it's set in old Sweden, not-so-old Boston, or modern day Washington DC. If anything, it's about power and intrigue.
It was partly set in the Oval Office at the White House: one of the major props/scenery was the seal of the President of the United States. It did cross my mind that there was actually an audience member who had been to the White House, then I remembered that I have, too, and, no doubt, several other people. Although, admittedly, not the Oval Office.
A lot of the events took place under surveillance. There were prominent video cameras, perhaps recording for a fly-on-the-wall type documentary.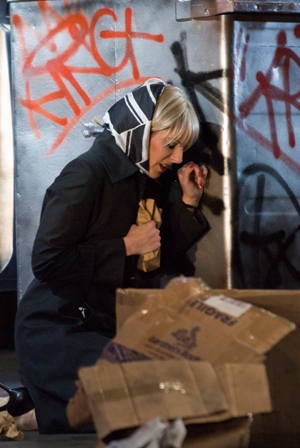 One of the most amusing/entertaining bits came in the 'Gallows-field' scene, where Amelia was portrayed as a junkie visiting the ghetto for a fix. Yeah, it didn't follow the logic of the original libretto, but it was not inherently illogical, and didn't interrupt or corrupt the forward momentum of the narrative. For the masked ball scene, they all wore Cristiano Ronaldo masks, which I found far more convincing than those silly Venetian velvet things that just surround the eyes, which are usually used. It would be difficult to identify anyone if they are all wearing Cristiano 'Traitor' Ronaldo masks.
Performance-wise, the orchestra, under Peter Robinson, weren't up to the ROH, but, that having been said, I have no real complaints. Of course, it is much smaller, (but they have a smaller house to fill and they aren't submerged in a pit) and they did just fine.
I thought overall, the cast was vastly superior to the one put out at ROH. OHP's replacement guy was much better than his ROH equivalent. David Randall's voice isn't especially attractive, and there were holes in it. I suspect I noticed these because I am so in love with the tenor role in this opera; I don't think I would have been so picky in a role I didn't know so well. Considering the circumstances, I was pleased at and grateful for his performance. I thought that Rafael Rojas acted the role convincingly. I wouldn't call him a handsome man but he clearly has stage presence and authority, which is essential for this role.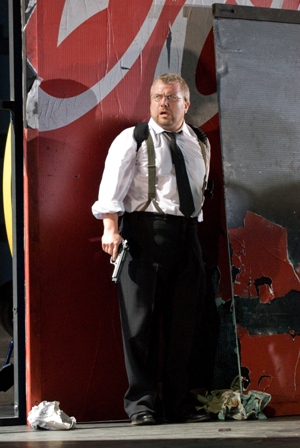 Olafur Sigurdarson was competent as Renato/Ankarstrom/main bastard of the Cabinet. I don't think he put a foot wrong, nor, more importantly, sang a duff note. I think overall his performance was better than the ROH Renato, although, in contrast his Eri Tu was disappointing (although Ballo is primarily a tenor's opera, I will concede that the baritone's Eri Tu is a major highlight - and for the rest of the week my earworm was Di Provenza, the baritone aria from Verdi's Traviata).
Gail Pearson was entertaining as Oscar. I was thrown by the fact that the role was portrayed as female - traditionally, a soprano sings it as a travesti role. If done well, there can be delightfully ambiguous sexual frisson between Riccardo/Gustavo and Oscar. A few reviews said in praise that she made the role less annoying than usual, but I have to confess that I love the annoyingness of a traditional Oscar.
The star was, undoubtedly, Amanda Echalaz as Amelia. To be honest, she's probably just about outgrown OHP - she made an emergency appearance in Tosca at ROH and is headlining at ENO next season.
It was a pleasure to hear a soprano in the role who, in the love duet, didn't sound as though she was in the extremes of period pain. I am sure that the writing is deliberate to bring out her tortured feelings, but there's a fine line between anguish and screeching. She's obviously a star in the making, and I offer criticism of her being far from finished and polished in recognition of the higher standards by which she will be judged. She was excellent by Holland Park standards, and that is no criticism of them, just an acceptance that they don't get the biggest names - but have been shrewd enough to engage Amanda while they can.
All told, it was a highly enjoyable evening that seemed to pass so quickly. A deluge began as the interval was ending; the production was blocked that the chorus processed in twos from the mansion to the stage to arrive for the masked ball. The weather demanded prosaic umbrellas; umbrellas would have ruined a twee Merchant-Ivory frocked production. I didn't find them incongruous or jarring, just a reflection of the reality of attending any sort of swanky social event.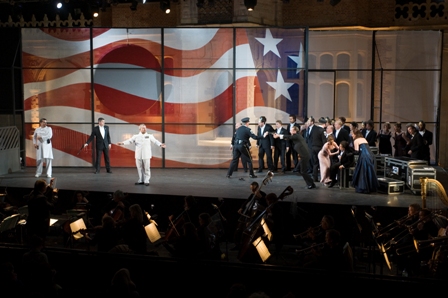 I see that OHP have the list of works for next season up on the website. I'll give Pelleas et Melisande a miss, but the others just entice me in: Carmen, Don Giovanni, Fidelio ('revival of the stunning 2003 Olivia Fuchs production'), Forza and Francesca da Rimini. Unfortunately, they will to a large extent coincide with the time I shall be going crazy over Simon Boccanegra at the Big House at the other end of town. I suspect I shall prioritise the Fs, and see what the casting is for the other two.
All photos: Fritz Curzon, Opera Holland Park website