I already see a possible stumbling block in this project: if I force myself to publish a photo everyday, inevitably, there will be some that just don't attract the eye. I hope that when such things happen, I will, at least, have a story to tell!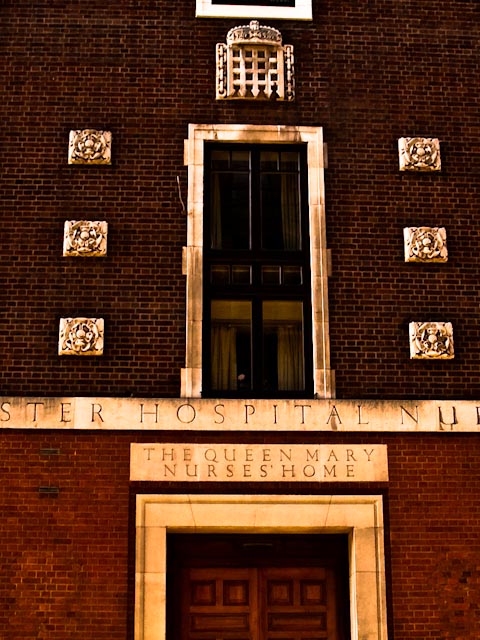 This is not far from where I work. A few years ago, I was working in another building that overlooked this site, which was then derelict and being demolished from within. I assume that it is listed, and therefore they could not alter the façade.
Many years previous to that, I remember there being a furore about the closure of this, the Westminster hospital merging with several others to form what was originally going to be called the Westminster and Chelsea, until someone realised that the acronym was unfortunate*. 
In the late 90s I worked in Hammersmith, and occasionally passed the Chelsea and Westminster, which is massive, huge. Like the Lanesborough Hotel at Hyde Park Corner, which was once St George's, which is now based in Tooting, I simply cannot understand there being opposition to Victorian hospitals leaving the city centre for residential areas, still in Inner London, with capacity for expansion. It was not as if it left that area of London without a hospital, with the large St Thomas's almost visible from there, and Guys not much further up river.
I have been puzzled for a long time what the building is. It seems in some ways to resemble a hotel, but lacks the hustle and bustle and obvious catering facilities of a hotel. It also resembles a block of yuppie flats, but that doesn't really explain why the concierge has a  luggage trolley like posh hotels or the manner in which people come and go. It seems that some, at least,  of the apartments are available for
short-term let
, for business or tourist purposes.  I am not sure I would wish to stay in an apartment block which so blatantly omits the vital apostrophe in St John's (sic). Lowers the tone, somewhat, don't you think?
*
urban myth, possibly


This project is not an attempt to emulate the
London Daily Photo
, but nevertheless I commend the site to you.